New Indication for Cetuximab in Squamous Cell Carcinoma of the Head and Neck

In the Clinic provides overviews of novel oncology agents, addressing indications, mechanisms, administration recommendations, safety profiles, and other essential information needed for the appropriate clinical use of these drugs.
Cetuximab (Erbitux) was recently approved by the FDA for use in combination with platinum-based therapy plus fluorouracil (5-FU) for the first-line treatment of patients with recurrent locoregional disease or metastatic squamous cell carcinoma of the head and neck.1-3 Cetuximab has prior indications in combination with radiation therapy in locally or regionally advanced squamous cell head and neck cancer and in recurrent or metastatic head and neck cancer that has progressed after platinum-based therapy. It also has indications in colorectal cancer.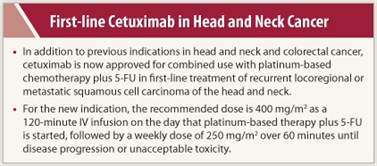 The most recent approval is based primarily on results of a study conducted outside the United States in 442 patients with metastatic or locally recurrent squamous cell carcinoma of the head and neck who were not suitable for curative treatment with surgery or radiation. The study used a European Union (EU)-approved cetuximab rather than the U.S.-approved cetuximab (Erbitux). Erbitux provides approximately 22% higher exposure than the EU-approved cetuximab; these pharmacokinetic data, together with the results of the study conducted in Europe and other data using Erbitux establish the safety and efficacy of Erbitux at the recommended dose.
In this trial, the addition of cetuximab (n = 222) to platinum-based therapy plus 5-FU (n = 220) significantly increased median overall survival from 7.4 to 10.1 months, representing a 20% reduction in risk of death (HR = 0.80, P = .034), and significantly increased median progression-free survival from 3.3 to 5.5 months, representing a 43% reduction in risk of disease progression (HR = 0.57, P < .0001). Objective response rates were 35.6% in the cetuximab group and 19.5% in the chemotherapy-alone group (P = .0001).
How It Works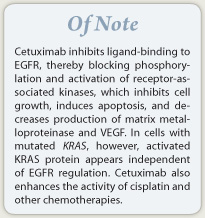 Cetuximab is an IgG1 monoclonal antibody that inhibits ligand-binding to the epidermal growth factor receptor (EGFR) on both normal and tumor cells. Binding of cetuximab to EGFR blocks phosphorylation and activation of receptor-associated kinases, resulting in inhibition of cell growth, induction of apoptosis, and decreased production of matrix metalloproteinase and vascular endothelial growth factor. In cells with activating KRAS mutation, however, the KRAS proteins are continuously active and are independent of EGFR regulation. Cetuximab also stimulates antibody-dependent cell-mediated cytotoxicity and enhances the activity of a number of chemotherapeutic agents, including cisplatin.
How It Is Given
For the new indication, the recommended dose is 400 mg/m2 as a 120-minute IV infusion, with a maximum rate of 10 mg/min, on the day that platinum-based therapy plus 5-FU is started. The infusion must be completed 1 hour prior to beginning platinum-based therapy plus 5-FU. The subsequent weekly dose is 250 mg/m2 over 60 minutes until disease progression or unacceptable toxicity.
Patients should be premedicated with an H1 antagonist (eg, diphenhydramine, 50 mg) IV 30 to 60 minutes before the first dose of cetuximab; premedication for subsequent doses depends on clinical judgment and presence/severity of prior infusion reactions. The infusion rate should be reduced by 50% for grade 1 or 2 or nonserious grade 3 infusion reactions. Cetuximab should be immediately and permanently discontinued for severe infusion reactions.
In cases of severe acneiform rash, administration should be delayed by 1 to 2 weeks, and cetuximab discontinued at the fourth occurrence. The weekly dose should be reduced to 200 mg/m2 after the second occurrence and 150 mg/m2 after the third.
Cetuximab should be administered via infusion pump or syringe pump and through a low protein-binding 0.22-micrometer in-line filter.
Safety Profile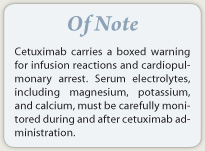 Cetuximab carries a boxed warning for infusion reactions and cardiopulmonary arrest. Serious infusion reactions occurred in approximately 3% of patients in clinical trials, with fatal outcome in less than 1 in 1,000 cases. In patients with squamous cell carcinoma of the head and neck receiving cetuximab, cardiopulmonary arrest or sudden death occurred in 2% of those receiving radiotherapy and in 3% of those receving platinum-based therapy plus 5-FU. Serum electrolytes, including magnesium, potassium, and calcium, must be carefully monitored during and after cetuximab administration.
In the trial supporting the current indication, the most common adverse reactions (≥ 25%) in patients in the cetuximab group were nausea, anemia, vomiting, neutropenia, rash, asthenia, diarrhea, and anorexia; conjunctivitis occurred in 10%. Other adverse reactions, sometimes severe, caused by cetuximab included infusion reactions, hypomagnesemia, hypocalcemia, and hypokalemia. Death attributed to cardiovascular event or sudden death was reported in 3.2% of the patients in the cetuximab group and in 1.9% in the chemotherapy alone group. ■
Health-care professionals should report all serious adverse events suspected to be associated with the use of any medicine or device to FDA's MedWatch Reporting System by completing a form online at http://www.fda.gov/medwatch/report.htm, by faxing (1-800-FDA-0178), by mailing the postage-paid address form provided online, or by telephone (1-800-FDA-1088).
References
1. U.S. Food and Drug Administration: What's New from the Office of Hematology Oncology Products: Cetuximab. Available at http://www.fda.gov/AboutFDA/CentersOffices/OfficeofMedicalProductsandTobacco/CDER/ucm278957.htm. Accessed December 7, 2011.
2. ERBITUX® (cetuximab) injection, for intravenous infusion, prescribing information. ImClone LLC, a wholly-owned subsidiary of Eli-Lilly and Company, and Bristol-Myers Squibb Company, November 2011. Available at http://packageinserts.bms.com/pi/pi_erbitux.pdf. Accessed December 7, 2011.
3. Vermorken JB, Mesia R, Rivera F, et al: Platinum-based chemotherapy plus cetuximab in head and neck cancer. N Engl J Med 359:1116-1127, 2008.
---