Highlights of Bladder Cancer Research Include Novel Agents and New Approach to Identifying Biomarkers

It is an exciting time for researchers involved in developing new therapies for bladder cancer. More agents are in clinical development, drugs with novel mechanisms and novel trial designs are being implemented, and functional collaboration is occurring in the field, according to Noah Hahn, MD, Assistant Professor at Indiana University Simon Cancer Center, Indianapolis. Dr. Hahn spoke about new therapies in bladder cancer at the Chemotherapy Foundation Symposium.
VEGF and mTOR Inhibition

One area of research is the role of vascular endothelial growth factor (VEGF) inhibitor therapy in bladder cancer. Promising improved overall survival results have been observed in metastatic bladder cancer patients with the use of the VEGF inhibitor bevacizumab (Avastin) in combination with platinum-based chemotherapy. One clinical concern is a high rate of deep-vein thrombosis seen in the phase II experience with this combination, Dr. Hahn said.
The ongoing Cancer and Leukemia Group B (CALGB) 90601 phase III trial is comparing cisplatin/gemcitabine plus bevacizumab vs cisplatin/gemcitabine in patients with metastatic urothelial cancer. The key inclusion criteria for the trial are no prior chemotherapy in the metastatic setting, good performance status, and adequate kidney function (defined as a creatinine clearance above 50 mL/min).
Mammlian target of rapamycin (mTOR) inhibition is another interesting strategy being pursued; mTOR inhibitors have demonstrated single-agent activity in preliminary studies in metastatic bladder cancer. Ongoing trials in patients in the second-line metastatic, front-line metastatic, and BCG-refractory carcinoma in situ settings should give some idea of the potential role of this approach within the next year, Dr. Hahn said.
FGFR Inhibitors and Immunologic Approaches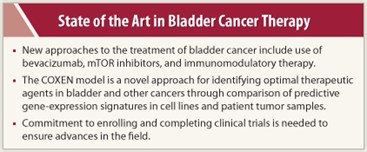 Fibroblast growth factor receptor 3 (FGFR3) is a potential target in bladder cancer, Dr. Hahn continued. Mutation in this gene is present in about two-thirds of low-grade bladder cancer, but its biologic significance and exact role in the pathogenesis of muscle-invasive and metastatic bladder cancer are not clear. "We need to identify the correct subsets of patients with bladder cancer who can benefit from FGFR3-targeted approaches," he said.
Several FGFR inhibitors are in clinical development in the United States, but none have been approved by FDA yet, and none are targeting bladder cancer as their lead indication. In addition to inhibiting FGFR-mediated signaling, many of them are multitargeted tyrosine kinase inhibitors, Dr. Hahn explained. Thus far, dovitinib is the only drug with this property being studied in bladder cancer.
Immunologic approaches similar to sipuleucel-T (Provenge) vaccine in prostate cancer include DN24-02, a vaccine being developed for bladder cancer that is directed to HER2, which is overexpressed in 25% to 58% of bladder cancers.
A randomized phase II trial has been undertaken to compare DN24-02 vs standard of care following cystectomy in patients with HER2-positive high-risk urothelial carcinoma. The trial will evaluate overall survival, safety, and magnitude of the immune response induced following administration of DN24-02.
"This is one of the first randomized adjuvant therapy trials in bladder cancer to open in the past 10 years and is therefore an important trial to complete successfully," Dr. Hahn said.
Biomarker Identification
Investigators in the field of bladder cancer are also exploring novel trial designs to determine which biomarkers may be useful in selecting therapy. A standard approach used in many studies is to embed biomarkers in clinical trials and then study them retrospectively to see which ones have potential for clinical use.
A new model for identifying biomarkers, called the coexpression extrapolation algorithm (ie, COXEN model), is currently under study. This model uses expression microarray data to identify drug sensitivity in cancer cell lines. Gene-expression signatures from the cell lines are compared to an individual patient's tumor gene expression to determine optimal therapy for the individual patient.
"This is a radically different way to identify biomarkers. The SWOG [Southwest Oncology Group] has initiated the design of a COXEN-directed neoadjuvant chemotherapy trial," Dr. Hahn said.■
Disclosure: Dr. Hahn reported that his institution receives research support from Novartis.
Expert Point of View: Highlights of Bladder Cancer Research Include Novel Agents and New Approach to Identifying Biomarkers
Reference
1. Hahn N: New therapies in bladder cancer. Chemotherapy Foundation Symposium XXIX. Presented November 11, 2011.
---
Related Articles

Although bladder cancer is among the most chemosensitive of the solid tumors, and a large proportion of patients will achieve objective tumor regressions on first-line therapy with conventional chemotherapeutic regimens, response durations are relatively short and outcomes with existing second-line ...