Conquer Cancer Foundation Programs for Medical Students and Residents Support Diversity in Oncology Workforce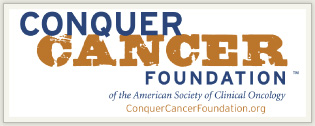 The Conquer Cancer Foundation funds two programs, the Medical Student Rotation (MSR) and the Resident Travel Award (RTA), to facilitate the recruitment and retention of individuals from populations underrepresented in medicine to cancer careers, with a special focus on the development of clinical practitioners and investigators. The MSR and RTA were originally created as part of a collaboration between the Conquer Cancer Foundation, ASCO, and Susan G. Komen for the Cure®, with Komen funding these awards from 2009 to 2011.
The Conquer Cancer Foundation recently had the chance to catch up with some of the 2009 MSR and RTA recipients to learn how the award cemented their interest in pursuing careers in oncology. 
Past Recipients
According to 2009 MSR recipient Kenisha Pemberton, a medical student at The Florida State University, Tallahassee, the greatest benefit of receiving the MSR was the "unique opportunity to work alongside leading pediatric hematologists/oncologists." Her advice to those considering applying for the MSR is "go for it … If you don't apply, you will never receive this award … but if you do, you may have the unique opportunity to gain a wealth of information from leading oncologists."
Andy Aguirre, MD, PhD, 2009 RTA recipient, is currently working as an oncology fellow at Dana-Farber Cancer Institute/Massachusetts General Hospital, Boston. He said, "receiving the RTA was a wonderful experience for which I was and am very grateful to have had." He added that the greatest benefit of receiving the RTA "was a chance to go to the ASCO meeting and experience the larger oncology community. It was a really amazing opportunity." Since receiving his RTA, Dr. Aguirre has received a fellowship to attend the Merrill Egorin Cancer Pharmacology course and he hopes to obtain additional research funding during his fellowship. 
Another recipient of the 2009 RTA, Zanetta Lamar, MD is currently in her second year as an oncology fellow at Wake Forest Baptist Medical Center, Winston-Salem, North Carolina. She said, "receiving the travel award solidified my decision to pursue an oncology career. The greatest benefit was attending the ASCO meeting, speaking candidly with leaders in the field of oncology, and networking with future colleagues."
The Conquer Cancer Foundation of ASCO is currently accepting applications for the 2012 Medical Student Rotation and Resident Travel Award programs. Apply online by January 9, 2012. Questions? E-mail grants@conquercancerfoundation.org ■
© 2012. American Society of Clinical Oncology. All Rights Reserved.
---