CLEOPATRA Trial Finds Dual HER2 Blockade Improves Progression-free Survival in Advanced Breast Cancer

Women with HER2-positive advanced breast cancer are much less likely to have disease progression or die when two agents are used instead of one to target the HER2 signaling pathway, investigators for the international phase III CLEOPATRA trial found.
The 808 women studied were randomly assigned to treatment with docetaxel plus trastuzumab (Herceptin), combined with either placebo or the investigational antibody pertuzumab. Like trastuzumab, pertuzumab inhibits HER2 signaling, but it binds to a different epitope on the HER2 receptor and has a complementary mechanism of action.
Results reported at the 2011 San Antonio Breast Cancer Symposium showed that the new combination was safe and the trial met its primary efficacy endpoint, with a prolongation of progression-free survival by 6.1 months with the dual vs the single HER2-targeted therapy, corresponding to a 38% reduction in risk. (The results were simultaneously published in The New England Journal of Medicine.1)
Practice-changing Regimen?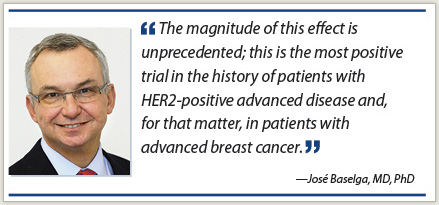 "The magnitude of this effect is unprecedented; this is the most positive trial in the history of patients with HER2-positive advanced disease and, for that matter, in patients with advanced breast cancer," said principal investigator José Baselga, MD, PhD, Chief of the Division of Hematology and Oncology at the Massachusetts General Hospital Cancer Center in Boston. "This new regimen may be practice-changing in HER2-positive first-line metastatic breast cancer," he noted.
"I am looking forward to having [pertuzumab] approved as soon as possible. This drug is going to help patients, so I think the sooner, the better," he said in a related press conference.
One day, certain women with HER2-positive disease may be treated with targeted therapy alone, according to Dr. Baselga. "In some patient populations down the line, we might not even need chemotherapy. If we could identify those patients who are so sensitive [to HER2 targeting], one could envision a future in which you could possibly combine trastuzumab and pertuzumab, and just forget about docetaxel," he commented.
Pretreatment Issues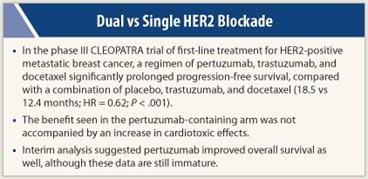 Discussant C. Kent Osborne, MD, of the Baylor College of Medicine in Houston, cautioned that many of the patients studied had not received any prior chemotherapy, nor any prior trastuzumab because that drug's approval for adjuvant use came shortly before the trial began. "This raises some question as to whether [the findings] could be applicable to more heavily pretreated patients," he said.
Additionally, only about half of patients with estrogen receptor (ER)-positive disease had ever received hormonal therapy, and none was given during the trial. Benefit was somewhat less in these patients, possibly because they are less sensitive to chemotherapy and/or because ER was not targeted, he said. "One has to imagine what the effect of simultaneously targeting ER might have been," given that that pathway "is an obvious potential escape pathway."
The bottom line, Dr. Osborne said, is that "for patients meeting the eligibility criteria, this [treatment] is clearly a new standard and should be practice-changing."
Generalizability of Findings
While finding the data both exciting and practice-changing, Hope S. Rugo, MD, of the University of California, San Francisco, also queried the generalizability of the trial's findings. "We are going to have to understand what the applicability is to the U.S. and European patient populations, who now will almost universally have received trastuzumab in the adjuvant setting," she commented.
Women were eligible for the trial, which is the registration trial for pertuzumab, if they had centrally confirmed HER2-positive metastatic or unresectable locally recurrent breast cancer and had not received chemotherapy or biologic therapy for metastases. They were randomly assigned to double-blind treatment with docetaxel (at least six cycles were recommended) and trastuzumab, plus either pertuzumab or placebo.
The patients had a median age of 54 years, and the majority were from Asia and Europe. Approximately 78% had visceral disease. Only about 45% had received neoadjuvant or adjuvant chemotherapy, and just 10% had received trastuzumab.
With a median follow-up of 19.3 months, patients in the pertuzumab group had a markedly longer independently assessed median progression-free survival compared with their counterparts in the placebo group (18.5 vs 12.4 months; HR = 0.62; P < .0001).
Consistent Benefit
The benefit was consistent across subgroups, except for patients having nonvisceral disease. "I think this relates more to the difficulty … of measuring bone disease alone, which is what these patients [have]," Dr. Baselga speculated. Benefit appeared similar in patients who had and had not received prior trastuzumab.
Results for overall survival, although based on an interim analysis and still immature, suggested that adding pertuzumab also reduced the risk of death (HR = 0.64; P = .0053). Patients in the pertuzumab group had a higher response rate as well (80.2% vs 69.3%, P = .0011), mainly due to a higher rate of partial response.
The added pertuzumab increased the rate of grade 3 or higher febrile neutropenia (14% vs 8%) and diarrhea (8% vs 5%). "Of note, the majority of these events occurred during the first six cycles, when docetaxel was being given," Dr. Baselga pointed out. "There was no signal of any increased cardiac dysfunction at all in the pertuzumab arm." ■
Disclosure: Dr. Rugo has received research funding from Genentech, Novartis, Merck, and Pfizer. Dr. Osborne is on advisory boards for Genentech, Novartis, AstraZeneca, and GlaxoSmithKline. Dr. Baselga has served in a consultant or advisory role for Novartis.
Reference
1. Baselga J, Cortés J, Kim SB, et al: Pertuzumab plus trastuzumab plus docetaxel for metastatic breast cancer. N Engl J Med. December 7, 2011 (early release online).
---