Advances in Lung Cancer Treatment Show Incremental Benefits, but Room for Improvement Remains

Newer therapies for the treatment of non–small cell lung cancer (NSCLC) and small cell lung cancer (SCLC) were discussed at the Chemotherapy Foundation Symposium. More inroads have been made in improving outcomes for patients with NSCLC than for those with SCLC, but there is still room for improvement in both types of disease.
Non–Small Cell Lung Cancer

The discovery of driver mutations for NSCLC is moving the field along, explained Chandra Belani, MD, Miriam Becker Distinguished Professor and Deputy Director, State Hershey Cancer Institute in Hershey, Pennsylvania.1 Therapies targeting EGFR mutation and ALK rearrangement have achieved incremental benefits in treating the disease, but lung cancer remains the leading cause of cancer death in the United States, Dr. Belani told listeners.
Based on studies by the Lung Cancer Mutation Consortium, EGFR and KRAS are the most common mutations in patients with stage IV adenocarcinoma, among 10 driver mutations and rearrangements evaluated. These abnormalities, at least for now, appear to be mutually exclusive, since 97% of patients studied had only one mutation, Dr. Belani said.
EGFR mutations can be used to select patients for treatment with erlotinib (Tarceva). "The current treatment paradigm is to test patients with adenocarcinoma for EGFR mutation and initiate first-line treatment with erlotinib if it is present," Dr. Belani said. A second targeted approach in lung cancer is the use of the ALK and MET inhibitor crizotinib (Xalkori), which is approved for ALK-positive NSCLC.
Other targeted therapies being developed for NSCLC include the investigational agents afatinib, MetMab, and ARQ 197. The combination of afatinib (a HER1/HER2 inhibitor) plus cetuximab (Erbitux) shows promise in NSCLC patients with EGFR mutation who develop resistance to first-line therapy with EGFR tyrosine kinase inhibitors.
MET Inhibitors

Several drugs in various stages of development target different points of the hepatocyte growth factor (HGF)/MET pathway, explained Paul Bunn, MD, Dudley Professor at the University of Colorado Cancer Center in Aurora, Colorado.2 He focused his remarks at the Chemotherapy Foundation Symposium on MetMab and ARQ 197, as these are entering phase III studies.
Gene amplification studies using FISH analysis have shown that tumors with high copy numbers of the MET gene are associated with a worse prognosis and account for about 4% to 10% of NSCLC tumors, Dr. Bunn explained. Theoretically, these tumors will respond to MET targeting. A large fraction of patients have high MET expression by immunohistochemical staining, and this subgroup derives the benefit from MET inhibitors.
MetMab, an anti-MET monoclonal antibody, showed promising results in a phase II study evaluating MetMab combined with erlotinib vs erlotinib alone in patients with high MET expression. However, patients with low MET expression had a worse outcome with the combination. "The reasons for worse outcome with low MET expression are unknown," Dr. Bunn said.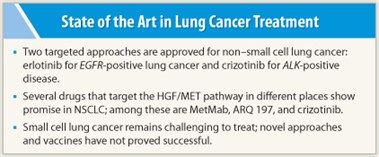 ARQ 197 is a small-molecule oral MET tyrosine kinase inhibitor that attaches to the tyrosine kinase domain inside the cell and prevents signaling. A randomized phase II trial found that ARQ 197 (now called tivantinib) plus erlotinib showed improved progression-free survival and overall survival compared with erlotinib alone in patients with nonsquamous histology, but not in those with squamous histology. A subset analysis showed that high MET gene copy number, wild-type EGFR status, and KRAS mutations predicted benefit from this strategy.
Several randomized phase III trials are now in progress to study ARQ 197 plus erlotinib in patients with nonsquamous histology as well as in those with KRAS mutations. Responses to another MET inhibitor, crizotinib, have been reported in patients with adenocarcinomas harboring MET amplification. Other multitargeted tyrosine kinase inhibitors are also being studied in NSCLC, Dr. Bunn said.
Small Cell Lung Cancer

Despite therapeutic advances in lung cancer generally, treatment of small cell lung cancer remains challenging, according to Corey Langer, MD, Director of the Abramson Cancer Center of the University of Pennsylvania in Philadelphia.3 On a positive note, the incidence of SCLC is declining, but it is a rapidly progressing type of cancer, and even patients with limited-stage disease have a 5-year survival rate of only 25% at best.
Novel agents and vaccines have not improved survival in limited-stage disease. Strategies under study for limited disease include the ongoing Cancer and Leukemia Group B (CALGB) trial and the ongoing European CONVERT trial (Concurrent ONce-daily VErsus twice-daily RadioTherapy). CONVERT is comparing two schedules of early concurrent chemoradiation, one with once-daily and the other with twice-daily administration of radiotherapy.
For extensive SCLC (about two-thirds of new patients) chemotherapy alone is the standard approach, with radiation reserved for palliation. Four to six cycles of etoposide plus cisplatin or carboplatin is the standard approach in North America. Japanese studies have shown improved survival with irinotecan plus cisplatin vs etoposide plus cisplatin, but U.S. and European investigators have not been able to replicate these results. Diarrhea is the major toxicity with the Japanese regimen.
Topotecan is FDA-approved for the treatment of SCLC relapses, and oral topotecan appears to be as effective as intravenous topotecan in relapsed SCLC. Amrubicin achieved superior progression-free survival over topotecan in a phase III trial, but failed to yield an increase in overall survival. It is not FDA-approved. This agent appears to be more effective in chemoresistant than in chemosensitive patients. ■
Disclosure: Dr. Bunn has received consulting fees from Daiichi-Sankyo, Genentech/Roche, Pfizer, and Amgen. Dr. Langer has served on advisory boards for Abbott and Lilly. Dr. Belani reported no potential conflicts of interest.
References
1. Belani C: NSCLC: Personalized therapy and recent changes in treatment paradigm. Chemotherapy Foundation Symposium XXIX. Presented November 11, 2011.
2. Bunn PA: Novel agents in lung cancer: MetMab and ARQ 197. Chemotherapy Foundation Symposium XXIX.Presented November 11, 2011.
3. Langer CJ: SCLC: Novel agents and future directions. XXIX Chemotherapy Foundation Symposium. Presented November 11, 2011.
---