Oncology Community Mourns the Death of Chemotherapy Pioneer Emil J Freireich, MD, FASCO

Legendary oncologist Emil J Freireich, MD, FASCO, died from COVID-19 on February 1, 2021, at The University of Texas MD Anderson Cancer Center in Houston, where he had worked for 50 years. He was 93.
During a career that spanned more than 6 decades, Dr. Freireich was relentless in pursuing cures for childhood leukemia as well as other cancers. Along with his longtime colleague and friend Emil Frei III, MD, Dr. Freireich is credited with developing multiagent combination chemotherapy to treat acute lymphoblastic leukemia (ALL), which has led to 5-year survival rates of more than 90% in children with ALL,1 and more effective combination therapies for various adult cancers, including Hodgkin lymphoma. His subsequent discovery of allogeneic platelet transfusion to prevent nonstop bleeding in patients with acute leukemia transformed oncology care for patients.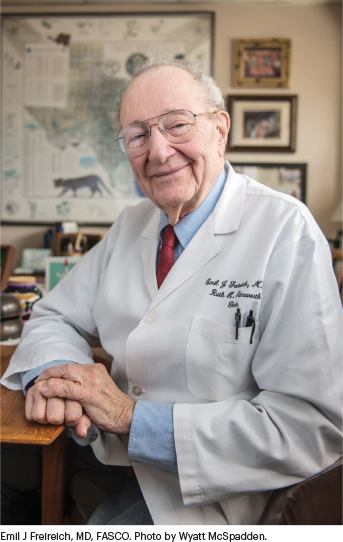 "From that day forward, bleeding as a cause of death was essentially eliminated, and I consider that finding my greatest contribution to medicine, because we wouldn't be able to treat patients with cancer today unless we had allogeneic platelet transfusions to prevent hemorrhage," Dr. Freireich told The ASCO Post in an interview. Dr. Freireich later developed the first continuous-flow blood cell separator, which collects peripheral blood stem cells for transplantation and is still used today in most apheresis centers. In addition to his landmark research and clinical work in leukemia, he is renowned for the contributions he has made in medical education.
Dr. Freireich was recognized for his transformational accomplishments in the development of modern clinical cancer research and his teaching contributions with numerous awards. They include the Albert Lasker Medical Research Award (1972); ASCO's David A. Karnofsky Memorial Award and Lecture (1976); the First NIH Distinguished Alumni Award (1990); the Medical Oncology Fellows Outstanding Teacher Award, MD Anderson Cancer Center (1996); the Pollin Prize for Pediatric Research, Columbia University (2003); and the Paul Ehrlich Magic-Bullet Lifetime Achievement Award (2008), among others. In 2005, The University of Texas MD Anderson Cancer Center established the Emil J Freireich Award for Excellence in Education in recognition of Dr. Freireich's teaching contributions as a founding member of The University of Texas Academy of Health Science Education. In 2019, the American Association for Cancer Research honored Dr. Freireich for his significant contributions to cancer research with its Award for Lifetime Achievement in Cancer Research.
Dr. Freireich served as ASCO President from 1980 to 1981. He was named a Fellow of ASCO (FASCO) in 2007.
Humble Beginnings
Born on March 16, 1927, just 2 years before the Great Depression, in inner-city Chicago, Dr. Freireich's hardscrabble early years could not have foreshadowed the celebrated life and career he would come to have. The son of Hungarian immigrants, Dr. Freireich's father, David, died when he was 2, further jeopardizing the family's fragile financial security. Encouraged by his mother, Mary, to study typing and shorthand in high school to prepare for a job after graduation, Dr. Freireich was instead persuaded by his physics teacher to go to college, where he set his sights on becoming a family physician.
Dr. Freireich worked at menial jobs to supplement the state aid he received for tuition and living expenses while attending the University of Illinois in Champaign. After earning his bachelor's degree, Dr. Freireich moved back home to attend the University of Illinois College of Medicine at Chicago, graduating in 1949 at the age of 22.
After an internship and residency in internal medicine at two Chicago hospitals, Dr. Freireich accepted a fellowship in hematology at Massachusetts Memorial Hospital in Boston and subsequently made a discovery in anemia that led to the understanding of hemoglobin metabolism. In 1955, Dr. Freireich was hired at the fledgling National Institutes of Health (NIH), where he was assigned to care for children in the leukemia ward. He, along with Dr. Frei; Gordon Zubrod, MD, then Clinical Director of the National Cancer Institute; and James Holland, MD, devised clinical trial Protocols 1 and 2 in ALL; these protocols investigated a two-drug combination of mercaptopurine and methotrexate, which proved that combining the drugs was more effective in producing higher rates of remissions in children with ALL than giving the therapies sequentially.2,3 A third trial, Protocol 3,4 was launched in 1959 to test the efficacy of mercaptopurine vs placebo in maintaining clinical remissions in patients with ALL, which set the groundwork for the concept of randomized clinical trials.
The experience would change his life and alter the course of childhood leukemia for millions of children.
Celebrating a Life Well Lived
In 1965, Dr. Freireich decided he had reached the limit of what he could accomplish in the leukemia program at the NIH and followed Dr. Frei to MD Anderson Cancer Center—now The University of Texas MD Anderson Cancer Center—in Houston. There they established a chemotherapy program and launched the Department of Developmental Therapeutics, which has been instrumental in training the best minds in oncology.
Dr. Freireich became Director of MD Anderson's Adult Leukemia Research Program in 1985. For many years, he held the cancer center's Ruth Harriet Ainsworth Chair in Developmental Therapeutics and several faculty positions, including Distinguished Teaching Professor; Director, Adult Leukemia Research Program; and Director, Special Medical Education Programs. Dr. Freireich retired from the cancer center in 2015 but remained involved in the center's medical education program and its institutional grand rounds.
In his interview with The ASCO Post in 2015, Dr. Freireich was asked to assess his life's accomplishments. After praising the work of Drs. Frei and Zubrod and the good fortune he had to be their friend, Dr. Freireich credited his wife of 68 years at the time of his death, Haroldine Lee Cunningham Freireich, with making it possible for him to attain his professional goals and providing him with a grounded family life.
"My wife is the secret to my academic success," Dr. Freireich said. "I have been the most fortunate of men. I have a wonderful wife and a beautiful family. I have had the privilege of working with outstanding people and have been blessed every day…. We will always have cancer, but we are curing cancers every day, and patients are doing great things after their disease. It's the wonder of medicine. Medicine is man's highest calling. Every day, including today, when I got to work, I help people, save lives, prolong lives, and relieve suffering. It doesn't get any better than that."
Dr. Freireich is survived by his wife, Haroldine, and his children, Debra Ann Freireich-Bier (Ralph Bier); David Alan Freireich (Susan Morgan); Lindsay Gail Freireich; and Thomas Jon Freireich (Kelly Freireich); his grandchildren, Emily, Ellen, Chris, T.J., Sam, and Macy; and his great-grandchildren, Wyatt, Lyla, and Myles. 
REFERENCES
1. American Cancer Society: Survival rates for childhood leukemias. Available at www.cancer.org/cancer/leukemia-in-children/detection-diagnosis-staging/survival-rates.html. Accessed February 4, 2021.
2. Frei E III, Holland JF, Schneiderman MA, et al: A comparative study of two regimens of combination chemotherapy in acute leukemia. Blood 13:1126-1148, 1958.
3. Frei E III, Freireich EJ, Gehan EA, et al: Studies of sequential and combination antimetabolite therapy in acute leukemia: 6-Mercaptopurine and methotrexate, from the Acute Leukemia Group B. Blood 18:431-454, 1961.
4. Freireich EJ, Gehan E, Frei E III, et al: The effect of 6-mercaptopurine on the duration of steroid-induced remissions in acute leukemia: A model for evaluation of other potentially useful therapy. Blood 21:699-716, 1963.
---
Related Articles
To hear an interview with Dr. Freireich by Daniel F. Hayes, MD, FASCO, of the University of Michigan Rogel Cancer Center and Past President of ASCO, visit the Journal of Clinical Oncology's podcast, Cancer Stories, wherever you get your podcasts.
In this episode, the Cancer Stories podcast...