Your Stories Podcast: Patient Advocate Jane Coulbourne Remembered in 'Clinical Trials & Tribulations'

The late Jane Coulbourne turned cancer into an opportunity to help others. Jane's husband, William Coulbourne, and her friend, Susan Braun, MA, FASCO, proudly recall Jane's work to transform patient care and their commitment to fulfilling her final wish in the latest episode of Your Stories, the podcast series from Conquer Cancer, the ASCO Foundation®. While the conversation celebrates Jane's renowned work, it is also an intimate look at a caregiver's role when supporting a loved one through cancer treatment, particularly a clinical trial.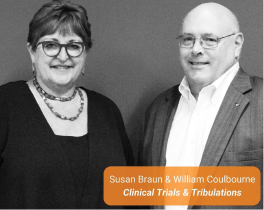 After receiving a stage III breast cancer diagnosis, Jane qualified for a clinical trial. Her husband shared how the combination of experimental drugs and chemotherapy left Jane exhausted and sick but ultimately caused her tumor to disappear, allowing her many years to work on behalf of others. "I knew she was a strong person," said William, "but I didn't know how she would deal with something like this."   
Once the trial was complete, Jane focused her renewed energy on advocating for research and helping other patients. She built a reputation as a leading patient advocate and changemaker.
"She was so incisive in looking at the data, looking at treatments, and in looking at what we would really need to cure breast cancer," said Susan. 
Listen to the full episode at CONQUER.ORG or on iTunes and Google Play.
---