More Choices, More Flexibility With New Maintenance of Certification Pathway

Beginning this year, oncology specialists will have the opportunity to pursue a more flexible and less burdensome path to maintaining recertification. The American Board of Internal Medicine (ABIM)/ASCO Medical Oncology: Learning & Assessment (MOLA) is a lower-stakes Maintenance of Certification (MOC) assessment program that offers diplomates the choice of shorter medical oncology assessments (a general medical oncology assessment or disease-specific medical oncology assessments), a significant change to the traditional comprehensive 10-year MOC exam. Developed with input and feedback from ASCO members, this path assures that a physician will continue to receive a valid and fair assessment that recognizes them as an ABIM board-certified medical oncologist who is staying current in a rapidly advancing field.
The MOLA is a continuous learning pathway aimed at helping diplomates identify educational gaps and address those areas. Participants will receive relevant educational resources before and after the assessment and will be able to access an evidence-based support tool (eg, UpToDate) during the assessment—a process that better resembles day-to-day practice.
Starting in 2020, all board-certified diplomates can choose an assessment in one of three topic areas: general oncology, breast cancer, and hematologic malignancies. Diplomates whose certification has lapsed are limited to the general oncology module. In addition to disease-specific questions, each assessment will include core oncology topics such as supportive care, clinical research methodologies, therapeutic principles, and genomics.
All diplomates are invited to participate in an assessment for practice and feedback, even if their certification does not expire in 2020. In 2020, assessments will be offered on four dates: March 7, March 11, September 19, and September 22. Registration is closed for the March dates, but there is still time to take advantage of the September dates, with fall exam registration open through July 15, 2020.
Physicians participating in MOLA can take the assessment in a test center or online from their home or workplace. The test center experience is similar to the traditional 10-year MOC exam, with the main difference being the shorter testing format (about 3 hours rather than 10 hours). Taking the assessment online offers flexibility and convenience, allowing diplomates to take less time away from their professional and personal responsibilities.

Julie M. Vose, MD, MBA, FASCO
ASCO and ABIM have spent the past several years collaborating on an alternative assessment pathway for oncology specialists, and the organizations are pleased to launch the MOLA this year. The effort began under the leadership of ASCO Past President Julie M. Vose, MD, MBA, FASCO, who serves as Chair of the ABIM/ASCO Hematologic Malignancies Exam Subcommittee, which determined the blueprint and testing points for the new module. Dr. Vose has been a champion for a more flexible and practical approach to MOC; in the following interview, she discusses the MOLA's evolution and benefits for diplomates.
The new assessment pathway, MOLA, begins this year. How is it different from prior years?
Dr. Vose: ASCO has been working with ABIM for quite a few years now to shape the future of education and physician learning. Way back when I was ASCO President, I started working with ABIM to rethink the MOC process, as it was found to be quite burdensome, especially for people like myself who specialize in one area and haven't seen many of these different types of cancers for many years in practice. It's difficult to keep current. Then once you learn the information [for your MOC exam], it's really not ever used, so it's kind of a waste, unfortunately.
ASCO's reimagination of the recertification process tried to make it more of an ongoing learning process as opposed to memorization and a process that wasn't very helpful to the participants. I think that we've accomplished that with the new MOLA.
What was the reason for the change from an exam every 10 years to more frequent assessment?
Dr. Vose: Well, an exam every 10 years meant memorizing a lot of things that have changed over a 10-year period. It wasn't necessarily a learning process. We want to have ASCO members continuing an ongoing learning process, as opposed to just a memorization process every 10 years. The MOLA accomplishes that, as well as helps the people who specialize in specific areas to focus on their area, while still retaining knowledge of the general oncology principles that we all use every day.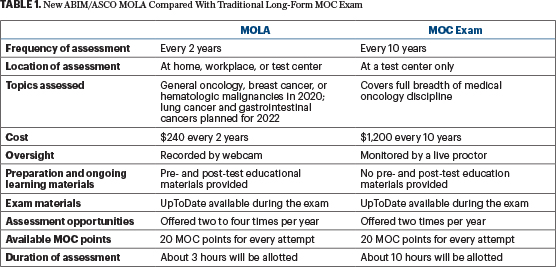 What has been ASCO's role in these changes?
Dr. Vose: ASCO worked very closely with ABIM in trying to mold the every-2-year learning assessment so that it wasn't so burdensome. It can be done online, with some support as we would use in everyday practice, such as UpToDate. You don't have to go to a testing facility, you don't have to take a lot of time off work, you don't have to necessarily memorize or study things that you don't use on an everyday basis in your practice. In addition, ASCO is now working closely with ABIM to help determine the assessment content. We'll be part of the process as the content is evaluated and updated every year. The benefit to ASCO members is that any pre- and postassessment educational materials offered through ASCO eLearning will closely align with the exam content.
What else should ASCO members know about the MOLA and alternative pathways for certification?
Dr. Vose: The process is ongoing, and it may change over time. 2020 is the first year that this has been done in medical oncology, and we anticipate adding subspecialties in 2022. This process will be changed, modified, and improved over the years. It will help us to understand and to learn from every patient and to be able to help every patient in the future. 
For more information about the ABIM/ASCO Medical Oncology Learning & Assessment program, visit elearning.asco.org/mola or e-mail medoncmoc@asco.org.
Acknowledgment: Interview adapted from the ASCO Daily News Podcast, available at podcast.asco.org. Lauren Davis contributed reporting.
© 2020. American Society of Clinical Oncology. All rights reserved.
---