New Center for Indigenous Cancer Research at Roswell Park Has Regional Focus, Global Reach


Rodney Haring, PhD, MSW
Growing up on the Seneca Nation in Western New York, Rodney Haring, PhD, MSW, learned the concept of "The Good Mind," largely from the matrilineal voices in his community. He calls this philosophy, which is one of the shaping principles of the Haudenosaunee people, "a strength from awareness of purpose, thoughts, and actions towards well-being." Now, he is building that philosophy into the work of the Center for Indigenous Cancer Research at Roswell Park Comprehensive Cancer Center—the first initiative of its kind in the Northeast, dedicated to reducing cancer's impact on indigenous communities regionally, nationally, and internationally.
Working with partners across North America, center staff will coordinate educational events, host health screenings, conduct research, and develop action plans to address not only health disparities, but larger issues that impact wellness, such as humans' relationship to the environment. Dr. Haring, who leads the new center as Director, highlights what can be gained from applying lessons from both academic medicine and indigenous knowledge.
Roswell Park has collaborated with several sovereign nations, including the Seneca and Tuscarora, and is now extending these efforts well beyond Western New York. Dr. Haring and colleagues have initiated collaborations with two ancestrally related tribes, the St. Regis Mohawk in north-central New York State and the Kahnawake Mohawk territory near Montreal, Quebec, working with tribal leaders, health-delivery teams, and rural providers to conduct roundtable discussions focused on cancer care quality improvement, research, and envisioning future projects.
The center fulfills some of the benchmarks established through Roswell Park's 2016 collaborative agreement with the Indian Health Service of the U.S. Department of Health and Human Services, another first-of-its-kind initiative focused on health care, cancer prevention, facilitation of research, and expansion of career and educational opportunities.
Collaborative Community Effort
The center's work is being led by Dr. Haring, along with an intertribal community advisory board and three additional dedicated staff members: Whitney Ann Henry (Tuscarora), Clinical Research Associate; William Maybee (Seneca), Community Relations Coordinator; and Josie Raphaelito, MPH (Dine/Navajo), Research Project Coordinator. Key to its efforts will be partnerships with indigenous communities across North America, including ongoing interactions with Native American, Alaska Native, Native Hawaiian, First Nations, Inuit, and Metis communities.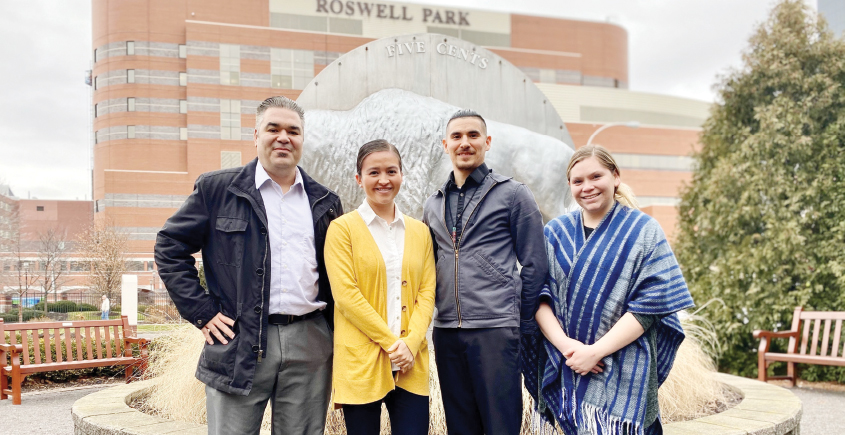 The staff of the Roswell Park Center for Indigenous Cancer Research: from left, Rodney Haring, PhD, MSW, Josie Raphaelito, William Maybee, and Whitney Ann Henry.
Since joining the Office of Community Outreach and Engagement within Roswell Park's Department of Cancer Prevention and Control in 2015, Dr. Haring and colleagues have earned more than $2.1 million toward initiatives in indigenous communities from the National Institutes of Health, National Cancer Institute, Robert Wood Johnson Foundation, Aetna Foundation, Roswell Park Comprehensive Cancer Center, and Roswell Park Alliance Foundation.
The team has built an international collaborative research network with indigenous researchers from as far away as Norway, New Zealand, and Pacific Island Nations. Their work has been marked by collaboration on outreach and prevention initiatives in both native urban settings and rural indigenous territories as well as has helped create learning and internship opportunities for indigenous high school and college students. 
---