Cancer in the Aging Population: 'Leaving No One Behind'


Nina Rosa Neuendorff, MD
With the motto of "leaving no one behind," 420 delegates from 40 countries and 61 faculty members from 19 countries attended the Annual Meeting of the International Society of Geriatric Oncology (SIOG) in Geneva on November 14–16, 2019.
SIOG serves as a platform to discuss a myriad of aspects related to cancer in the aging population. It brings together leading international experts, professionals, and academics in this field from a variety of disciplines. The population ages and expands beyond developed countries. Thus, worldwide cancer care is complicated by competing comorbidities, geriatric syndromes, and declining resilience in older adults.
Care of older individuals worldwide was acknowledged by a 1-day summit on "Global Policy Dialogue on Cancer in the Aging Population" prior to the scientific meeting. It was held at the United Nations Venue as a jointly hosted meeting of the International Federation on Ageing (IFA) and SIOG. Opinion leaders and experts in the field met for round-table discussions and regional reports related to the aging population and cancer. The summit opened the SIOG-IFA Call for Action to encourage countries to strengthen their national resources in an attempt to enhance the quality of care for older adults with cancer and to enable affordable access and treatment. There should be no discrimination and restricted access to health care due to advanced age.
The scientific program opened with a review of the year in geriatric oncology, as presented by President-Elect ­Ravindran Kanesvaran, BSc (Hons), MD, MRCP (UK), FAMS, of the Department of Medical Oncology, National Cancer Centre, Singapore, and geriatrician Marije Hamaker, MD, PhD, of the Department of Geriatric Medicine, Diakonessenhuis, Utrecht, Netherlands. One highlight was the work by Shahrokni et al presented at the 2019 ASCO Annual Meeting.1 In older patients undergoing major cancer surgery, co-management by a geriatric service led to a reduced 90-day postoperative mortality in comparison to patients who were not referred (4.3% vs 9.2%, P < .0001). A greater percentage of co-managed patients had physical therapy (80% vs 64%) and occupational therapy (37% vs 25%), but the length of hospital stay was slightly longer (7 vs 6 days).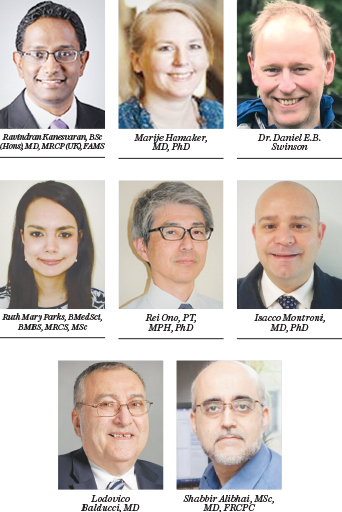 Featured Sessions
The scientific program of the conference included oral abstract sessions as well as poster discussions following three major tracks: (1) solid and hematologic malignancies; (2) geriatric assessment and supportive care; and (3) modern diagnostics and therapeutics. Among the highlights, the GO2 phase III trial was presented by Dr. Daniel E.B. Swinson of Leeds Cancer Centre, St. James's University Hospital, Leeds Teaching Hospitals NHS Trust, Leeds, United Kingdom.
This trial focused on the optimization of chemotherapy for frail and/or elderly patients with advanced gastroesophageal cancer. It included patients for whom the appropriate dose of capecitabine and oxaliplatin chemotherapy was uncertain. Patients were randomly assigned to different dose levels (100% vs 80% vs 60%), and maximum overall treatment utility—a composite value made up of clinical benefit, tolerability, quality of life, and patient value—was assessed after 9 weeks. Of interest, the lowest dose was not inferior in terms of progression-free survival and produced less toxicity with better treatment utility.
In addition, several educational sessions offered a specific focus on interdisciplinary discussions. Within these multidisciplinary team sessions, the major cancer entities, such as colorectal, lung, breast, prostate, and hematologic malignancies, were included. Real patient cases were discussed from different perspectives, with participation by surgeons, oncologists, specialized nurses, and health-care workers.
Award Recipients
As one of the conference highlights, the Paul Calabresi Award was granted to Dr. Hamaker during the presidential session. This prize is named after the founding president of SIOG, Paul Calabresi, and honors a person with long-standing merits in the field of geriatric oncology. As a clinical geriatrician, Dr. Hamaker has focused her research over many years on optimizing treatment decisions in geriatric oncology based on geriatric assessment and patients' preferences.
The 2019 B.J. Kennedy award for best poster was given to Ruth Mary Parks, BMedSci, BMBS, MRCS, MSc, of Nottingham Breast Cancer Research Centre, School of Medicine, University of Nottingham, UK, for her work on "The Role of the Androgen Receptor in Primary Breast Cancer in Older Women."
Rei Ono, PT, MPH, PhD, of the Department of Public Health, Graduate School of Health, Kobe University, Kobe, Japan, was granted with the SIOG 2019 Nursing & Allied Health Investigator Award for his work on "The High Impact of Preoperative Social Frailty on Overall Survival in Elderly Gastrointestinal Cancer Patients."
The SIOG 2019 Young Investigator Award was granted to Isacco ­Montroni, MD, PhD, of the Department of Colorectal Surgery, Ospedale per gli Infermi Faenza–AUSL Romagna, Faenza, Italy, for his work on "Patient-Reported Outcomes Measures in Geriatric Patients Undergoing Major Surgery for Solid Cancer: 90-Day Preliminary Report on 643 Patients From the GOSAFE Study." Dr. ­Montroni presented the interim analysis of the international multicenter GOSAFE trial, which focused on patients' perceptions of quality of life after surgery.
New Workshop and Closing Debate
"The conference closed with a heated debate on the pros and cons of continued cancer screening beyond the age of 70."

— Nina Rosa Neuendorff, MD




Tweet this quote



A Geriatric Evaluation Workshop was newly implemented in the program, organized by the Young SIOG Interest Group in collaboration with the Nursing/Allied Health Interest Group. At seven stations, the most important aspects of geriatric assessment (ie, screening tools, cognitive assessments, physical performance tests, chemotherapy toxicity calculators, life expectancy estimation, social support, and polypharmacy) were covered, and hands-on training was provided for 70 participants.
The conference closed with a debate session on screening for breast and colorectal cancers in older adults. ­Lodovico Balducci, MD, of the Division of Geriatric Oncology, Moffitt Cancer Center, Tampa, Florida, and Shabbir Alibhai, MSc, MD, FRCPC, of the Geriatric Oncology Program, Princess Margaret Cancer Centre, University Health Network, Toronto, led a heated discussion on the pros and cons of continued cancer screening beyond the age of 70. Dr. Alibhai argued against screening, explaining the higher risk of perforation during colonoscopy at an older age. Furthermore, he emphasized there are no randomized trials assessing the effect of screening for either tumor at an older age. In contrast, Dr. Balducci's arguments favored screening in the case of a life expectancy of at least 5 to 10 years. He emphasized the importance of screening for reduction of nonelective bowel surgery, which places elderly patients at high risk.
The 19th annual meeting of the SIOG presented a many-faceted program, covering a multitude of relevant topics in the field of geriatric oncology. We can look forward to the next annual meeting to be held in Geneva from September 1–3, 2020. For further information see www.siog.org. 
Dr. Neuendorff is a physician with a specific interest in geriatric hematology at the University Hospital Heidelberg, Department of Haematology, Oncology, and Rheumatology, Heidelberg, Germany.
DISCLOSURE: Dr. Neuendorff reported no relevant conflicts of interest for this article. She has received honoraria and travel support from Janssen-Cilag, Medac, and Jazz Pharmaceutical.
REFERENCE
1. Shahrokni A, Tin A, Sarraf S, et al: Reduced 90-day postoperative mortality through geriatric comanagement after cancer surgery. 2019 ASCO Annual Meeting. Abstract 11512. Presented June 3, 2019.
---