Former JAMA Editor Offers Perspective on Challenges Past and Present in American Health Care

BOOKMARK
Title: Severed Trust: Why American Medicine Hasn't Been Fixed
Author: George D. Lundberg, MD, With James Stacey
Publisher: Basic Books
Publication date: March 2001
Price: $28.00, hardcover, 336 pages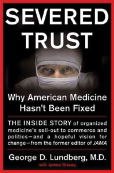 Pathologist George D. Lundberg, MD, served as Editor-in-Chief of The Journal of the American Medical Association (JAMA) for 17 years. He was fired in 1999 for publishing content that purportedly put JAMA into a public controversy and political scandal. During his tenure, he had other clashes with the American Medical Association (AMA) by publishing articles on social issues with ethical undertones, such as calls for strict gun control, seatbelt and motorcycle legislation, a total ban on boxing, and challenges to the process of how medical journals work. Shortly after leaving JAMA, Dr. Lundberg wrote Severed Trust: Why American Medicine Hasn't Been Fixed. First published in 2001 and since revised, Severed Trust is as relevant now as it was then.
A Born Crusader for Patients
Dr. Lundberg's notable career began as a hospital orderly mopping floors in Mobile, Alabama, where he fell in love with medicine and became determined to make his mark. Choosing pathology as his specialty, at a time when medicine was evolving from general practice to specialization, Dr. Lundberg has worked in hospitals of all sizes, as a doctor in the U.S. Army and as a professor at leading medical schools. Dr. Lundberg also became a medical crusader for editorial freedom, serving the interests of patients above and beyond standard practice. "This is a medical memoir, not the story of what happened to me in medicine. Rather, it is the story of what has happened to medicine during the last 50 years," he wrote in the Introduction to Severed Trust. The book is well written, easily read, and meticulously edited.
Organized in 10 chapters, Dr. Lundberg's underlying message is that American medicine has declined from a profession to a business and that much of our health-care system's challenges stem from that transition. Many of the systemic problems he discusses remain today, and some may be even more problematic.
Dr. Lundberg occasionally skewers his former employer, JAMA, and much of his own profession, sometimes a bit too harshly. Yet although he offers a passionate plea to doctors to forgo lucrative enterprises, such as physician-owned laboratories, private surgical centers, and imaging labs, he does not offer specifics of a huge issue still being grappled with: physician payment.
Abandoning the Autopsy
In the middle of the book, Dr. Lundberg makes a case for more stringent national standards and licensing. One policy he called for back in 2001 has become a reality: more public information about doctors' malpractice and disciplinary histories as well as an independent body to provide leadership. He also explores controversial issues such as alternative medicine, assisted suicide, and the role of the Internet in medicine. Some topics in this section might feel a bit dated, but they are still well worth the read.
One of the most powerful chapters is his criticism of the medical community for "abandoning autopsies." As a pathologist, he tackles this issue with authority. In the 1950s and 1960s, between 50% and 70% of hospital deaths underwent autopsy; today's rate is about 10%. "A backlash against autopsies began in the 1970s, when physicians started not liking what pathologists were finding. They didn't want pathologists to see the outcome of their work and they didn't want anyone else to see it either….
[L]ack of autopsy is the ultimate cover-up in medicine and the signature of poor quality care," he said.
There are two areas barely covered in Severed Trust. They are psychiatric conditions and their cost to the system and disease prevention (other than an excoriation of the tobacco industry and a cogent call to arms for more smoking cessation programs).
Healing a Sick System
The last few chapters deal with the problem all books in this genre struggle with: it's a lot easier to point out problems in our $3 trillion system than it is to offer concrete solutions. To that end, Dr. Lundberg proffers an unusual suggestion: The Singapore Solution. This approach proposes that through a payroll tax, everyone would receive free preventive care, if it is supported by evidence-based guidelines, and everyone would be covered for traumatic situations requiring hospital care. Other care would be optional and paid for by the patient, with no third-party intrusion.
Dr. Lundberg contends, "A government program similar to Medicare will be established within a decade or so." Given that a single-payer system is still a third rail in politics, it might take a lot longer than that.
Despite a bit of over-the-top rhetoric and some dated material, this book is full of valuable and innovative information. Severed Trust: Why American Medicine Hasn't Been Fixed is strongly recommended for readers of The ASCO Post. ■
---