ASCO Convenes Stakeholders to Build Consensus for a Clinical Trial Data-Sharing Policy Among Journals That Publish Clinical Cancer Research

Jeffrey M. Drazen, MD, Editor-in-Chief of The New England Journal of Medicine, wrote in a 2016 editorial, "Data Sharing and the Journal," that "[W]e believe there is a moral obligation to the people who volunteer to participate in these trials to ensure that their data are widely and responsibly used…. Clinical trial data are some of the highest quality data in medicine. They should be used responsibly and extensively to help alleviate suffering. We believe that we will all benefit most if this is done collaboratively...."1
On November 8, 2018, ASCO convened journal publishers, editors, researchers, patient advocates, and representatives from nonprofit and government funders, health-care companies, and data repositories for a 1-day summit at its Alexandria, Virginia, headquarters to discuss the goals of and challenges surrounding data-sharing in clinical oncology research. The summit is part of a larger initiative to develop a consistent, harmonized data-sharing policy and article-level data-sharing statement for journals that publish clinical oncology research. The initiative is supported through ASCO's Conquer Cancer Foundation by the Laura and John Arnold Foundation, Doris Duke Charitable Foundation, and an anonymous funder.
The first part of the summit featured panel discussions by four stakeholder groups—researchers and patient advocates, research funders, data platforms, and journal publishers—to examine key considerations, such as addressing costs, minimizing burdens to researchers, and ensuring accountability. The theme throughout the day was a shared belief that a common journal policy requiring researchers to share their data through repositories is the right thing to do—an ethical mandate that will ultimately benefit patients with cancer. Data-sharing will also benefit investigators who will be able to draw on past trial data to strengthen their own research and inform better scientific outcomes.
Kate Yglesias Houghton, a young adult patient advocate, spoke of the importance of engaging patients and communicating the results of the trials with patients. "I've never seen the results of any clinical trial in which I've participated," Ms. Houghton said.
Greg Simon, JD, President of the Biden Cancer Initiative, gave the keynote address for the summit. A survivor of chronic lymphocytic leukemia, Mr. Simon advocates for streamlining clinical trials and working through barriers to harness data to improve health outcomes. He encouraged the group to work together to devise new models for advancing cancer research.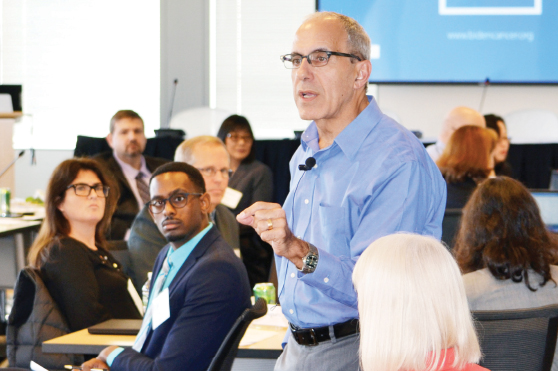 Greg Simon, JD, President of the Biden Cancer Initiative, gives the summit's keynote address.
The summit concluded with group discussions on key takeaways that would have the greatest impact on data-sharing. The next step for the initiative will include bringing journal representatives back to ASCO for smaller group meetings to work toward developing a data-sharing policy and article-level data-sharing statement.
"Journals are uniquely positioned to catalyze, embed, incentivize, and, if necessary, enforce changes that benefit the research endeavor and, ultimately, society," said David Sampson, ASCO Vice President of Journals and Publishing. "This meeting brought together major stakeholders to surface key considerations that journals must consider for policies and statements that will foster a culture in which the sharing of clinical trial data is the norm." ■
Originally published in ASCO Connection. ©American Society of Clinical Oncology. "ASCO Convenes Stakeholders to Build Consensus for a Clinical Trial Data Sharing Policy Among Journals That Publish Clinical Cancer Research." ASCO Connection, January 2019. All rights reserved.
REFERENCE
1. Drazen JM: Data sharing and the journal. N Engl J Med 374:e24, 2016.
---