Surveillance for Recurrence and Second Cancers: Guidelines and Caveats


Appropriate screening is based on risk, available tests, and available treatment options, but the problem is that new information is emerging all the time that changes these risks and benefits.

Stephanie J. Lee, MD, MPH
Striking the right balance between under- and oversurveillance of cancer survivors is challenging, and oncology providers are best served by knowing and following guidelines—though they can change often.
Cancer recurrence and second cancers are two of the major threats to the health of cancer survivors. In 2006, cancer survivors were approximately 3.5% of the U.S. population, but second primary malignancies in this group accounted for 16% of the cancer incidence.1 In 2015, cancer survivors represented 4.3% of the population (13.7 million), making prevention and early diagnosis in this population more important than ever.
And yet, as Stephanie J. Lee, MD, MPH, noted at the 2016 Cancer Survivorship Symposium,2 the issues surrounding surveillance—and oversurveillance—are increasingly controversial.
"Appropriate screening is based on risk, available tests, and available treatment options, but the problem is that new information is emerging all the time that changes these risks and benefits. Screening guidelines are essential because they summarize the best available evidence for busy clinicians and also provide reasonable guidance in the absence of evidence," said Dr. Lee, Research Director of the Long-Term Follow-up Program at Fred Hutchinson Cancer Research Center in Seattle.
"Not everything is going to have a randomized trial," she added, "and yet the community still needs guidance."
Screening for Risk
As Dr. Lee reported, screening for cancer recurrence is often stratified by risk, with high-risk patients being screened with greater frequency or intensity.
"There are genetic risks, such as familial syndromes or underlying genetic abnormalities, residual disease after primary treatment, and case-specific and treatment-specific features to consider, such as the modality used," Dr. Lee explained.
The reasons for increased second cancer incidence are similarly manifold, including environmental exposures, therapeutic exposures, and genetic predisposition.
"Unfortunately," said Dr. Lee, "survivors are never old enough or far enough removed from their cancer to stop worrying about this."
Surveillance for Cancer Survivors
Recommended screenings for cancer recurrence use a limited subset of tests for a limited period of time.
Cancer survivors are at higher risk of a second cancer throughout their lives, but in asymptomatic patients, general population guidelines are usually recommended.
A study of 3,000 childhood cancer survivors, 40 years or older, showed that the risk of secondary neoplasms continues to increase with age, even after 40, with secondary malignant neoplasms also increasing.3
"By age 55," said Dr. Lee, "the cumulative incidence was about 16%, or 2.2 times the general population risk."
Breast cancer, renal cell carcinoma, soft-tissue sarcoma, and thyroid cancer were the major malignancies identified in the study, with multivariate analysis revealing risk factors to be female sex, platinum use, and radiation therapy. Data published recently for Hodgkin lymphoma survivors showed similar results, with absolute risk increasing with age.4
"Forty years after treatment for Hodgkin lymphoma," said Dr. Lee, "almost 50% of these survivors had had a second neoplasm, compared to 19% in a population that was age- and sex-matched."
Guideline Recommendations
The majority of guidelines state that unless you have an independent risk factor for these other cancers, it's actually advisable to follow cancer screening schedules for the general population, Dr. Lee observed.
Table 1 summarizes high-level recommendations regarding testing for cancer recurrence in patients treated with curative intent and at standard risk for recurrence. All of these guidelines, said Dr. Lee, stress the general physical exam as well—ie, palpation of the thyroid, ovaries, lymph nodes; breast clinical exam; and examination of the oral cavity and skin.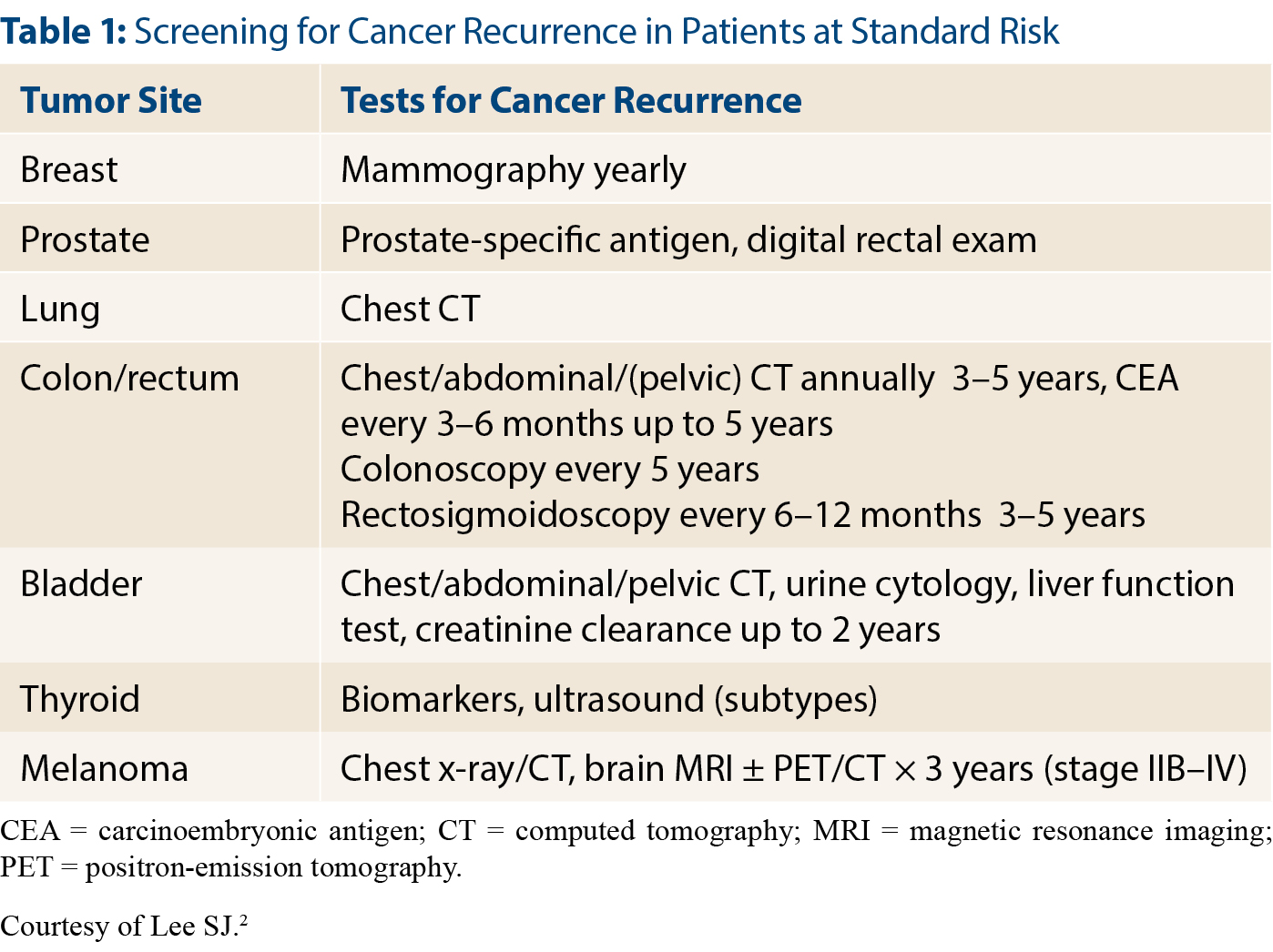 Dr. Lee also noted that, while screening recommendations for cancer recurrence and second cancers depend on whether patients are at standard or high risk, these definitions can change and require knowledge of their specific diagnosis and treatment parameters. Oncologists should consider their patients' comorbid conditions and life expectancy before ordering screening tests, she said.
"Very high standardized incidence ratios are scary but usually mean low absolute increased risks. We tend to overutilize our tests and use very sensitive tests that may provide information that's unhelpful," she said.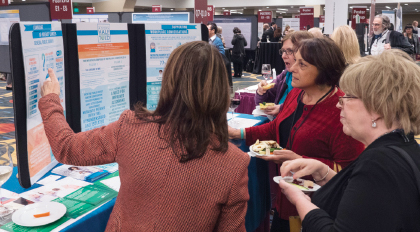 2016 Cancer Survivorship Symposium: Attendees talk with exhibitors during Friday afternoon sessions. Photo by © ASCO/Todd Buchanan 2016.
"In asymptomatic patients, general population guidelines for cancer screening are usually recommended," Dr. Lee advised. "Although the aggregate risk of second cancers is higher, the site-specific risk is usually not increased enough to change the screening frequency or modality." ■
Disclosure: Dr. Lee reported no relevant conflicts of interest.
References
1. Travis LB, Rabkin CS, Brown LM, et al: Cancer survivorship—genetic susceptibility and second primary cancers: Research strategies and recommendations. J Natl Cancer Inst 98:15-25, 2006.
2. Lee SJ: Surveillance for recurrence and second cancers: Guidelines and caveats. 2016 Cancer Survivorship Symposium. General Session 3. Presented January 15, 2016.
3. Turcotte LM, Whitton JA, Friedman DL, et al: Risk of subsequent neoplasms during the fifth and sixth decades of life in the childhood cancer survivor study cohort. J Clin Oncol 33:3568-3575, 2015.
4. Schaapveld M, Aleman BM, van ­Eggermond AM, et al: Second cancer risk up to 40 years after treatment for Hodgkin's lymphoma. N Engl J Med 373:2499-2511, 2015.
---
Related Articles
Co-Chair and moderator of the session, Chunkit Fung, MD, MSCE, Assistant Professor at the Wilmot Cancer Center of the University of Rochester in New York, underscored the issue of oversurveillance and patients' reluctance to adopt a less-is-more philosophy of health care.
"Talking to patients...