Mistletoe

Scientific names: Viscum album, Viscum coloratum
Common names: Helixor, Iscador, Iscador Qu, Lektinol, Cefalektin, Eurixor, ABNOBAviscum, Abnoba-viscum Quercus
Overview 
Mistletoe is a semiparasitic plant that grows on many species of trees native to Europe and Western Asia. It has been used in traditional medicine for the treatment of epilepsy, hypertension, headaches, infertility, and rheumatism. Leaves and twigs of mistletoe are used in herbal remedies, but the berries are highly poisonous. 
Popularized in the 1920s by Rudolf Steiner, an Austrian philosopher, mistletoe extracts are used to treat cancer in some countries in Europe, where the plant has been used as a folk treatment for many centuries. The extracts are also used to treat AIDS, hepatitis, and degenerative joint disease. 
Of the several hundred species of mistletoe, European mistletoe is the most studied. Preclinical studies indicate its anticancer properties. Data from clinical studies suggest that mistletoe therapy may improve symptoms and quality of life in patients with cancer, but definitive information on these benefits is still lacking. 
Oral preparations of mistletoe are available as dietary supplements and homeopathic remedies. The injectable forms are currently used in many mainstream European clinics, typically in conjunction with chemotherapy. However, mistletoe injections have not been approved for medical use by the U.S. Food and Drug Administration (FDA).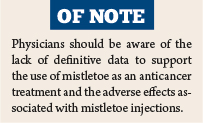 The Science
Lectins are the most studied components of mistletoe extracts, with cytotoxic effects attributed in part to ribosome-inactivating properties and apoptotic induction.1 Lectins induce macrophage cytotoxicity; stimulate phagocytosis of immune cells; increase secretion of tumor necrosis factor-alpha (TNFα), interleukins (IL) 1, IL-2, and IL-6; and enhance cytotoxicity effects in various cell lines in vitro.2 In lymphoblastic leukemia cells, mistletoe extracts stimulate dendritic cell maturation and activation3 and induce dose-dependent apoptosis through caspase-8– and -9–dependent pathways.4 In animal models, triterpene-containing mistletoe extracts improved efficacy against malignant melanoma via reduced tumor angiogenesis.5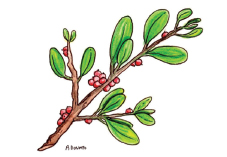 Furthermore, mistletoe injections attenuated airway inflammation and eosinophil infiltration,6 and an injectable form of mistletoe lectins reduced the frequency and intensity of clinical signs and symptoms of hepatitis C in animal models.7
Mistletoe extracts also demonstrated anticancer effects.8 Simultaneous exposure of various cancer cell lines to mistletoe extract along with doxorubicin, gemcitabine, docetaxel, or cisplatin does not appear to inhibit chemotherapy and may produce additive effects.9
A few studies in humans support the use of mistletoe for supportive care in patients with cancer to improve symptoms, reduce chemotherapy and radiotherapy side effects, and prolong survival.1,10,11 Mistletoe also improved cancer treatment–related toxicities in patients with advanced non–small cell lung cancer11 and colorectal cancer12 and reduced symptoms and improved quality of life in patients with pancreatic13 and breast14 cancers. However, no significant survival effects were found in older studies for patients with metastatic colorectal cancer,15 melanoma,16 or head and neck cancer.17
Adverse Effects

Jyothirmai Gubili, MS
Injection-site reactions, fever, flu-like symptoms, and leukocytosis are common adverse reactions to mistletoe.18-20 Uncommon adverse effects include diarrhea, nausea, vomiting, headache, increased blood glucose, decreased blood pressure, syncope, generalized pruritus, urticarial,20 bradycardia, organ toxicity.21 The long-term use of mistletoe may reduce T-cell function in patients with cancer.22 Furthermore, in a 61-year-old patient with breast cancer who was 2 months post surgery, subcutaneous inflammation mimicking metastatic malignancy was induced by self-administered mistletoe injections over 12 months.23 Finally, fatalities due to excessive ingestion of mistletoe teas are rare.21,24
Herb-Drug Interactions
Mistletoe inhibits cytochrome P450 3A4 substrates and therefore may affect the intracellular concentration of drugs metabolized by this enzyme.25
For additional information, visit the "About Herbs" website at https://www.mskcc.org/cancer-care/integrative-medicine/herbs/mistletoe-european. ■
Disclosure: Ms. Gubili reported no potential conflicts of interest.
References
1. Melzer J, Iten F, Hostanska K, et al: Efficacy and safety of mistletoe preparations (Viscum album) for patients with cancer diseases. Forsch Komplementmed 16:217-226, 2009. 
2. Goebell PJ, Otto T, Suhr J, et al: Evaluation of an unconventional treatment modality with mistletoe lectin to prevent recurrence of superficial bladder cancer. J Urol 168:72-75, 2002.
3. Elluru SR, Duong van Huyen JP, Delignat S, et al: Induction of maturation and activation of human dendritic cells. BMC Cancer 8:161, 2008.
4. Delebinski CI, Jaeger S, Kemnitz-Hassanin K, et al: A new development of triterpene acid-containing extracts from Viscum album L. displays synergistic induction of apoptosis in acute lymphoblastic leukaemia. Cell Prolif 45:176-187, 2012.
5. Strüh CM, Jäger S, Kersten A, et al: Triterpenoids amplify anti-tumoral effects of mistletoe extracts on murine B16.f10 melanoma in vivo. PLoS One 8:e62168, 2013.
6. Shen JJ, Chiang MS, Kuo ML, et al: Partially purified extract and viscolin from Viscum coloratum attenuate airway inflammation and eosinophil infiltration in ovalbumin-sensitized mice. J Ethnopharmacol 135:646-653, 2011.
7. Huber R, Lüdtke R, Klassen M, et al: Effects of a mistletoe preparation with defined lectin content on chronic hepatitis C. Eur J Med Res 6:399-405, 2001.
8. Strüh CM, Jäger S, Schempp CM, et al: A novel triterpene extract from mistletoe induces rapid apoptosis in murine B16.F10 melanoma cells. Phytother Res 26:1507-1512, 2012.
9. Weissenstein U, Kunz M, Urech K, et al: Interaction of standardized mistletoe (Viscum album) extracts with chemotherapeutic drugs regarding cytostatic and cytotoxic effects in vitro. BMC Complement Altern Med 14:6, 2014.
10. Horneber MA, Bueschel G, Huber R, et al: Mistletoe therapy in oncology. Cochrane Database Syst Rev 2008(2):CD003297.
11. Bar-Sela G, Wollner M, Hammer L, et al: Mistletoe as complementary treatment in patients with advanced non-small-cell lung cancer treated with carboplatin-based combinations. Eur J Cancer 49:1058-1064, 2013.
12. Friedel WE, Matthes H, Bock PR, et al: Systematic evaluation of the clinical effects of supportive mistletoe treatment within chemo- and/or radiotherapy protocols and long-term mistletoe application in nonmetastatic colorectal carcinoma. J Soc Integr Oncol 7:137-145, 2009.
13. Tröger W, Galun D, Reif M, et al: Viscum album [L.] extract therapy in patients with locally advanced or metastatic pancreatic cancer: A randomised clinical trial on overall survival. Eur J Cancer 49:3788-3797, 2013.
14. Tröger W, Zdrale Z, Stankovic N, et al: Five-year follow-up of patients with early stage breast cancer after a randomized study comparing additional treatment with viscum album (L.) extract to chemotherapy alone. Breast Cancer (Auckl) 6:173-180, 2012.
15. Bar-Sela G, Haim N: Abnoba-viscum (mistletoe extract) in metastatic colorectal carcinoma resistant to 5-fluorouracil and leucovorin-based chemotherapy. Med Oncol 21:251-254, 2004.
16. Kleeberg UR, Suciu S, Bröcker EB, et al: Final results of the EORTC 18871/DKG 80-1 randomised phase III trial. Eur J Cancer 40:390-402, 2004.
17. Steuer-Vogt MK, Bonkowsky V, Ambrosch P, et al: The effect of an adjuvant mistletoe treatment programme in resected head and neck cancer patients. Eur J Cancer 37:23-31, 2001.
18. Mansky PJ, Wallerstedt DB, Sannes TS, et al: NCCAM/NCI phase 1 study of mistletoe extract and gemcitabine in patients with advanced solid tumors. Evid Based Complement Alternat Med 2013:964592, 2013.
19. Huber R, Eisenbraun J, Miletzki B, et al: Pharmacokinetics of natural mistletoe lectins after subcutaneous injection. Eur J Clin Pharmacol 66:889-897, 2010.
20. Steele ML, Axtner J, Happe A, et al: Adverse drug reactions and expected effects to therapy with subcutaneous mistletoe extracts (Viscum album L.) in cancer patients. Evid Based Complement Alternat Med 2014:724258, 2014.
21. Evens ZN, Stellpflug SJ: Holiday plants with toxic misconceptions. West J Emerg Med 13:538-542, 2012.
22. Büssing A, Stumpf C, Tröger W, et al: Course of mitogen-stimulated T lymphocytes in cancer patients treated with Viscum album extracts. Anticancer Res 27:2903-2910, 2007.
23. Finall AI, McIntosh SA, Thompson WD: Subcutaneous inflammation mimicking metastatic malignancy induced by injection of mistletoe extract. BMJ 333:1293-1294, 2006.
24. Hall AH, Spoerke DG, Rumack BH: Assessing mistletoe toxicity. Ann Emerg Med 15:1320-1323, 1986. 
25. Engdal S, Nilsen OG: In vitro inhibition of CYP3A4 by herbal remedies frequently used by cancer patients. Phytother Res 23:906-912, 2009.
---