At Long Last: CMS Will Cover Lung Cancer Screening

James L. Mulshine, MD

Ella Kazerooni, MD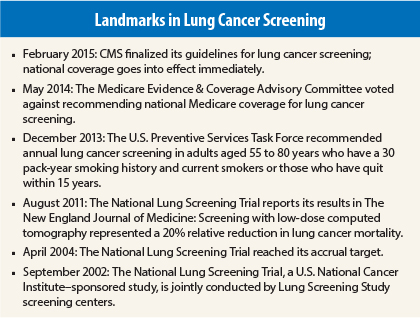 Landmarks in Lung Cancer Screening
This is one tough decision in which CMS listened to the body of professionals who were invested in making sure that the evidence supporting the use of lung cancer screening was fully analyzed. This is a victory for cancer prevention.

—Ella Kazerooni, MD
Few issues in health-care debates are more contentious and polarizing than population screening for the early detection of cancer. After a decades-long battle, lung cancer screening advocates have just received what they have long sought: The Centers for Medicare & Medicaid Services (CMS) has approved Medicare coverage of lung cancer screening for qualified beneficiaries. Speaking with The ASCO Post, Ella Kazerooni, MD, Director of Cardiothoracic Radiology at the University of Michigan Health System said, "This is a victory for cancer prevention and will ultimately save the lives of thousands of Americans at high risk of developing lung cancer."
Medicare will now pay for an annual lung cancer screen with low-dose computed tomography for beneficiaries aged 55 to 77 years who have a 30 pack-year history or have quit smoking within the past 15 years. Qualified beneficiaries must also have a written order from a physician or qualified nonphysician. Notably, the coverage also includes a visit for counseling and shared decision-making on the risks and benefits of lung cancer screening.
According to the Lung Cancer Alliance, there are about 4 million Medicare beneficiaries nationwide who will meet eligibility requirements for screening. Critics of lung cancer screening have long argued that screening is fraught with problems such as an inordinate amount of false-positive results, which increase unnecessary morbidity and inflate costs to the health-care system.
But according to Dr. Kazerooni, "This is one tough decision in which CMS listened to the body of professionals who were invested in making sure that the evidence supporting the use of lung cancer screening was fully analyzed. Nothing in health care is perfect, but the data from the National Lung Screening Trial are solid proof that screening saves countless thousands of lives. All the hard work was worth it."
The Beginning of a Long Road
Is this the end of the road in this hard-fought battle? Dr. Kazerooni responded, "Certain aspects of the lung cancer screening conflict are over now that CMS has made its decision. That said, it's also the beginning of a long road, because we now have to put the screening mechanisms in place so the majority of eligible people can get screened. Frankly, I am disappointed that CMS is only covering beneficiaries up to the age of 77 years, instead of 80, which was what the U.S. Preventive Services Task Force recommended. But this decision will bring lung cancer screening into the mainstream of medical practice, and that's a major victory for our high-risk populations."
Some experts have argued that the CMS eligibility criteria place undo administrative burdens on screening facilities, which, for instance, must collect and submit data to a CMS-approved national registry for each low-dose computed tomography lung cancer screening performed. The data collected and submitted to a CMS-approved national registry must include at least 13 data elements.
"The registry reporting requirements are to ensure that the screening adheres to best practices quality and safety. The reporting also inhibits the overutilization of downstream tests and gives us information on how screening is performing in real practice as opposed to a scientific study. But like anything done on a large scale, there's an adaptability curve: The more you do a task, the better you become at it," said Dr. Kazerooni.
The Challenges Ahead
The screening data from the National Lung Screening Trial were collected from comprehensive institutions that were equipped to handle large standardized testing. Rolling out high-quality screening programs in multiple independent institutions across the nation is challenging. However, despite reservations from certain faultfinders, Dr. Kazerooni asserted that it is doable, explaining that health care is a lot different now than when mammography rolled out.
"Over the past 30 years, we've learned a lot from the mammography experience, and the demand for return on investment in health care is different now than a couple of decades ago. We also have the added advantage of integrated electronic health records to connect to the screening registries. Not to say that many smaller practices won't have a period of adjustment to work through, but we're at a good starting point," noted Dr. Kazerooni.
Moreover, she stressed that we need to look at lung cancer screening as a population health measure: It is not for people who have symptoms of one disease or another. It screens millions and millions of eligible people who have met a set of criteria.
"Just because Medicare has granted coverage, we can't expect the system to immediately be up to speed. It is going to take a lot of effort from the radiology community and health-care facilities to monitor and input the data and work with the various vendors to get all the kinks out," said Dr. Kazerooni.
Cost Issues
Critics of national lung cancer screening have also argued that population screening would place an untenable cost burden on Medicare and private payers. However, numerous studies counter that concern, such as one published in Health Affairs. In this study report, James L. Mulshine, MD, and colleagues concluded that "the cost per life-year saved would be below $19,000, an amount that compares favorably with screening for cervical, breast, and colorectal cancers."
Dr. Kazerooni commented, "The initiation of lung cancer screening in high-risk populations will serve as an example of how we can roll out large-scale cost-effective health programs. It's also important to note that lung cancer screening can serve as an educational instrument for smoking cessation programs. Then there's the data collection, which also adds to our cumulative bank of knowledge. So there are many positives that will come from this hard-won CMS decision." ■
Disclosure: Dr. Kazerooni reported no potential conflicts of interest.
---