Novel Agents Show Activity in Non-Hodgkin Lymphoma

Martin Dreyling, MD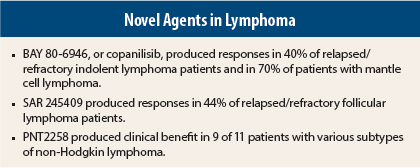 Novel Agents in Lymphoma

Ayad Al-Katib, MD, FACP
Compared to other compounds—such as a [Bruton's tyrosine kinase] inhibitor or other PI3K inhibitors—[copanilisib produces] a much quicker response than we are used to seeing.

—Martin Dreyling, MD
PI3K-mediated activation of downstream effectors allows tumors to escape from negative growth control, and this action may be checked with PI3K inhibitors. At the 2013 American Society of Hematology (ASH) Annual Meeting, researchers reported results in patients with relapsed or refractory lymphoma treated with two novel PI3K inhibitors and a first-in-class Bcl2-targeted "DNA interference" (DNAi) molecule.
Copanilisib in Relapsed/Refractory Lymphoma
BAY 80-6946, now known as copanilisib, is an intravenously administered compound that has significant activity against alpha and delta isoforms of PI3K; the delta isoform has a role in B-cell signaling, development, and survival. Martin Dreyling, MD, of the Klinikum der Universität München in Munich, Germany, reported single-agent activity for BAY 80-6946 in 67 relapsed or refractory lymphoma patients.1
The population included 33 patients with indolent disease (follicular lymphoma, chronic lymphocytic leukemia, marginal zone lymphoma) and 34 with aggressive lymphomas (diffuse large B-cell lymphoma, mantle cell lymphoma, transformed indolent lymphoma, T-cell lymphoma, mediastinal B-cell lymphoma, follicular lymphoma subtype G3b). They had been administered a median of three prior chemotherapy lines.
Patients received copanilisib as an intravenous 1-hour infusion given weekly for 3 out of 4 weeks, starting with a dose of 0.8 mg/kg and with a maximum dose of 65 mg.
"The preliminary efficacy results are encouraging," Dr. Dreyling reported. After a median of three treatment cycles, significant activity (objective responses, including many complete responses), was observed in follicular lymphoma (40%), chronic lymphocytic leukemia (43%), mantle cell lymphoma (71%), peripheral T-cell lymphoma (50%), and diffuse large B-cell lymphoma (13%).
"The overall response rate was 40% to 45% in indolent lymphoma and 70% in mantle cell lymphoma, which is quite high. But what was most striking was the somewhat unexplained fact that of four patients with peripheral T-cell lymphoma, two achieved a complete (unconfirmed) response as assessed by the investigator," Dr. Dreyling said. "There were high-quality responses in diffuse large B-cell, mantle cell, and follicular lymphomas, and chronic lymphocytic leukemia as well."
He described one patient with mantle cell lymphoma who reported the elimination of symptoms after only 1 week of treatment. Radiologic imaging showed a very good partial response and almost complete disappearance of a large pleural effusion.
"Compared to other compounds—such as a [Bruton's tyrosine kinase] inhibitor or other PI3K inhibitors—this is a much quicker response than we are used to seeing," he commented.
Gastrointestinal toxicity was "minor and self-limiting" and hematologic toxicity was also "minor," he noted. Diarrhea (all grades) was reported by 36% of patients, but was grade 3 or higher in only 3%. Similarly, nausea occurred in 28%, but was grade 3 or higher in 2%. Hyperglycemia occurred in 58% and hypertension in 57%.
"This is a nonspecific PI3K inhibitor, so you get metabolic side effects, but they were manageable with conventional therapy," Dr. Dreyling noted. "The most meaningful number is how many patients stopped therapy due to adverse events not associated with disease progression, and this was 19%." He added that opportunistic infections do not appear to be a problem.
Further studies of copanilisib are ongoing or planned in both indolent and aggressive non-Hodgkin lymphoma.
SAR 245409 in Follicular Lymphoma
SAR 245409 is a potent oral pan-inhibitor of PI3K that also inhibits mTORC1 and mTORC2; mTOR is involved in dysregulated signaling. The multicenter phase II ARD12130 study evaluated the efficacy of SAR 245409 in 28 follicular lymphoma patients who had received a median of three prior regimens.2 Patients received 50 mg of SAR 245409 twice daily, continuously in 28-day cycles.
"Single-agent SAR 245409 exhibited clinical activity in patients with relapsed or refractory follicular lymphoma," reported Jennifer Brown, MD, PhD, of Dana-Farber Cancer Institute and Harvard Medical School, Boston.
In 27 efficacy-evaluable patients, the response rate was 44%, including complete responses in 15%, meeting the study's prespecified endpoint to expand to stage 2, namely an objective response rate ≥ 25%. All but four patients had a reduction in targeted lesions; in more than half the patients, the reduction exceeded 50%. Progression-free survival > 24 weeks was observed in 52%.
Eight patients (29%) remain on SAR 245409, and 20 (71%) discontinued treatment, primarily because of disease progression (39%) or adverse events (21%). Altogether 57% of patients experienced a serious adverse event. The most common toxicity was diarrhea, seen in about 45% of patients; but grade 3 was observed in only two patients (7%). Other adverse events of grade 3 or higher included pneumonia in three patients (11%) and acute renal failure in two patients (7%).
With regard to adverse events "of special interest," she said that rash was observed in 14 (50%) patients, which was at least grade 3 in 2 (7%). Liver toxicities were observed in 4 (14%), including 2 (7%) of grade 3 or higher. These toxicities were not surprising since, according to Dr. Brown, transaminitis is relatively common with targeted kinase inhibitors. Hyperglycemia events and increases in blood glucose occurred in five patients (18%), two cases (7%) of which were ≥ grade 3.
Targeting Bcl2 With PNT2258
The rationale for targeting Bcl2 is that it plays a role in lymphomagenesis, it is involved in chemotherapy resistance, and its disruption leads to cell death. The PNT2258 DNAi molecule targets the noncoding, nontranscribed regulatory region of the Bcl2 gene.
A study reported at the ASH meeting enrolled 12 patients with follicular, diffuse large B-cell, mantle cell, and chronic lymphocytic leukemia/small lymphocytic lymphomas.3 Patients received PNT2258 at 120 mg/m2 intravenously on days 1 to 5 every 21 days for six cycles. Those who appeared to benefit had the option of continuing on a maintenance schedule on days 1 and 2 of a 28-day cycle.
Senior author Ayad Al-Katib, MD, FACP, of Van Elslander Cancer Center in Grosse Pointe, Michigan, reported, "PNT2258 exhibited antitumor effects in patients with relapsed/refractory non-Hodgkin lymphoma." In 11 evaluable patients, clinical benefit was observed in 9, including complete responses in 2 and a partial response in 1. The follicular lymphoma patients experienced progression-free survival times of 200 to 250 days, which is ongoing in some patients.
"Patients tolerated the administration of the drug, and we saw no tumor lysis syndrome or major organ system toxicity. Patients maintained their baseline performance status while on the study," he said.
"Our results support further clinical development of PNT2258, and we feel that the DNAi strategy warrants further exploration as a cancer therapy," he said.
Disclosure: Dr. Dreyling has been a scientific advisor for Bayer. Dr. Brown has been a consultant for Sanofi-Aventis, Gilead, Celgene, and Pharmacyclics. Dr. Al-Katib has received research funding from ProNAi Therapeutics.
References
1. Dreyling M, Morschhauser F, Bron D, et al: Preliminary results of a phase II study of single agent Bay 80-6946, a novel PI3K inhibitor, in patients with relapsed/refractory, indolent or aggressive lymphoma. 2013 ASH Annual Meeting. Abstract 87. Presented December 8, 2013.
2. Brown JR, Hamadani M, Arnason J, et al: SAR 245409 monotherapy in relapsed/refractory follicular lymphoma: Preliminary results from the phase II ARD12130 study. 2013 ASH Annual Meeting. Abstract 86. Presented December 8, 2013.
3. Harb W, Lakhani N, Logsdon A, et al: The BCL2 targeted deoxyribonucleic acid inhibitor PNT2258 is active in patients with relapsed or refractory non-Hodgkin's lymphoma. 2013 ASH Annual Meeting. Abstract 88. Presented December 8, 2013.
---