Focus on the Michigan Society of Hematology and Oncology


Muhammed Ogaily, MD, FACP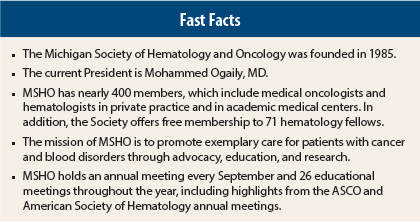 Fast Facts
MSHO is an organization that delivers programs to all of those involved in oncology, a bridge to reach out to policymakers, and a navigator in the turbulent world of oncology economics and business.

—Muhammed Ogaily, MD, FACP
Founded nearly 3 decades ago in response to unfavorable changes in Medicare reimbursement regulations and growing coverage issues with Michigan's private payers that threatened oncologists' ability to provide quality cancer care to patients, the Michigan Society of Hematology and Oncology (MSHO) remains one of the most legislatively active of ASCO's State Affiliates.
In 1989, MSHO successfully helped to pass the state's first law mandating oncology drug coverage, which was later expanded to include off-label indications. The legislation later led to the development of an Off-Label Oncology Panel review process that is now modeled throughout the country and was used to help craft the 1994 Medicare Cancer Coverage Act. Today, the Society is using its clout to pass an oral chemotherapy parity law in Michigan.
Since its founding in 1985, MSHO has also devoted a great deal of effort to recruiting and retaining members. Its roster currently includes nearly 400 medical oncologists and hematologists, representing 93% of Michigan's cancer specialists. 
The ASCO Post talked with MSHO's President, Mohammed Ogaily, MD, FACP, about his Society's past accomplishments, its goals for the future, and the impact of the Patient Protection and Affordable Care Act on MSHO's members and their patients.
High-Level Professional Opportunity
Why was it important for MSHO to become an ASCO State Affiliate?
We were early adopters of ASCO's State Affiliate program because we saw the value of leveraging ASCO's resources and reputation in our advocacy efforts. ASCO provided a high-level professional opportunity to network, share best practices, and address concerns of mutual interest with other state society leaders.
Multitude of Meetings
How many programs and meetings do you hold each year and what is the purpose of those meetings?
Over the past 12 months, we have seen MSHO continue to provide and participate in many fine educational offerings that are well attended, in addition to providing many valuable training programs and reimbursement meetings. In 2013, we staged a total of 26 educational activities in live and webinar formats and had 1,671 attendees.
Our annual meeting in September was not only a big success, but also our largest event ever. Our ASCO highlights meeting and updates from the American Society of Hematology Annual Meeting, our Breast Cancer Symposium, and our state-of-the-art program for oncology fellows continue to receive great reviews. This year, we launched a new initiative for pharmacists, the Oncology Pharmacist Symposium.
For these meetings, we recruit outstanding speakers and address relevant topics identified by our members. In addition, our meetings provide an opportunity for our members to come together to not only learn, but to network as well.
Payer and Legislative Advocacy
MSHO is very active in relevant legislative and public policy issues that impact cancer care in the state. Please talk about your current activities.
We are active on multiple fronts. MSHO members participate in both payer and legislative advocacy. We have a contracted government affairs consultant who keeps us abreast of any Michigan legislative initiatives that may impact our members. MSHO also has a contracted reimbursement specialist who follows-up on coverage and processing issues that are of concern to our members.
We maintain good relationships with the Wisconsin Physician Services Insurance Corporation (WPS, our Medicare contractor), Michigan Medicaid, and our local private payers. In addition, MSHO appoints the Oncology and Hematology Carrier Advisory Committee Members to serve on WPS.
With the Leukemia & Lymphoma Society, we are co-conveners of the Oral Cancer Fairness Coalition, which is working to achieve oral parity legislation in our state. We also provide comments and expertise on health-care–related issues to our Michigan congressional delegation by using the resources of our national cancer organizations' public policy departments.
Affordable Care Act
How is MSHO being impacted by the Patient Protection and Affordable Care Act?
The health-care provisions in the Affordable Care Act will have great impact in every state, including Michigan. Our state has set up health-care exchanges to organize and oversee the private market for health insurance and has expanded the Medicaid program to increase eligibility for the poor.
Without any doubt, the Affordable Care Act will pose a significant challenge to an already overstretched health-care system, including the challenge of providing cost-effective health-care delivery with our current limited resources and with the existing oncology workforce shortage.
Remaining Relevant
What are some challenges you face that are unique to your society?
Our challenge is to remain relevant to our members as the delivery of care changes. As organized systems of care evolve and payment methodology changes, we are concerned that our members may become more competitive with their colleagues and relinquish some of their advocacy interest and efforts to larger organizations, such as accountable care organizations.
We are hopeful that our Society can stay true to its mission of providing exemplary care to our patients regardless of the changes in the health-care environment, which is what we all trained to do.
Community Practices
How are changes in the way health care is delivered and in Medicare and Medicaid reimbursements in Michigan affecting community practices?
The impact of the rapid-pace changes in health care has been felt across the state. Over the past 3 years, we have seen more than 50% of community practices either shutdown or transition to a hospital-based setup. The remaining practices are struggling to maintain financial viability without compromising the delivery of quality patient care.
Consequently, patient access to health-care delivery is being restricted, and we find that patients have to drive longer distances to receive badly needed medical care.
Future Goals
What are MSHO's future goals?
We have been the voice of Michigan's oncologists, both in the community practice and academic institution settings, and a resource and asset to the oncology community. MSHO is an organization that delivers programs to all of those involved in oncology, a bridge to reach out to policymakers, and a navigator in the turbulent world of oncology economics and business. Our goal is to continue to see our Society thrive and evolve, while staying at the forefront of change and remaining in a true leadership position.
---