ASCO's Education and Professional Development Services
Jamie H. Von Roenn, MD, on Major Changes in Maintenance of Certification and More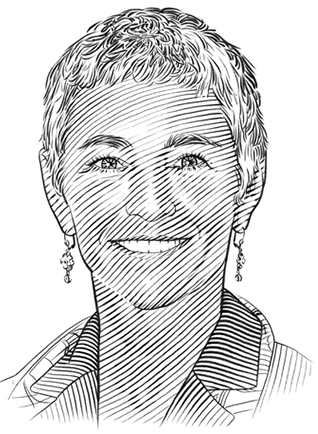 Jamie H. Von Roenn, MD
Physicians can no longer be 'grandfathered in' to avoid participating in the MOC program. Everyone will now be required to have some MOC activity every 2 years, accrue 100 MOC points for practice improvement activities every 5 years, and take a board exam every 10 years.

—Jamie H. Von Roenn, MD
Last September, Jamie H. Von Roenn, MD, left her position as Professor of Medicine at the Northwestern University Feinberg School of Medicine in Chicago to join ASCO as its Senior Director of Education, Science and Professional Development. In her new position, Dr. Von Roenn will provide strategic vision and operational leadership for the planning, development, implementation, and evaluation of an array of innovative education programs that serve the needs of ASCO members, including the ASCO Annual Meeting, thematic meetings, workshops, and continuing medical education offerings.
The ASCO Post talked with Dr. Von Roenn about her goals to expand ASCO's education programs, the challenges facing oncology care, and the major changes this year to the American Board of Internal Medicine's (ABIM's) Maintenance of Certification (MOC) requirements.
A New Role at ASCO
What do you hope to accomplish in your new role as Director of Education, Science and Professional Development, and what are your goals to expand ASCO's education programs?
I have a long list. But I think the bottom line is to make education more learner-centric and to address the broad issues that oncologists face across their training from medical school to residency and fellowship and throughout their careers. The field is changing quickly, and education needs to be responsive to those changes.
Medical societies as a whole have not taken advantage of adult learning theory as much as they might. We can be more creative and innovative in the ways we present our education programs to make them more effective. A variety of teaching methods are necessary to address different learning styles. Health professionals are increasingly pressed for time. Our education programs need to meet the requirements physicians now face for continuing education in as efficient a manner as possible. Additionally, we want to develop education that is learner-centered: education that is responsive to the needs of the individual learner.
What are your biggest challenges?
There are several. One big challenge is keeping up with the scientific breakthroughs in molecular biology and molecular genetics and their impact on cancer diagnosis and therapy. Scientific discovery is rapidly moving the oncology field forward, and the need to keep current and to apply the new knowledge efficiently is becoming a greater and greater challenge for individuals and oncology practices. Figuring out the most efficient way to teach people about the actionable mutations in different tumors across disease sites is going to be a huge challenge for both physician education and patient care.
ASCO is addressing how to help physicians use genomic information appropriately and efficiently with CancerLinQ™. From an education viewpoint, we need to address the broad range of knowledge in genomics and develop programs that are, in part, pathway based. For example, the ASCO Annual Meetings will organize part of the education program around a selected molecular pathway to integrate biology, diagnostics, and treatment.
Diagnoses and treatments will increasingly be driven by the identification of a tumor-specific biologic pathway. Our education programs need to be targeted as well and connect the science with the clinic.
Another big issue for oncologists, and one that ASCO is committed to addressing, is how to define and assess value in oncology care.1 Presenting this concept clearly to both physicians and patients in a way that is useful and productive is going to be very important. We are also exploring how to expand our current educational programs so that they are readily accessible to our international members.
As we look to the future, another big project is to evaluate how cancer education is provided in medical school. When you consider that cancer is likely to outpace heart disease as the number-one cause of death over the next decade, it will be necessary for every physician, regardless of specialty, to assess for cancer risk and care for long-term cancer survivors and people living with cancer as a chronic disease. We need to support the training of nononcologists about cancer care.
Maintenance of Certification
Please talk about your plans to help oncologists comply with the major changes this year in the Maintenance of Certification program.
We are making the Maintenance of Certification (MOC) program easier to access and use. For example, physicians planning to attend an ASCO meeting ought to be able to take a pretest, go to the meeting, and then take a post-test, demonstrating the knowledge gained, and get MOC credit for the activity. That is active learning. There is no reason for physicians to go to a meeting to hear about cutting-edge research and then sit at their computers to review similar content to fulfill their MOC requirements. This is already in place for the 2014 Annual Meeting.
This year, MOC credit will be available at some of our thematic meetings as well.
Beginning with ASCO's Breast Cancer Symposium in September and followed by the 2015 Gastrointestinal and Genitourinary Cancers Symposia, we are initiating this active learning concept. Meeting attendees can register to take an MOC-related pretest, go to the sessions, and then take a post-test. If the attendee demonstrates knowledge of the content, MOC credit is awarded for attending the meeting and answering the questions.
Time-efficient means for physicians to meet MOC requirements are essential. We are also planning to develop MOC activities based on the virtual meeting. The current MOC requirements apply to all physicians; there are no longer those who can be "grandfathered in" to avoid the MOC process. Everyone will now be required to have some MOC activity every 2 years—accruing at least 100 MOC points every 5 years with a minimum of 20 points in practice assessment and improvement and at least 20 points in medical knowledge—and take a board exam every 10 years.
To make it more efficient for oncologists to comply with the new requirements and make the choices pertinent to what happens in an oncology practice, we are developing MOC templates for the required practice assessment and improvement points based on information from our QOPI® measures and standards database. The templates will be housed on the ASCO website and launched in the fall or early next year.
[Editor's note: For more information on the changes to ABIM MOC requirements, visit www.moc2014.abim.org. For ASCO's collection of MOC courses, go to www.university.asco.org.]
Progress in Palliative Care
A main area of your interest is the integration of palliative care into oncology clinical care. Please talk about the progress that has been made in that area and what still needs to be done to fully implement palliative care into clinical care.
A lot of progress has been made as a result of the growing discussions and literature around this topic. The need to integrate palliative care into oncology care—and medical care in general—is better recognized. We still have a way to go to educate physicians and other health-care professionals and the public. People still too frequently equate palliative care with end-of-life care.
End-of-life care is the smallest component of palliative care; it is palliative care during the last months and weeks of life. Palliative care, the relief of suffering, in the broadest sense is an essential component of curative therapy, chronic illness, and end-of-life care.
One problem that has prevented the next step of full integration of palliative care into oncology care is our current payment structure, which doesn't support the time needed to add palliative care conversations and strategies to physicians' already busy schedules.
The other missing piece is training in palliative care. Until physicians recognize that knowing patients' pain score is as important as knowing their white blood count and has just as important an impact on care, integration won't be mainstream.
Changes are needed in training, education, systems of care delivery, and attitude to make the routine integration of palliative care into clinical care possible. ■
Dr. Von Roenn is Senior Director of ASCO's Education, Science and Professional Development Department.
Disclosure: Dr. Von Roenn reported no potential conflicts of interest.
Reference
1. ASCO in Action Brief: Value in Cancer Care. Posted January 21, 2014. Available at www.asco.org/advocacy/asco-action-brief-value-cancer-care.
---