QOPI® Certifies 100th Practice for Delivering High-quality Cancer Care

Less than 2 years since launching the first national program to help oncology practices deliver the highest quality of cancer care, ASCO and its affiliate, the Quality Oncology Practice Initiative (QOPI®) Certification Program, announced that more than 100 practices have achieved QOPI certification. The QOPI Certification Program certifies that outpatient oncology offices meet the highest national standards in quality and safety for cancer care delivery.
"We are delighted that more than 100 oncology practices in the United States have already taken steps to ensure that the cancer care they provide is consistent with the highest national quality standards," said Allen S. Lichter, MD, CEO of ASCO and President of the QOPI Certification Program. "QOPI certification demonstrates a practice's commitment to excellence and ongoing quality measurement and improvement. Achieving the QOPI standard of excellence signifies that a practice is providing the highest quality treatment and care for their patients."
Launched by ASCO in 2006, QOPI enables practices to examine the quality of care they provide to patients based on evidence-based guidelines and established quality measures. Its rigorous set of more than 100 quality measures was developed by practicing oncologists and quality experts, and spans the continuum of cancer care. Practices that participate receive detailed reports that indicate their performance on these quality metrics and offer insights into specific areas for improvement.
Certification Program Background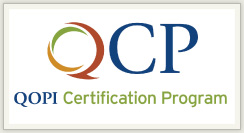 The QOPI Certification Program was launched in January 2010. The first 16 practices were certified just 6 months later, and the milestone of 100 certified practices was achieved in a little less than 2 years.
The first step toward achieving QOPI certification is participation in QOPI data collection. Beyond that, practices/institutions must undergo an extensive review by a team of ASCO professionals and oncology physicians and nurses at least once every 3 years. A practice's performance is evaluated in terms of:
Participation in QOPI and achieving above the threshold score across the 24 rigorous measures required for certification.
Meeting 17 Certification Standards based on the ASCO/ONS Chemotherapy Administration Safety Standards, which address:
Treatment planning
Excellence in staff training and education
Chemotherapy orders and drug preparation
Patient consent and education
Safe chemotherapy administration
Monitoring and assessment of patient well-being
For a continuously updated list of QOPI-certified practices, please go to http://qopi.asco.org/certifiedpractices. For more information about the program, please visit http://qopi.asco.org/certification.■
© 2012. American Society of Clinical Oncology. All rights reserved.
---