Depression Is Dangerous among Patients with Cancer, but Talking and Pharmacologic Treatments Can Be Effective

In the News focuses on media reports that your patients may have questions about at their next visit. This continuing column will provide summaries of articles in the popular press that may prompt such questions, as well as comments from colleagues in the field.

"Depression is a very dangerous problem in oncology settings," stated Mary Jane Massie, MD, Attending Psychiatrist at Memorial Sloan-Kettering Cancer Center in New York. "We know that depressed people do less well in the oncology setting, probably in large part because they feel so bad, they don't fill their prescriptions. They don't think it is useful to take their medicines. They're missing appointments. They're less compliant."
Dr. Massie specializes in the psychological treatment of people with breast cancer and their families and also counsels women at high risk of breast cancer who are considering risk-reducing options. She told The ASCO Post, "we have come a long way in 30 years" in terms of being able to talk about depression. "We know how common anxiety and depressive disorders are," she said, agreeing that about 25% of patients with cancer experience depression at some time.
"We fortunately see—around the country and around the world—that there is so much more openness about mental health issues in general and acceptance of having trained mental health professionals to work with patients with cancer and other medical illnesses," she said. That work can include talking treatments through individual counseling and emotional support groups or pharmacologic treatment with antidepressants.
Actual and Virtual Emotional Support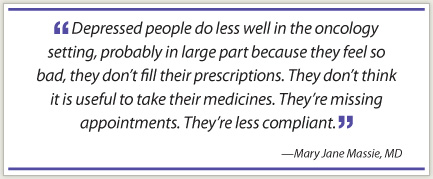 Comprehensive cancer centers "are required to have emotional support services for patients," Dr. Massie said, and Memorial Sloan-Kettering has many of them. "Given the numerous talented, well-trained, highly experienced people and the large volume of patients we get, we can really tailor our groups," Dr. Massie stated. "In a place like Memorial, because we are so big, and sadly, we have so many women with breast cancer, we can have groups for newly diagnosed patients; groups for women with metastatic disease; and still other groups for people of different ages. A woman in her late 70s often doesn't feel she has much in common with someone who is 25. So we can sometimes offer groups for more mature patients and have the same kind of group for younger patients," she explained.
"But out in the heartland of America, there may be just one support group each week. Men with prostate cancer, people with lung cancer, and women with breast cancer are all in the same group. I think you do the best you can with what you have available to you." She noted that the "Look Good…Feel Better" program can also be very helpful for patients with cancer. "Look Good…Feel Better" is a nationwide program that offers free workshops and educational resources aimed at improving the self-esteem and quality of life of people undergoing treatment for cancer.1
Another newer option is a virtual group or online support group, "because it isn't so easy when you are really sick to get into the cancer center or get into the psychiatrist's office," Dr. Massie noted. Social media, such as Facebook, can be used to develop emotional connections and support systems, as described in an article by a Miami Herald columnist chronicling her own experiences with breast cancer.2
Prescribing Antidepressants
Not all patients are willing to acknowledge changing moods and depression and sign up for support groups. In those cases, Dr. Massie said, oncologists should consider initiating a discussion about depression and perhaps prescribing an antidepressant, then referring the patient to a psychiatrist for follow-up, and maybe having a staff member try to arrange an appointment the same day or soon after. If it takes a while to get an appointment, the patient can start the antidepressant in the interim. In other cases, patients themselves may ask about medication for depression.
Patients are often started on one of the selective serotonin-reuptake inhibitors, with escitalopram (Lexapro) being among the most common. "I think that a good oncologist has some understanding about how to approach the problem pharmacologically," Dr. Massie commented. "If what they try first works, great. But if it doesn't, then what? I think that's when it gets a little trickier. That is why, hopefully, oncologists cultivate relationships with mental health people in their geographic area, so they can make good referrals," she said.
"There are a lot of antidepressants available," Dr. Massie said. "For different people, different drugs are better. Some antidepressants are more energizing; some are more sedating. So if a person needs a 'picker-upper,' we might consider one of the more energizing drugs. If a person is quite anxious, having trouble sleeping, and depressed, you wouldn't want to prescribe an energizing drug."
Avoiding Drug Interactions
Decisions about which medication to prescribe should also take into account concerns about drug interactions. "There certainly has been concern about the use of tamoxifen with some antidepressants, and I think many people today feel that venlafaxine might be the safest drug to take when a person is taking tamoxifen," Dr. Massie said. "It appears that some antidepressants may render tamoxifen less effective," Dr Massie explained.
In general, however, antidepressants can be safely used with cancer treatments. "Patients with cancer already have so many effects from their cancer therapy, so we are grateful that antidepressants with relatively few side effects can be useful," Dr. Massie stated. Nevertheless, more needs to be known about potential drug interactions, she added.
Late-occurring Depression
Dr. Massie often sees patients at the time they are diagnosed. "But another time that people are referred to me is at the end of treatment or 1 year after the end of treatment," she said. "Some people hold it together" throughout diagnosis and treatment, Dr. Massie said, "but then lose it when treatment is completed."
The aftermath of treatment can be "kind of scary," Dr. Massie noted. During treatment, the patient usually is surrounded by knowledgeable and supportive health professionals. "Then all of a sudden, you're done with your treatment and back in the real world, where people are sick of hearing about your breast cancer. They don't want to talk about it anymore. They want you to get back to your desk and get your job done," Dr. Massie said. "And family members often are worn out and no longer want to talk about it either."
Specially tailored counseling may be needed by women with breast cancer who are receiving palliative care and are near the end of their lives. This might include discussions about dying, how to talk about death with children, and who will take care of the children. For these women, a combination of individual and group counseling might be most appropriate. Some may not be well enough to attend support group sessions, but even for those who can attend, "Group leaders may want them to have private sessions, too, to help them work through their issues, and probably medications would be very helpful." Dr. Massie said.
"Often, as people are getting more ill, they are getting more home visits," Dr. Massie said. This allows visiting health professionals a chance to observe the patient in her own environment and to make recommendations for medications and other care. She added that hospice workers "are really tuned in" to the emotional and other needs of patients and "are extraordinary helpful." ■
Disclosure: Dr. Massie reported no potential conflicts of interest.
SIDEBAR: Expect Questions from Your Patients
References
1. Look Good…Feel Better: Helping Women with Cancer. Available at lookgoodfeelbetter.org. Accessed January 20, 2012.
2. Torres A: Facebook, medication help breast cancer patient deal with depression. Miami Herald, January 3, 2012.
---
Related Articles
When patients and family members have concerns about depression, they often bring them up with the staff, not with the treating oncologist.
"I think that people with cancer don't want to distract their medical oncologist or their surgeon by talking about their mood," Dr. Massie noted. "Some people ...