CancerConnect Offers Online Alternative Networking for Patients

Social networking sites like Facebook and Twitter are rapidly growing, giving patients with cancer a place to connect with others. But an alternative networking website claims to be a more comprehensive, responsible, "commercial-free" alternative.
Over 10,000 patients with cancer have registered at CancerConnect (www.CancerConnect.com), which was launched in 2010 to enrich the patient's experience. At a single online destination, patients with cancer can find over 50 disease-specific communities as well as groups focused on caregiving, health and wellness, stem cell transplant, chemotherapy, and nutrition. They can learn about clinical trials, shop the "store," and tap into other resources relevant to cancer survivorship.
The website promises patients with cancer a place to "learn about cancer, share information, and find inspiration, hope, and support."
Scope Is Both Local and Universal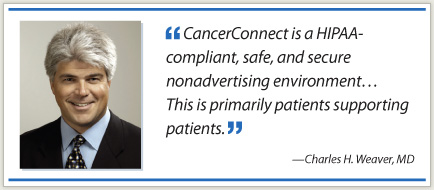 CancerConnect is a "local strategy with a national tie-in," explained Charles H. Weaver, MD, an oncologist who is CEO of OmniHealth, the multimedia corporation that developed the site. CancerConnect is licensed to hospitals and cancer clinics to enhance their websites and provide local information and resources. "But once patients step into the 'disease communities,' they are sharing on a national level," he said. A Georgia resident with a rare cancer can connect with a person sharing that experience in Seattle.
Its private label aspect has made CancerConnect the largest and fastest growing social media platform dedicated to serving patients and their providers, according to Dr. Weaver.
OmniHealth Media now manages the CancerConnect platform for Vanderbilt University Hospital, Memorial Sloan-Kettering Cancer Center, Roswell Park Cancer Institute, the Dana-Farber Cancer Center, the Seattle Cancer Care Alliance, and others.
According to Dr. Weaver, the 10,000 registered users visit the site for "information, validation, and support. This is primarily patients supporting patients," he said.
Reputable Online Environment
While there are other online destinations where patients with cancer might seek these things, CancerConnect is a "HIPAA-compliant, safe, and secure nonadvertising environment. We don't share your profile, and we don't allow target marketing," he noted.
"We also moderate all our communities," Dr. Weaver added. "If a user posts information that is not supported by data, we call them out. We have strict rules of engagement that make the platform more credible." ■
Disclosure: Dr. Weaver is the CEO of OmniHealth Media and editor of CancerConnect.
---