Abiraterone: New Drug in the Treatment of Metastatic Castration-resistant Prostate Cancer

In the Clinic provides overviews of novel oncology agents, addressing indications, mechanisms, administration recommendations, safety profiles, and other essential information needed for the appropriate clinical use of these drugs.
Indication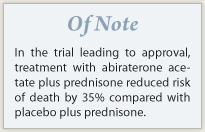 Abiraterone acetate (Zytiga) (an oral agent that inhibits CYP17 and thereby blocks androgen biosynthesis) was recently approved for use in combination with prednisone for treatment of patients with metastatic castration-resistant prostate cancer who have received prior docetaxel-containing chemotherapy.
Approval was based on a trial comparing abiraterone (n = 797) with placebo (n = 398) in 1,195 patients with metastatic castration-resistant prostate cancer previously treated with docetaxel-containing regimens. All patients received prednisone 5 mg twice daily. Patients with prior ketoconazole treatment for prostate cancer and a history of adrenal gland or pituitary disorders were excluded. A prespecified interim analysis of overall survival, performed when 552 events had occurred, showed a 35% reduction in risk of death with abiraterone treatment (HR = 0.646, P < .0001), with median overall survival of 14.8 vs 10.9 months. An updated analysis, conducted after 775 events, showed median overall survival of 15.8 vs 11.2 months, representing a 26% risk reduction (HR = 0.740, 95% CI = 0.638–0.859).
How It Works

CYP17 (17α-hydroxylase/C17,20-lyase) is an enzyme expressed in testicular, adrenal, and prostatic tumor tissue that is required for androgen  biosynthesis. The enzyme catalyzes the conversion of pregnenolone and progesterone to their 17α-hydroxy derivatives via 17α-hydroxylase activity and the subsequent formation of dehydroepiandrosterone (DHEA) and androstenedione via C17,20-lyase activity. DHEA and androstenedione are androgens and precursors of testosterone. Abiraterone acetate is converted in vivo to abiraterone, which inhibits CYP17, thus blocking production of androgens (Fig 1).
How It Is Given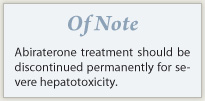 The recommended dose of abiraterone is 1,000 mg orally once daily in combination with prednisone 5 mg orally twice daily. Abiraterone should be taken on an empty stomach, with no food being consumed for at least 2 hours before and for at least 1 hour after the dose. The starting dose should be reduced to 250 mg once daily in patients with moderate (Child-Pugh class B) hepatic impairment. Treatment should be discontinued until recovery in patients who develop hepatotoxicity during treatment and may be restarted at a reduced dose. Treatment should be discontinued permanently for severe hepatotoxicity.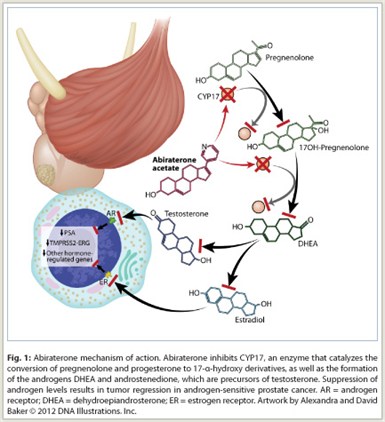 Safety Profile
In the trial supporting abiraterone approval, the most common adverse events in abiraterone patients (> 5%) were joint swelling or discomfort, hypokalemia, edema, muscle discomfort, hot flush, diarrhea, urinary tract infection, cough, hypertension, arrhythmia, urinary frequency, nocturia, dyspepsia, and upper respiratory tract infection. The most common adverse events resulting in drug discontinuation were increased AST or ALT, urosepsis, and cardiac failure, each of which occurred in less than 1% of patients. The most common electrolyte imbalances were hypokalemia (28%) and hypophosphatemia (24%). Following interruption of daily corticosteroids or with concurrent infection or stress, adrenocortical insufficiency (< 1%) has been reported in clinical trials in patients receiving abiraterone at the recommended dose in combination with prednisone.
Cost
The cost of abiraterone treatment is estimated at $5,000 per month, or $40,000 for a median treatment course of 8 months. ■
Suggested Readings
De Bono JS, Logothetis CJ, Molina A, et al: Abiraterone and increased survival in metastatic prostate cancer. N Engl J Med 364:1995-2005, 2011.
US Food and Drug Administration: What's New from the Office of Hematology Oncology Products. Abiraterone acetate. Available at http://www.fda.gov/AboutFDA/CentersOffices/CDER/ucm253139.htm. Accessed November 9, 2011.
Yang LP: Abiraterone acetate: In metastatic castration-resistant prostate cancer. Drugs 2011;71:2067-2077.
ZYTIGATM (abiraterone acetate) tablets prescribing information. Centocor Ortho Biotech Inc, April 2011.  Available at http://www.zytiga.com/pdf/prescribing_information.pdf. Accessed November 9, 2011.
---