Ponatinib Continues to Impress in Patients with Leukemia


Initial results from the PACE (Ponatinib Ph+ ALL and CML Evaluation) trial added to accumulating evidence that the tyrosine kinase inhibitor ponatinib should soon be considered for front-line treatment of chronic myeloid leukemia (CML).
"Robust responses were observed in all patient cohorts," said PACE lead investigator, Jorge Cortes, MD, Professor of Medicine and Deputy Chair in the Department of Leukemia at The University of Texas MD Anderson Cancer Center, Houston. "We saw this regardless of mutational status or disease stage."
Phase II Trial
Dr. Cortes presented the first results of PACE, a phase II study of CML patients who were resistant to or intolerant of available tyrosine kinase inhibitors.1
Nearly half the patients (47%) treated with ponatinib experienced a major cytogenetic response. For patients with the difficult-to-treat T315I mutation—none of whom responded to the currently approved tyrosine kinase inhibitors—ponatinib induced a major cytogenetic response rate of 65%, he reported.

The high rates of response seen in the T315I patients was described as "exciting" but "not surprising" by study investigators. Ponatinib is an oral, pan-BCR-ABL, third-generation tyrosine kinase inhibitor that was rationally designed to overcome the T315I mutation.
PACE enrolled 449 chronic-phase CML patients and patients with Philadelphia chromosome (Ph)-positive acute lymphoblastic leukemia (ALL) previously treated with approved or investigational tyrosine kinase inhibitors. The majority (53%) had been treated with at least three prior tyrosine kinase inhibitors; 39% had been treated with imatinib (Gleevec) plus dasatinib (Sprycel) or nilotinib (Tasigna); only 4% had received imatinib alone. Response rates to prior treatments ranged from 33% for major histologic response and 25% for major cytogenetic response.
Major Results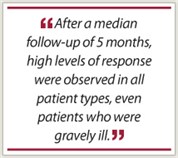 The primary endpoints of PACE were major cytogenetic response for chronic-phase CML, and major histologic response for accelerated-phase CML or Ph-positive ALL. 
After a median follow-up of 5 months, high levels of response were observed in all patient types, even patients who were gravely ill. Accelerated-phase CML subjects achieved a major hematologic response rate of 74% and major cytogenetic response rates up to 53%; blast-phase CML and Ph-positive ALL patients achieved a major hematologic response rate of 37% and major cytogenetic response rates of 34% and 37%, respectively.
The most dramatic results from PACE were for patients with the problematic T315I mutation, who achieved a 33% major molecular response rate.
Few treatment-related adverse events were observed. The most common serious events were neutropenia and thrombocytopenia. ■
Disclosure: Dr. Cortes receives research support and has been a consultant for Ariad.
Expert Point of View: Ponatinib Continues to Impress in Patients with Leukemia
Reference
1. Cortes JE, Kim D-W, Pinilla-Ibarz J, et al: Initial findings from the PACE Trial: A pivotal phase 2 study of ponatinib in patients with CML and Ph+ ALL resistant or intolerant to dasatinib or nilotinib, or with the T315I mutation. 53rd American Society of Hematology Annual Meeting. Abstract 109. Presented December 11, 2011.
---
Related Articles
At the 2011 ASH Annual Meeting, Pierre Laneuville, MD, Director of Hematology at McGill University in Montreal, predicted that ponatinib may be "the drug that will replace them all" in the treatment of chronic myeloid leukemia.
Dr. Laneuville explained his rationale, recalling that in the pivotal...