New Immunomodulatory Drug Produces Impressive Phase II Results in Multiple Myeloma


Data on pomalidomide, the novel oral immunomodulatory drug for multiple myeloma, was a major highlight of the 2011 ASH Annual Meeting, according to Kenneth D. Anderson, MD, of Dana-Farber Cancer Institute, Boston, who called the drug "very, very exciting."
Paul Richardson, MD, also of Dana-Farber Cancer Institute, who has led trials of pomalidomide, agreed. He told The ASCO Post, "An over 40% clinical benefit rate and almost 17-month median survival in heavily pretreated patients is extremely encouraging."
Two-drug Combination Therapy
Dr. Richardson presented the results of a phase II study comparing pomalidomide alone vs pomalidomide plus low-dose dexamethasone in relapsed/refractory multiple myeloma.1 The 221 patients had a median of five prior lines of therapy and most had experienced disease progression on both bortezomib (Velcade) and lenalidomide (Revlimid).
A partial response was achieved in 34% of those treated with pomalidomide/dexamethasone vs 13% with pomalidomide alone; another 11% of patients had minor responses to the combination. Median progression-free survival was 4.7 and 2.7 months, respectively, and median overall survival was 16.9 and 14 months. The most frequently reported grade 3 or 4 toxicity was neutropenia.


The results suggest that pomalidomide combined with dexamethasone is more active than pomalidomide as a single agent, with no increase in toxicity.
Xavier Leleu, MD, PhD, of Hôpital Huriez, CHRU Lille, France, presented similar findings from the French phase II IFM 2009-02 study of pomalidomide plus low-dose dexamethasone in 84 patients refractory to both lenalidomide and bortezomib.2 The overall response rate was 34.5%, with another 48% of patients achieving stable disease. The median duration of response was 8 months, and 37.5% of responders were stable for over 1 year. Median time to progression was 9.1 months, and median overall survival was 13.4 months in these heavily pretreated patients.
Is a Three-drug Combination Even Better?
Antonio Palumbo, MD, of the University of Torino in Italy, presented phase II results from a study by GIMEMA, the Italian Multiple Myeloma Network, which evaluated pomalidomide in combination with cyclophosphamide and prednisone.3 A total of 29 patients whose disease had relapsed or was refractory to lenalidomide received six 28-day cycles, followed by maintenance with pomalidomide and prednisone until progression.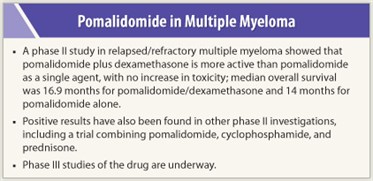 "We have experience from other drug treatments suggesting that a three-drug combination may improve upon the efficacy of a two-drug regimen, and I believe this should be the case with this drug," Dr. Palumbo commented. "And with maintenance we can extend the opportunity for patients to stay in remission."
After a median of four cycles, at least a partial response was observed in 81% of the refractory patients and in 55.5% of the relapsed patients. Very good partial response or better was seen in 27% and 28%, respectively, and complete responses were documented in 9% and 5.5%, respectively.
Pomalidomide was generally well tolerated in all studies. The most common grade 3 or 4 toxicities were neutropenia, anemia, pneumonia, thrombocytopenia, and fatigue. Rash occurred in some patients but was easily manageable.
Dr. Palumbo also suggested that using a combination with "a good risk/benefit ratio, where there is not much toxicity," and continuing the three drugs as maintenance therapy, "may help explain the higher proportion of responses" in the Italian study.
Phase III trials are currently evaluating pomalidomide in various combinations. ■
Disclosure: Dr. Palumbo has received honoraria from Celgene. Dr. Anderson is on the advisory board for Celgene. Dr. Leleu reported honoraria, advisory board, lecture fees, and research grants from Janssen, Celgene, LEO Pharma, Novartis, and Amgen. Dr. Richardson is on the advisory boards for Celgene, Millennium, Novartis, and Bristol-Myers Squibb.
References
1. Richardson PG, Siegel DS, Vij R, et al: Randomized, open label phase I/2 study of pomalidomide alone or in combination with low-dose dexamethasone in patients with relapsed and refractory multiple myeloma who have received prior treatment that includes lenalidomide and bortezomib: Phase 2 results. 53rd American Society of Hematology Annual Meeting. Abstract 634. Presented December 12, 2011.
2. Leleu X, Attal M, Arnulf B, et al: High response rates to pomalidomide and dexamethasone in patients with refractory myeloma, final analysis of IFM 2009-02. 53rd American Society of Hematology Annual Meeting. Abstract 812. Presented December 12, 2011.
3. Palumbo A, Larocca A, Carella A, et al: A phase I/II study of pomalidomide-cyclophosphamide-prednisone in patients with multiple myeloma relapsed/refractory to lenalidomide. 53rd American Society of Hematology Annual Meeting. Abstract 632. Presented December 12, 2011.
---