BELA Trial Reborn: Bosutinib Produces Improved Results in Chronic Myeloid Leukemia

The initial reports of the BELA trial (Bosutinib Efficacy and safety in chronic myeloid LeukemiA), presented at ASH 2010, were deflating. At 12-month follow-up, bosutinib failed to meet BELA's primary endpoint. Things have since turned around, however, and results from the 24-month analysis presented at ASH 2011 suggest that this next-generation tyrosine kinase inhibitor may soon be ready for regulatory approval in chronic myeloid leukemia (CML).1
Carlo Gambacorti-Passerini, MD, of the University of Milano Bicocca, Monza, Italy, who led the earlier trial, was not surprised. "I was not so disappointed about the 12-month results because I knew the background of the data," he said in an interview. "And I knew why the primary endpoint (complete cytogenetic response) was not different when comparing the two groups, bosutinib vs imatinib [Gleevec]."
The problem was not with the efficacy of the drug, but the experience of the investigators. As Dr. Gambacorti-Passerini explained, the trial included an intent-to-treat analysis. "Unfortunately, a number of patients discontinued treatment before reaching the first postbaseline cytogenetic analysis. But most who dropped out did so because several adverse events, mainly gastrointestinal, were not properly managed," he said. "We paid the price of a relative unfamiliarity with bosutinib in the medical community and of a nonoptimal selection of centers. This factor was in my opinion the cause of 9% of patients dropping out of the protocol before the first post-treatment assessment could be performed at month 3."
Trial Design and Data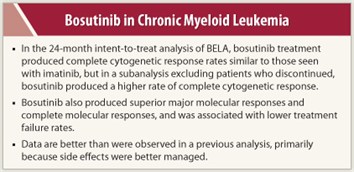 BELA is an international, multicenter trial with 139 sites, and some investigators were unaccustomed to the proactive patient management required, he added. With this oversight corrected, data from the 24-month follow-up were redeeming.
BELA randomly assigned 502 patients with newly diagnosed, chronic phase CML to the standard imatinib treatment or bosutinib. The primary endpoint was complete cytogenetic response at 12 months. BELA is slated to run through 8 years of follow-up
At 24 months, the cumulative intent-to-treat complete cytogenetic response for both drugs was nearly identical. In a subanalysis that excluded patients who discontinued, a cumulative complete cytogenetic response of 87% for bosutinib vs 81% for imatinib was demonstrated (Fig. 1). This analysis also showed superior major molecular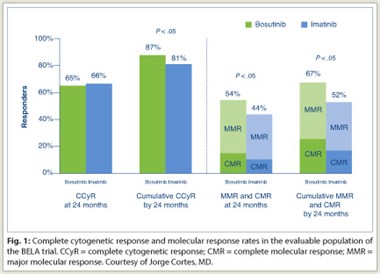 response and complete molecular response for bosutinib compared to imatinib.
Median durations of event-free and overall survival have not yet been reached. However, at 24 months, bosutinib was associated with lower rates of treatment failure (4% vs 13%) and progression to accelerated-phase/blast crisis (2% vs 5%) for imatinib, Dr. Gambacorti-Passerini summarized.
As expected, subjects in the bosutinib arm experienced more grade 3/4 diarrhea, whereas imatinib recipients had more edema, muscle cramps, and myalgia. Hematologic events were more common in the imatinib treatment arm, especially neutropenia (24% vs 10% for bosutinib). ■
Disclosure: Dr. Gambacorti-Passerini has received research support from Pfizer and is a board member for Pfizer, Bristol-Myers Squibb, Novartis, and Biodiversity.
Expert Point of View: BELA Trial Reborn: Bosutinib Produces Improved Results in Chronic Myeloid Leukemia
References
1. Cortes JE, Maru A, De Souza CAA, et al: Bosutinib versus imatinib in newly diagnosed chronic phase chronic myeloid leukemia—BELA trial: 24-month follow-up. 53rd American Society of Hematology Annual Meeting. Abstract 455. Presented December 12, 2011.
---
Related Articles

Given the results of the BELA trial, with the problems of treatment side-effect management realized and seemingly resolved, Elias Jabbour, MD, Assistant Professor of Medicine at The University of Texas MD Anderson Cancer Center, Houston, assumes bosutinib will be approved in chronic myeloid...