A Second Chance for Gemtuzumab in Acute Myeloid Leukemia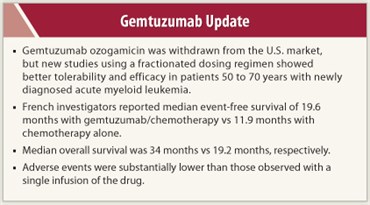 Gemtuzumab ozogamicin (Mylotarg) may have a second chance for regulatory acceptance, as studies presented at ASH 2011 demonstrated that gemtuzumab can be safely and effectively given by adjusting the dosing and treatment schedule.
Gemtuzumab ozogamicin was approved for the treatment of acute myeloid leukemia (AML) in 2000, but in 2010 the drug was voluntarily pulled from the U.S. market by the manufacturer due to postmarketing evidence of lack of efficacy, as well as unacceptable toxicity.
In a study described by Sylvie Castaigne, MD, of the Hôpital de Versailles in France, for the Acute Leukemia French Association (ALFA), a fractionated dosing regimen of gemtuzumab overcame the unacceptable drug toxicity issues and allowed the drug to function in combination with chemotherapy, thereby boosting overall efficacy.1
ALFA Trial
"By using the standard dose of 9 mg/m2, gemtuzumab could not be combined with chemotherapy," said Dr. Castaigne. But in the ALFA trial, dosing proceeded with the drug in three increments of 3 mg/m2 over a week's time, rather than the single treatment bolus. The lower event rate that resulted allowed for the addition of chemotherapy.
In the ALFA trial, 278 patients were randomly assigned to one of two treatment arms of standard chemotherapy (60 mg/m2 of daunorubicin for 3 days and 200 mg/m2 of cytarabine for 7 days) with or without fractionated gemtuzumab, and followed for 3 years. Both event-free survival and overall survival were improved with this approach.
Median event-free survival was 19.6 months for the gemtuzumab/chemotherapy combination vs just 11.9 months for chemotherapy alone, while median overall survival was 34 vs 19.2 months, respectively.
The adverse events reported for the ALFA study population were substantially lower that those historically observed with the single-dose infusion of gemtuzumab at 9 mg/m2, the investigators noted.
Next Regulatory Steps Not Obvious
The manufacturer of gemtuzumab, Pfizer, is now in an unusual position—it has a drug that works, but no clear guidance on how to regain regulatory approval in the United States. Referring to the French investigations, Mark Shapiro, MD, Global Medical Affairs Lead – Hematology Programs, Oncology Business Unit, at Pfizer Oncology, said in an interview, "I've been aware of this work for quite some time. I've known Professor Castaigne for many years, and she has shared data from her other studies with me in the past. In fact, Dr. Castaigne has previously published two papers on fractionated dosing—one several years ago and one within the past few months."
Dr. Shapiro had to admit some excitement over the results presented at ASH, but he acknowledged that the regulatory way forward is not obvious. There is no precedent for a drug to be withdrawn, then successfully reintroduced.
"Of course, we have to discuss that with the regulatory agencies," said Dr. Shapiro. "But first we need to assess the quality of the data and determine if the results are truly robust." Only then could there be what would likely be a very interesting conversation between Pfizer and FDA.
Elephant in the Room
For now, however, there's an elephant in the room. Susan O'Brien, MD, Professor, Department of Leukemia at The University of Texas MD Anderson Cancer Center, Houston, commented to The ASCO Post, "I'm unaware of any drug that was pulled and then later on was brought back. I have no idea what the mechanism of going about that would be. But it's going to be very hard to ignore these data." ■
Disclosure: Dr. Castaigne received consultant fees from Wyeth from 2006 to 2008. Dr. Shapiro is a full-time employee of Pfizer, Inc, and owns Pfizer stock. Dr. O'Brien reported no potential conflicts of interest.
Reference
1. Castaigne S, Pautas C, Terre C, et al: Fractionated doses of gemtuzumab ozogamicin combined to standard chemotherapy improve event-free and overall survival in newly diagnosed de novo AML patients aged 50-70 years old: A prospective randomized phase 3 trial from the Acute Leukemia French Association (ALFA). 53rd American Society of Hematology annual meeting. Abstract 6. Presented December 11, 2011.
---