Continued Declines in Cancer Mortality and Reductions in Cervical Cancer Incidence, but Increases in Advanced Prostate Cancer and Persistent Racial Disparities

The American Cancer Society (ACS) has released its Cancer Statistics 2023 report, which showed that overall cancer mortality has dropped by 33% since 1991, averting an estimated 3.8 million cancer deaths, according to the report. Data in the report also showed that women between the ages of 20 and 24, who were the first to receive the human papillomavirus (HPV) vaccine, had a 65% reduction in the incidence rates of cervical cancer from 2012 to 2019. However, the report also found a 3% increase in the incidence rate of prostate cancer each year from 2014 to 2019—especially in late-stage prognosis—about 99,000 new cases, the first increase in nearly 2 decades. The likely result, according to the report, is from changes in prostate-specific antigen screening guidelines.1
"The increasing percentage of men presenting with advanced prostate cancer, which is much more difficult to treat and often incurable, is highly discouraging," said Karen E. Knudsen, MBA, PhD, Chief Executive Officer of the American Cancer Society, in a statement. "In order to end cancer as we know it, for everyone, it is imperative for us to focus on cancer where trends for incidence and mortality are going in the wrong direction."
The findings in the report also highlight the persistent disparities in prostate cancer mortality rates in Black men, which are approximately two to four times higher than those in any other racial and ethnic group. Racial disparities were also pronounced in breast and uterine cancers, with Black women being 40% more likely to die of breast cancer than White women. Black women also were found to have the highest death rates from uterine cancer.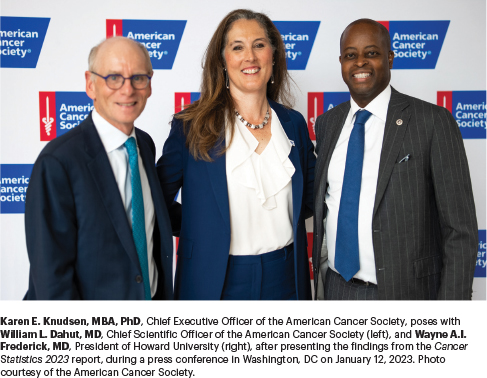 Cancer Incidence Trends More Favorable in Men Than Women
Despite the increase in prostate cancer incidence, overall, cancer incidence trends in men were more favorable compared with women. For example, lung cancer in women decreased at one-half the pace of men (1.1% vs 2.6%, respectively), annually from 2015 to 2019. In addition, breast and uterine corpus cancers continued to increase, as did liver cancer and melanoma, both of which stabilized in men aged 50 years and older and declined in younger men.
This year, according to the Cancer Statistics 2023 report, the top three new cancers diagnosed in men will be prostate, lung, and colon, which will account for almost half of all cancers diagnosed in men (48%). The top three new cancer cases diagnosed in women will be breast, lung, and colon, which will account for just over half of all cancers diagnosed in women (52%).
Although the continuing decline in cancer deaths over the past 3 decades is encouraging, the American Cancer Society report shows cancer remains the second leading cause of death after heart disease and the leading cause of death among women between the ages of 40 and 79 and among men between the ages of 60 and 79.
The American Cancer Society estimates that this year in the United States, there will be nearly 2 million new cases of cancer diagnosed and about 610,000 deaths from the disease.
Closing the Disparity Gap in Prostate Cancer Incidence and Death
During a press conference announcing the results from the Cancer Statistics 2023 report, the American Cancer Society released information on a new initiative called IMPACT (Improve Mortality From Prostate Cancer Together). This initiative is aimed at reducing both prostate cancer disparities in Black men and deaths from prostate cancer for all men by 2035.
"The disparities are profound," said Dr. Knudsen. "Black men, unfortunately, have a 70% increase in the incidence of prostate cancer compared with White men, and a two- to fourfold increase in prostate cancer mortality as related to any other ethnic or racial group in the United States."
To address the disproportionate cancer burden on Black men, IMPACT will utilize innovative research and evidence-based strategies to reduce prostate cancer disparities; employ whole-person prevention and survivorship approaches to decrease prostate cancer mortality; advocate for public policies that increase access to prostate cancer screening and care; and engage with Black organizations to raise awareness in the Black community on the lifestyle risk factors for prostate cancer, as well as provide information on screening, treatment, and clinical trials. 
DISCLOSURE: Dr. Knudsen reported no conflicts of interest. All authors of this report are employed by the America Cancer Society, which receives grants from private and corporate foundations, including foundations associated with companies in the health sector for research outside of the submitted work. The authors are not funded by or are key personnel for any of these grants, and their salaries are solely funded through American Cancer Society funds.
REFERENCE
1. Siegel RL, Miller KD, Wagle NS, et al: Cancer statistics, 2023. CA Cancer J Clin 73:17-48, 2023.
---