ASCO Formalizes Free Membership for Physicians in Lower-Middle–Income Countries

The ASCO Board of Directors recently took further action to support members in lower-middle–income countries. In alignment with ASCO's strategic goal of making a global impact, the Board elected to expand free membership for physicians from lower-middle–income countries, as defined by the World Bank.
Since 2016, physicians in low-income countries have received free membership courtesy of Debasish Roychowdhury, MD, through a generous donation to Conquer Cancer, the ASCO Foundation. However, zero-cost membership has now been formalized and extended to physicians in both low- and lower-middle–income countries.

Debasish Roychowdhury, MD
"ASCO's goal is to enable all members of the global oncology community to participate in our community, so they have access to the research, educational, and quality tools they need to deliver the best care possible no matter where they live and work," said ASCO Chief Executive Officer Clifford A. Hudis, MD, FACP, FASCO. "With this expansion of free membership, we will accelerate toward our vision of a world where cancer is prevented or cured and survivors—with or without cancer—are free from fear."
At present, there are 54 lower-middle–income countries on the World Bank's list, and physicians who are currently ASCO members in these countries will receive an e-mail detailing how their membership will transition. Prospective members from these countries can join ASCO by completing a membership application. The World Bank updates its list of economies annually, and if any countries change from one category to another, ASCO's membership team will adjust dues accordingly.
This expansion of member access adds to ASCO's extensive existing support of oncology care team members in low-income and lower-middle–income countries going back more than a decade. This support has been through its Conquer Cancer grants and awards including:
Global Oncology Young Investigator Award (GO YIA) provides research funding to early-career investigators to encourage and promote quality research in global oncology and to develop the next generation of researchers to address global health needs.
International Development and Education Award (IDEA) provides support for early-career oncologists in low- and middle-income countries and facilitates the sharing of knowledge between these oncologists and members through mentorship.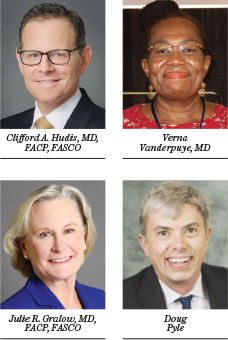 International Innovation Grant (IIG) provides research funding in support of novel and innovative projects that can have a significant impact on cancer control in low- and middle-income countries.
Long-Term International Fellowship (LIFe) provides early-career oncologists in low- and middle-income countries the support and resources needed to advance their training by deepening their relationship with a mentor at a host institution in the United States, Canada, or Europe.
ASCO also provides dedicated training for oncology professionals in low- and middle-income countries through a portfolio of international training courses and dedicated support for hospitals in these countries through its International Cancer Corps program.
Recently, the Society has increased its engagement in these countries. In June 2022, ASCO and the World Health Organization (WHO) announced a collaboration to measure and improve the quality of cancer care internationally. The goal is to achieve health-related targets of the U.N. Sustainable Development Goals and WHO Global Action Plan on Non-Communicable Diseases and help cancer professionals provide the best possible care to their patients. Two months later, ASCO and the African Organization for Research and Training in Cancer (AORTIC) signed a memorandum of understanding committing both organizations to collaborate to advance cancer research in Africa. The alliance is using the programs, leaders, and member networks of both organizations to pursue a multilevel strategy comprising researcher training, mentorship, funding opportunities, and the presentation of research findings.
In the past 2 years, ASCO also has established three regional councils to provide two-way communication, coordination, and connection with members across the world: Asia Pacific Regional Council, Latin America Regional Council, and Sub-Saharan Africa Regional Council. Council members serve as representatives for their respective countries, facilitate engagement in ASCO's global programs, and work with Society leadership and staff to tailor ASCO programs to best support members in the region.
"The Regional Council members are the voices for their communities and help their colleagues get involved in ASCO's global programs while aiding the Society in adapting ASCO programs to best support quality cancer care in the region," said ASCO International Affairs Committee Chair Verna Vanderpuye, MD. "It is only by working together that we can address disparities on cancer outcomes and strive to raise the quality of cancer care for every patient, everywhere."
ASCO's international efforts are led by the Society's Chief Medical Officer and Executive Vice President Julie R. Gralow, MD, FACP, FASCO, and Vice President of International Affairs Doug Pyle, in concert with the Society's International Affairs Committee and other volunteer leadership. With the expansion of access to membership, ASCO will further the impact of its many international programs and collaborations.
For any questions regarding membership, contact ASCO Customer Service. For anyone who has been considering becoming an ASCO member, we encourage you to do so and join our community of nearly 45,000 oncology professionals, researchers, patient advocates, medical students, and many others. 
© 2022. American Society of Clinical Oncology. All rights reserved.
---