Damon Runyon Cancer Research Foundation Awards Early-Career Scientists

The Damon Runyon Cancer Research Foundation recently announced that 12 scientists with novel approaches to fighting cancer have been named the 2020 recipients of the Damon Runyon-Rachleff Innovation Award. Six initial grants of $400,000 over 2 years were awarded to seven early-career scientists (five individuals and one collaborative team), whose projects have the potential to significantly impact the prevention, diagnosis, and treatment of cancer. Each project will have the opportunity for up to 2 additional years of funding.
2020 Damon Runyon-Rachleff Innovators
Liron Bar-Peled, PhD, Massachusetts General Hospital: Using cutting-edge proteomic techniques, Dr. Bar-Peled is investigating how cancer cells respond to oxidative stress and exploring the different signaling pathways required by cancer cells to reduce the oxidative stress burden.
Michael E. Birnbaum, PhD, Massachusetts Institute of Technology: To improve outcomes with immunotherapies, Dr. Birnbaum has developed a new method to match T cells with their antigen targets on cancer cells by engineering viruses to use T-cell recognition as a means of cell entry.
Kimberley J. Evason, MD, PhD, and Gregory S. Ducker, PhD, University of Utah: Drs. Evason and Ducker are using zebrafish to study liver cancer. The goal of this project is to determine why these lipid levels are higher in patients with liver cancer and how they might be targeted with drugs to prevent or cure the disease.
Brian B. Liau, PhD, Harvard University: By combining chemical biology and genome-editing methods, Dr. Liau is pioneering approaches to explore allostery (one type of enzyme regulation), specifically focusing on DNA methyltransferase enzymes. Identifying allosteric mechanisms that regulate DNA methyltransferase function will shed light on the impact of cancer mutations on enzyme function and strategies to pharmacologically modulate their activity.
Michael E. Pacold, MD, PhD, New York University Langone Health: Dr. Pacold has developed techniques to determine which oxygen-dependent reactions are prioritized by pancreatic cancers and enhanced by radiation treatment. His goal is to identify new targets that could be used for treating pancreatic and other cancers that are treated with radiation.
Elli Papaemmanuil, PhD, Memorial Sloan Kettering Cancer Center: Dr. Papaemmanuil has discovered that existing mutations alone are not sufficient to cause therapy-related cancer but require the acquisition of additional mutations that affect large segments of the DNA, or "allelic imbalances." She will pursue further studies to understand the mechanisms of therapy-related blood cancers.
2020 Damon Runyon-Rachleff Awards
The Damon Runyon-Rachleff Innovation Award funds cancer research by exceptionally creative thinkers with "high-risk/high-reward" ideas who lack sufficient preliminary data to obtain traditional funding. The awardees are selected through a competitive and rigorous process by a scientific committee comprising leading cancer researchers who are innovators themselves.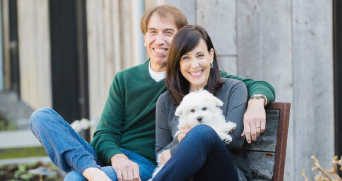 Debbie and Andy Rachleff. Photo courtesy of Stanford's Medical Center Development.
Examples of past success stories from Damon Runyon-Rachleff Innovators include the gene-editing technology CRISPR (clustered regularly interspaced short palindromic repeats) and single-cell–sequencing techniques that are revolutionizing not just cancer research, but biomedical sciences globally.
This program was established thanks to the generosity of Andy and Debbie Rachleff, philanthropists and advocates in basic science research. 
---