Essential Elements of an Effective Clinical Trials System: Business and Mission


Thomas E. Witzig, MD
Clinical trials aimed to improve health and quality of life are the cornerstone of progress in medicine. Support comes from academic medical centers, philanthropy, the National Institutes of Health (NIH), industry, or combinations thereof. Clinical trials need to be hypothesis-driven and address an unmet need. Successful trials require teams of physicians, scientists, and statisticians. They also require risk-takers—patients, payers, and industry members—willing to participate or invest.
It is the premise of this commentary that the clinical research enterprise functions best in meeting the needs of the sick if each component of the three-legged chair model (Figure 1) of clinical research (medical team, industry, and government/insurance) approaches the research with both a business and mission (ie, business as mission, also known as BAM) mindset. Unfortunately, as medical care has become more complex and expensive, the BAM aspects have teetered out of balance. J. Joseph Marr, MD, academic physician and business executive, recently stated: "Two professions that never were designed to be businesses now either are (medicine) or will be (education)."1
The Uniqueness of Medicine
To apply business as mission thinking to clinical research, it is important to understand the uniqueness of medicine. Medicine is a profession with a strong mission component combined with the reality that funds are needed to fulfill that mission. A primary value of Mayo Clinic, where I practice, is "the needs of the patient come first." This statement is often used to evaluate decisions regarding resource utilization and priorities. Industry, on the other hand, tends to focus more on profit as well as pleasing stockholders and boards of directors.
WHAT IS BAM?
The BAM [business as mission] approach evaluates medical research with both a business and mission mindset. In the case of the clinical trials research enterprise, all three components—the medical team, industry, and government/insurance—must function collaboratively and using BAM thinking to meet the needs of the patient.
Medicine differs from other commercial entities because most believe that basic health care is a right. For example, if a person without insurance is injured in a car accident and is transported to the nearest emergency facility, he or she will be cared for. The mission takes precedent over the business because we are a compassionate people. However, if the patient's car is totaled in the accident, and the patient visits a nearby automobile dealership and requests a complimentary Mercedes-Benz to replace the damaged car, this request is likely to be denied. Society and the auto industry do not consider having a Mercedes-Benz a right similar to the right of medical care.
Medical research should always be patient-centered; thus, the patient is seated on the model chair of clinical research. The medical team comprises the first leg in the clinical research paradigm. It is typically composed of compassionate individuals focused on the needs of an individual patient. They include basic research scientists and clinicians organized into translational and clinical research teams—all with a focus on the disease from which the patient suffers. The more tightly this disease group is linked, the quicker the research is translated to the patient. These team members know best the unmet needs of patients and the issues related to their disease. Medical teams are typically more mission than business oriented, given their training background. However, they, too, must consider the financial impact of trial design.
Industry: Vital Piece of the Puzzle
The medical drug and device industries are also vital for the success of the clinical research enterprise, as they invest in new products for the medical team to test. From a financial standpoint, the medical team is risk averse; the drug and device developers must take that risk with the goal of profit and benefit for patients and stockholders/investors. These risks are large, and it can take many years to achieve patents and U.S. Food and Drug Administration (FDA) approvals. Many companies no longer depend on academic research but have formed their own basic and translational science departments.
Successful trials require teams of physicians, scientists, and statisticians. They also require risk-takers—patients, payers, and industry members—willing to participate or invest.

— Thomas E. Witzig, MD




Tweet this quote



Industry, however, cannot go it alone: it must understand the medical need and work with members of the medical team to study patients. It also needs business as mission thinking. If the business is not a good one, it won't survive to accomplish the mission; and, if the business has no heart for the mission, then it may succeed as a business, but some patients will be left behind and suffer.
The business as mission approach in industry is not new. George Merck, founder of the pharmaceutical giant Merck & Company, Inc, was quoted on the cover of Time Magazine August 18, 1952: "Medicine is for people, not for profits." This idea of "more than just profit" has also been recognized in the nonmedical business world. Larry Fink, Chief Executive Officer of BlackRock, Inc, has coined the term ESG (environmental, social, and governance).2 He wrote: "To prosper over time, every company must not only deliver financial performance, but also show how it makes a positive contribution to society." In addition, he said, "Companies must benefit all of their stakeholders, including shareholders, employees, customers, and the communities in which they operate."
Other Partners
Most clinical trials have a dual-funding mechanism. The costs of standard of care for the patient are covered by private insurance, Centers for Medicare & Medicaid Services (CMS), or pure charity. Some insurers still deny patient participation in clinical trials or fail to cover conventional costs. This attitude demonstrates a lack of mission and can directly impact patient health.
The government is also a key partner—not only through the CMS but also NIH sponsorship of trials. These trials use taxpayer dollars for peer-reviewed research. For optimal clinical research and patient benefit, all three legs of the chair must be functional and strong. The malfunction of even one leg results in a breakdown of the system, and the patient suffers.
Medical Side of Clinical Research
How does a business as mission approach actually work in the clinical research world? The medical team is responsible to ask the key research questions and to develop new trials. This requires academic and community research groups to provide time and effort for physicians to develop and participate in the research.
Nearly all of us will be a patient someday.

— Thomas E. Witzig, MD




Tweet this quote



The business side of medicine is a real threat to the academic medical center. If the work day is filled with patients and managing the proverbial electronic medical record in-basket, the physician will have no time to think and collaborate with other members of the basic and translational disease research groups. There will be a financial cost to the clinical group to enable research; however, if great clinical research is the goal, then investing in the team is necessary. As physicians work with companies to develop trials, they must also consider the financial impact of trial design, which could lead to excessive use of resources for marginal gain in patient outcome.
Clinical Research From Other Perspectives
For industry, there are many ways to implement a business as mission strategy. To begin, the notion of business as mission thinking should simply be incorporated into the decision-making process of the organization. Specific examples include adequate design and funding of clinical trials. The questions addressed must be relevant, with realistic eligibility criteria. The data-collection procedures must not place undue and unnecessary burden on the academic team. For a successful agent, a compassionate use program to enable all patients access until the agent is widely available can be very helpful. Other examples include appropriate but not exorbitant employee and leadership wages. Companies need to fund trials of the best science—always keeping the ultimate needs of the patient in view—even if they will not always bring the highest financial impact to the company.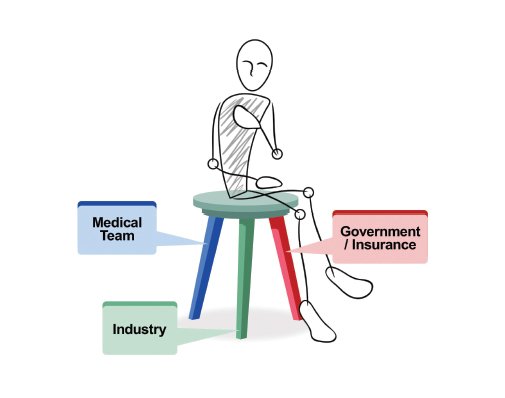 FIGURE 1: The three-legged chair model of clinical research.
The government should conduct research and trials for the best interests of patients and the taxpayers who provide the funding. There should be more of these types of trials, since they often set national standards. Sometimes, these trials are of less interest to industry, but they may be very important to patient care. This situation often occurs when a drug is nearing the end of its patent life. From a purely business standpoint, there is little motivation for a company to provide the drug or other funding for these trials, even though it may be in the best interest of the patient. Providing a mechanism to offer the drug at a research cost enables research to go forward, often in diseases for which the drug was not originally designed.
Insurance companies must also "think differently." They can do so by fully supporting the standard-of-care components of the clinical trial for the consenting patient. They also can fund trials that will set future practice guidelines and assist in making rational coverage decisions. They, too, like industry, need to provide their leadership appropriate wages. Those who work in health care may need to be willing to accept wages that are perhaps somewhat lower than expected in the nonmedical world to experience the joy of changing lives and relieving suffering as a result of their work.
Patients are encouraged to be active participants in their own health and to practice validated prevention strategies, strive to obtain health insurance, and be open to learning about clinical trials. Nearly all of us will be a patient someday. Improvements and expansion of the U.S. national clinical trials system can best be accomplished by combined efforts of all components, with each utilizing the business as mission approach. This will ensure a solid clinical trials system when it is your turn to sit in the chair. ■
Dr. Witzig is Professor of Medicine, Mayo Clinic College of Medicine, and Associate Director of Translational Research, Mayo Clinic Cancer Center, Mayo Clinic, Rochester, Minnesota. He has been in academic medicine in a salaried position for his entire 32-year career and has conducted many clinical trials of all types, in which his relatives have been participants.
Disclaimer: This commentary represents the views of the author and may not necessarily reflect the views of ASCO or The ASCO Post.
DISCLOSURE: Dr. Witzig is a consultant/advisor for Celgene, MorphoSys, AbbVie, Incyte, and Spectrum Seattle Benefits (with honoraria going to the institutions) and has received institutional research funding from Celgene, Acerta, and Spectrum and honoraria from Karyopharm Therapeutics and Immune Design.
REFERENCES
1. Marr JJ: Parallel universes: Will higher education follow medicine? The Pharos, Winter 2018. Available at alphaomegaalpha.org/pharos/PDFs/2018/Winter/2018-1-Marr.pdf. Accessed January 14, 2019.
2. BlackRock: Larry Fink's annual letter to CEOs: A sense of purpose. Available at https://www.blackrock.com/corporate/investor-relations/larry-fink-ceo-letter. Accessed January 14, 2019.
---