From Azerbaijan to America: An IDEA Recipient's Experience

Cancer takes away millions of lives every year, and in low- and middle-income countries, the high cancer mortality rate can often be attributed to scarce means and a shortage of trained professionals. Hoping to contribute my best in the fight against this disease, I chose to become an oncologist in my country, Azerbaijan, with a focus on tumor biology, cancer genomics, drug development, and related areas of medical oncology.
In many low- and middle-income countries, cancer remains a major public health problem, with a high overall incidence and a higher frequency of advanced stage at diagnosis compared with higher-income countries. Azerbaijan, as a post-Soviet country, has gone through tough times in recent history and has been negatively impacted in the medical field, particularly oncology. Azerbaijan has a total of 35,000 patients with cancer, who are served by seven cancer clinics across the regions of the country.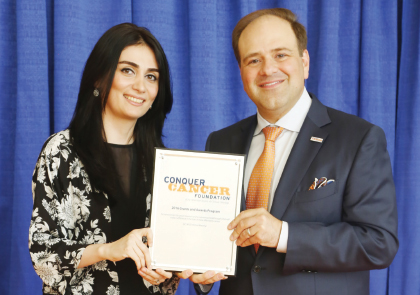 Dr. Talibova with Conquer Cancer Foundation Chair Thomas G. Roberts, Jr, MD.
Despite having fewer resources, Azerbaijan has made some significant progress in oncology development within the country. Today, the National Oncology Center, where I work, is a leading specialized scientific research institution that owns a clinic base of 650 beds and has the most advanced universal system for radiation therapy. In addition, the National Oncology Center has established a cancer registry and has a new modern molecular oncology laboratory and positron-emission tomography/computed tomography (PET-CT).
Azerbaijan has also seen improvements in the country's ability to provide medication to patients with cancer. Of course, major problems remain in the provision of medication in Azerbaijan—for example, our patients are generally not able to receive new targeted and immunotherapy drugs, due to their cost.
The IDEA Program and the ASCO Annual Meeting
Despite these challenges, I have managed to further my knowledge in several areas of oncology. I am honored to be the first doctor in Azerbaijan to have successfully passed the 2015 European Society for Medical Oncology Examination in Medical Oncology. I am also honored to be the first candidate from my country to receive an International Development and Education Award (IDEA), supported by the Conquer Cancer Foundation of ASCO.
I first learned about the IDEA when I received an ASCO postcard informing me about the ASCO Annual Meeting. I started to learn more about the IDEA program and decided to apply. Honestly, I had no expectations of being selected, so it was an amazing experience for me to receive a confirmation email about my selection to this program. The award allowed me to attend the 2016 ASCO Annual Meeting in Chicago, followed by a clinical experience at The Ohio State University Comprehensive Cancer Center.
Before the ASCO Annual Meeting, I met all of the 2016 IDEA recipients from around the world. It was exciting to meet doctors from different countries and different cultures, and it was motivating to discuss the similar problems our countries face, share ideas, learn from one another's experience, and find ways to solve problems. The IDEA afforded me so many fascinating experiences, including a tour of the Robert H. Lurie Comprehensive Cancer Center of Northwestern University, the IDEA Networking Event, the IDEA Alumni Event, the ASCO President's Reception, the Grants and Award Ceremony, and the World Oncology Leaders Reunion.
I also had the chance to meet my mentor, Richard M. Goldberg, MD, FASCO, during these events. He was very kind and introduced me to many oncology leaders, such as ASCO Past President Lawrence H. Einhorn, MD, FASCO; ASCO President Daniel F. Hayes, MD, FACP, FASCO; Immediate Past President Julie M. Vose, MD, MBA, FASCO; Conquer Cancer Foundation Board of Directors Chair Thomas
G. Roberts, Jr, MD; and others.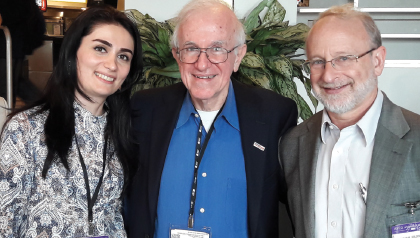 Dr. Talibova, with her IDEA mentor, Richard M. Goldberg, MD, FASCO (right), and Lawrence H. Einhorn, MD, FASCO (middle).
It was my first time attending the ASCO Annual Meeting, and the five-day event offered me an invaluable opportunity to gain insight into clinical practice and research methods. I attended sessions focusing on immunotherapy, gastrointestinal tumors, and many other topics. I am certain that after attending these sessions, I will be able to learn more about immunotherapy and ultimately apply the essentials of modern immunotherapy at my current and future institutions.
After the ASCO Annual Meeting, I met with my mentor, Dr. Goldberg, and my co-mentor, Yvonne A. Efebera, MD, during an extended tour of The Ohio State University Comprehensive Cancer Center–Arthur G. James Cancer Hospital; both Dr. Goldberg and Dr. Efebera did their best to make this experience unforgettable. On my first day, Dr. Efebera showed me the cancer center and the Richard J. Solove Research Institute. Dr. Efebera and Dr. Goldberg also gave me the opportunity to participate in clinics and attend the phase I/II meeting, the Bertha Bouroncle Dinner, the James Grand Rounds, and the Internal Medicine Grand Rounds. I also had the opportunity to round in clinic with Dr. Goldberg.
Bringing the Experience Back to Azerbaijan
My participation in the IDEA program will certainly allow me to contribute to the betterment of oncology in my country. As part of my future plans, I intend to give a presentation at the National Oncology Center Scientific Committee of Azerbaijan about my experience in the IDEA program and the knowledge I gained in the United States. My goal is to encourage many more residents and young doctors to apply for grants like this, which can broaden their medical knowledge and give them new skills in oncologic care. In my country, residents do not have much opportunity to do research or publish during their training; therefore, IDEA was an important learning experience for me, particularly in writing abstracts and delivering oral presentations at international congresses. Receiving an IDEA also pushed me one step closer to realizing my dream of collaborating with a leading cancer center in the hope of eventually establishing an international-level research laboratory in Azerbaijan.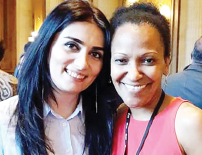 Dr. Talibova with her co-mentor, Yvonne A. Efebera, MD, during the World Oncology Leaders Reunion at the 2016 ASCO Annual Meeting.
I want to communicate my gratitude to ASCO and the Conquer Cancer Foundation for allowing me to represent my country as the first IDEA recipient from Azerbaijan. This great opportunity will certainly impact my future career in a positive way. The Foundation staff were very warm and friendly, trying to do their best to solve all of my problems before my visit and during my stay in the United States. Thank you, Conquer Cancer Foundation, for brightening our world with the power of knowledge and mutual cooperation, and for giving young experts like me the hope to assist the next generation. ■
Originally printed in ASCO Connection. © American Society of Clinical Oncology. "From Azerbaijan to America: An IDEA Recipient's Experience." ASCO Connection, January 2017: 34-35. All rights reserved.
---