ASCO Names Advance of the Year, Highlights Major Top Research Trends
Society Issues Clinical Cancer Advances 2016: ASCO's Report on Progress Against Cancer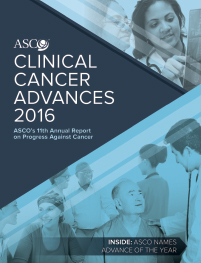 ASCO Clinical Cancer Advances 2016

Julie Vose, MD, MBA, FASCO
Progress is hampered not by the lack of ideas but resources. Recent bipartisan support for increased funding for NIH is an encouraging first step.

—Julie Vose, MD, MBA, FASCO
Research is the bedrock of progress against cancer, and discoveries in cancer biology are moving from bench to bedside faster than ever. No recent advance has been more transformative than the rise of immunotherapy, particularly over the past year, making this treatment strategy ASCO's Advance of the Year.
Advance of the Year: Cancer Immunotherapy Pushes Ahead
Five years ago, the immunotherapy drug ipilimumab (Yervoy) was hailed as the first treatment to extend lives for people with advanced melanoma. Today, the armamentarium of immune checkpoint inhibitors is expanding, as other drugs in this new class show activity, and in some trials, are more effective and less toxic.
In 2015, the U.S. Food and Drug Administration approved immune checkpoint inhibitors for the treatment of advanced stages of lung and kidney cancers. Last year, early clinical trials showed that immunotherapies that block the programmed cell death protein 1 (PD-1)/programmed death ligand 1 (PD-L1) immune checkpoint can improve outcomes for people with bladder, liver, kidney, and head and neck cancers, as well as Hodgkin lymphoma.
Along with the wave of success with immune checkpoint inhibitors in specific cancers (eg, melanoma and lung cancer), researchers are reporting encouraging early achievements in other tumor types and with other immunotherapy approaches. For example, the emerging chimeric antigen receptor (CAR) T-cell therapy, which entails genetically reprogramming a patient's own T cells to attack cancer, is able to send chemotherapy-resistant blood cancers into durable remission. Researchers also are seeing promising results on a new vaccine to treat glioblastoma, and other therapeutic vaccines are under development for breast, lung, bladder, and many other cancers.
Compared to chemotherapy and targeted therapy, immunotherapy is often able to control cancer growth longer and may be easier for some patients to tolerate. However, thus far immunotherapy approaches are proving highly effective for particular subsets of patients. Hence, the next challenge is to expand the benefits of immunotherapy to more people. Some of the strategies being explored are use of immunotherapy in conjunction with radiation therapy, chemotherapy or targeted therapy; combining different immunotherapy drugs; and starting immunotherapy early in the course of the illness.
Federal Investment in Research Remains Critical in Sustaining Progress
Almost every clinical advance, including those made in immunotherapy, stems from rigorous basic research. Much of this fundamental research is backed by U.S. federal dollars. While public and private sectors alike fund clinical cancer research in the United States, when it comes to high-risk, pioneering work, federal funding is indispensable.
ASCO's Clinical Cancer Advances 2016 report highlights notable research successes achieved thanks to funding from the U.S. National Institutes of Health (NIH), including:
A large, nation-wide analysis that found remarkable improvements in long-term childhood cancer survival rates over 3 decades
A large clinical trial that revealed an additional hormone treatment option to reduce the risk of new or recurrent breast cancer after ductal carcinoma in situ
An early clinical trial that showed that a combination of two novel targeted drugs may slow the growth of a difficult-to-treat form of ovarian cancer
A clinical trial that demonstrated that avoiding whole-brain radiation therapy for limited brain metastases helps preserve patient quality of life
New evidence confirming that early palliative care not only extends patient lives but can also benefit caregivers
ASCO Calls for Strong Federal Investment in Cancer Research
These advances are proof of the importance of our nation's investments in cancer research. In fact, more than 30% of the studies featured in this report were directly supported with federal funding.
In December 2015, Congress took an important step forward in recognizing the vital importance of federal research funding. The fiscal year 2016 budget contained a 6.6% increase for the NIH, bringing their total budget to $32.1 billion, including $5.2 billion for the National Cancer Institute (NCI).
This hard-fought victory came after a decade-long decline to NIH funding in real dollars and a significant advocacy effort by ASCO and the larger biomedical research community. This increase should be a first step to return the NIH and the NCI to a path toward more curative therapies and treatments that will allow others to live well with their cancer as a chronic condition.
"Progress is hampered not by the lack of ideas but resources. Recent bipartisan support for increased funding for NIH is an encouraging first step. ASCO is calling on lawmakers to build on this year's investment and provide sustained, robust funding to the NIH and NCI," stated ASCO President Julie Vose, MD, MBA, FASCO, in the report.
About the Clinical Cancer Advances Report
ASCO developed this annual report, now in its 11th year, to document the important progress being made in clinical cancer research and highlight emerging trends in the field. As a whole, this document attests to the current state of the science and envisions future directions of cancer research.
The report was published ahead of print on February 4, 2016, in the Journal of Clinical Oncology. A digital edition of the report, with additional content is available at cancerprogress.net/cca. ■
© 2016. American Society of Clinical Oncology. All rights reserved.
---