Observation Appropriate for Some Patients With Rectal Cancer Following Neoadjuvant Therapy


Philip Paty, MD

J. Joshua Smith, MD, PhD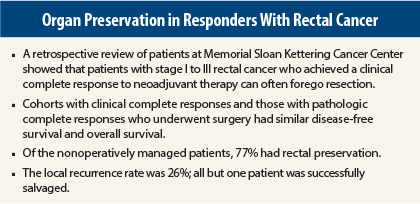 Organ Preservation in Responders With Rectal Cancer
We set the bar very high and found that nonoperative management appears to compare favorably.

—Philip Paty, MD
Some patients with rectal cancer who achieve a complete response to neoadjuvant chemoradiation therapy can be monitored for tumor recurrence and may never need surgery, according to a retrospective review from patients at Memorial Sloan Kettering Cancer Center, New York, presented at the 2015 Gastrointestinal Cancers Symposium.1
At a press briefing, senior author Philip Paty, MD, a surgical oncologist at Memorial Sloan Kettering, said the results should "encourage more doctors to consider a 'watch and wait' approach in select patients with clinical complete response as an alternative to immediate rectal surgery."
Avoidance of surgery would allow patients to preserve rectal function. "Most patients who qualify for this approach are very interested in it," he said. Total mesorectal excision can lead to sexual dysfunction, urinary problems, and issues with the ileostomy or diverting colostomy, the authors noted.
J. Joshua Smith, MD, PhD, Chief Fellow in the Department of Surgery at Memorial, who presented the results at the meeting, pointed out that prior studies have shown that 12% to 38% of patients will obtain a pathologic complete response to neoadjuvant chemotherapy, and 5-year disease-free survival for these patients exceeds 90%. 2,3
"Since we know that clinical complete response is associated with a pathologic complete response, the question is, in patients who obtain a pathologic complete response, is surgical resection always necessary?" commented Dr. Smith.
The investigators compared outcomes among 145 patients with stage I to III rectal cancer, 73 of whom achieved a clinical complete response (no detectable tumor by clinical exam, endoscopy, or imaging) after neoadjuvant chemoradiation therapy and were treated nonoperatively.
This cohort was compared with 72 patients treated conventionally who achieved a pathologic complete response and underwent total mesorectal excision.
The neoadjuvant treatment given to the nonoperative patients was not standardized in this retrospective series. All patients received pelvic radiation (45–55 Gy) plus a fluoropyrimidine. Since 2011, most received induction ­FOLFOX (fluorouracil [5-FU]/leucovorin/oxaliplatin) as initial treatment, then chemoradation, then assessment for surgery. If clinical complete response was obtained, patients were offered the nonoperative, watch-and-wait approach.
Patients were monitored frequently, especially during the first year, when they underwent clinical and endoscopic exams every 3 months and imaging every 6 months. Examinations became less frequent over time, but patients were still closely followed for the first 5 years.
Oncologically Safe, With Rectal Preservation
After a median follow-up of 3.5 years, 74% of the 73 patients who were observed achieved a durable and sustained clinical complete response, and no surgical intervention was required. For the 19 patients (26%) who had local regrowth of tumor, salvage surgery was undertaken, and all were successful. One patient had tumor recurrence after resection of local tumor regrowth, yielding a local control rate of 98%, Dr. Smith reported.
In addition, 77% of patients were able to complete treatment with rectal preservation, and this conservative approach did not compromise outcomes, Dr. Smith emphasized.
The disease-specific and overall survival rates were similar between the two groups. The rate of distant tumor recurrence was 13% with nonoperative management and 7% with surgery following a pathologic complete response, which was not significantly different.
At the press briefing, Dr. Paty commented that by comparing patients with a clinical complete response with those with a pathologic complete response, "We set the bar very high and found that nonoperative management appears to compare favorably."
He acknowledged that "practicing 'watch and wait' can be difficult for surgeons," but this approach is being increasingly accepted. "Centers are adopting it, and many leaders in clinical trials of rectal cancer recognize that this option is not only reasonable, but perhaps it is necessary to inform patients that it is an option," Dr. Paty said.
Dr. Smith stressed the importance of a careful discussion between the patient and the surgeon and obtaining consent with both parties acknowledging the risks, possible benefits, and alternatives compared with uniform offering of total mesorectal excision. 
"Patients need to know this is nonstandard management, off protocol; that there is a 25% risk of local tumor regrowth; that nonoperative management requires frequent endoscopic and radiographic surveillance; that there's a risk for salvage abdominal perineal resection or extended resection; and that there's a potential risk of compromising cure," he said.
Most local regrowth occurs within 12 to 13 months and can be salvaged successfully, he indicated. "However, prospective trials are needed to confirm these findings, and they are in progress," he said.
A phase II multicenter randomized trial studying the use of neoadjuvant treatment in locally advanced rectal cancer patients and the use of nonoperative management in those with clinical complete response is ongoing at Memorial Sloan Kettering led by the Colorectal Service, which includes Julio Garcia-Aguilar, MD, Philip Paty, MD, Karyn A. Goodman, MD, Mark Gollub, MD, and Leonard Saltz, MD (ClinicalTrials.gov identifier NCT02008656). ■
Disclosure: Drs. Paty and Smith reported no potential conflicts of interest.
References
1. Smith JJ, Chow OS, Eaton A, et al: Organ preservation in patients with rectal cancer with clinical complete response after neoadjuvant therapy. 2015 Gastrointestinal Cancers Symposium. Abstract 509. Presented January 17, 2015.
2. Garcia-Aguilar J, Shi Q, Thomas CR Jr, et al: A phase II trial of neoadjuvant chemoradiation and local excision for T2N0 rectal cancer: Preliminary results of the ACOSOG Z6041 trial.  Ann Surg Oncol 19:384-391, 2012.
3. Maas M, Nelemans PJ, Valentini V, et al: Long-term outcome in patients with a pathological complete response after chemoradiation for rectal cancer: A pooled analysis of individual patient data. Lancet Oncol 211:835-844, 2010.
---
Related Articles
George J. Chang, MD, Chief of Colon and Rectal Surgery and Director of Clinical Operations, Minimally Invasive and New Technologies in Oncologic Surgery Program at The University of Texas MD Anderson Cancer Center, Houston, shared his insights on the study by Dr. Smith and colleagues with The ASCO...