ASCO Releases Annual Report on Progress Against Cancer


Peter Paul Yu, MD, FACP, FASCO

Richard L. Schilsky, MD, FACP, FASCO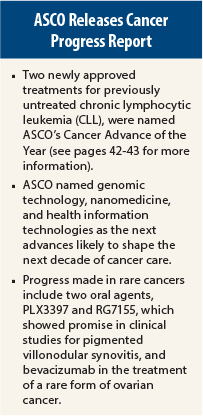 ASCO Releases Cancer Progress Report
We cannot underestimate the importance of federal investment for answering critical cancer care questions.

—Peter Paul Yu, MD, FACP, FASCO
ASCO recently released its report, Clinical Cancer Advances 2015: An Annual Report on Progress Against Cancer, and for the first time announced its cancer Advance of the Year: gains made in the treatment of chronic lymphocytic leukemia (CLL). The report credited improvements in CLL care with four newly approved therapies: two immunotherapy drugs for previously untreated CLL and two molecularly targeted drugs for treatment-resistant or relapsed CLL. The report was published in the Journal of Clinical Oncology1 and on CancerProgress.Net (see pages 42-43 for more on ASCO's Advance of the Year).
This year's report also features "A Decade in Review," and "The 10-Year Horizon", which previews trends likely to shape the next decade of cancer care, and highlights progress in rare cancers. In addition, the report includes information on advances in combination, targeted, and immunotherapy treatment, patient care, and tumor biology.
The 10-Year Horizon
The Clinical Cancer Advances report previews the following trends that will likely shape the next decade of cancer care: the eradication of cancer stem cells, faster, less expensive, and more sophisticated genomics technology, liquid biopsies, nanomedicine, and the untapped possibilities of health information technology, such as the CancerLinQ initiative, in cancer care.
Importance of Federal Funding
The Clinical Cancer Advances report also recognizes the unique and vital role of federally funded research in advancing progress against cancer.
"This has truly been a banner year for CLL and for clinical cancer research as a whole," said ASCO President Peter Paul Yu, MD, FACP, FASCO, in a statement. "Advances in cancer prevention and care, especially those in precision medicine, are offering stunning new possibilities for patients. It is also remarkable that almost one-third of the year's top studies were made possible by federal research dollars. We cannot underestimate the importance of federal investment for answering critical cancer care questions, particularly in rare, understudied cancers."
"The U.S. federal cancer research enterprise faces critical funding challenges that threaten the pace of research progress," added Richard L. Schilsky, MD, FACP, FASCO, ­ASCO's Chief Medical Officer. "Now is the time to increase our nation's investment in cancer research to ensure that we can build on these advances well into the future."
Progress in Rare Cancers
The report details information on the first viable alternative to surgery for pigmented villonodular synovitis, a rare joint disease that affects about 600, mostly young, Americans each year. According to the report, early results from two small studies of oral therapies targeting a protein known as CSF-R1—PLX3397 and RG7155—are showing promise in tumor shrinkage. If confirmed in larger studies, these therapies may offer patients relief from the debilitating adverse effects of pigmented villonodular synovitis and the possibility of avoiding joint replacement or amputation.
The second promising achievement in the progress against rare cancers is reflected by early results from a clinical trial showing that bevacizu­mab (Avastin) may be active against recurrent sex cord–stromal tumors of the ovaries, a rare form of ovarian cancer. ■
Study Authors
The following individuals contributed to ASCO's Clinical Cancer Advances Progress Report: Gregory A. Masters, Lada Krilov, Howard H. Bailey, Marcia S. Brose, Harold Burstein, Lisa R. Diller, Don S. Dizon, Howard A. Fine, Gregory P. Kalemkerian, Mark Moasser, Michael N. Neuss, Steven J. O'Day, Olatoyosi Odenike, Charles J. Ryan, Richard L. Schilsky, Gary K. Schwartz, Alan P. Venook, Sandra L. Wong, and Jyoti D. Patel. Lada Krilov, PhD, of the American Society of Clinical Oncology, is the corresponding author. For disclosure of potential conflicts of interest of all authors, visit jco.ascopubs.org/content/early/2015/01/16/JCO.2014.59.9746.
Reference
1. Masters GA, Krilov L, Bailey HH, et al: Clinical Cancer Advances 2015: Annual Report on Progress Against Cancer From the American Society of Clinical Oncology. J Clin Oncol. January 20, 2015 (early release online).
---