How the American Cancer Society Aims to Improve Outcomes in Breast and Cervical Cancers and Reduce Health Disparities
A Conversation With Karen Knudsen, MBA, PhD

Just days before the publication of the 2022 Annual Report to the Nation on the Status of Cancer on October 27, 2022,1 which showed a continued downward trend in cancer deaths, Karen Knudsen, MBA, PhD, Chief Executive Officer of the American Cancer Society (ACS), joined the First Lady Dr. Jill Biden at the White House to announce the launch of the ACS National Breast Cancer Roundtable and the ACS National Roundtable on Cervical Cancer. The two new ACS-led roundtables are in response to President Joe Biden's reignition of the Cancer Moonshot initiative, according to Dr. Knudsen.

Karen Knudsen, MBA, PhD
"When we heard the President speak  about the importance of partnerships to accelerate progress in cancer, we took it upon ourselves to take up the call. So, this is the ACS' contribution to the Cancer Moonshot," said Dr. Knudsen.
In 1997, the ACS in partnership with the Centers for Disease Control and Prevention, launched its first roundtable—the National Colorectal Cancer Roundtable—to raise awareness of the disease and improve colorectal cancer screening. Over the past 25 years, ACS has collaborated with hundreds of organizations across diverse sectors and communities to tackle other complex problems in cancer care with the establishment of the National HPV Vaccination Roundtable, the National Lung Cancer Roundtable, and the National Navigation Roundtable.
The ASCO Post talked with Dr. Knudsen about the goals of the two new ACS-led roundtables and the latest trends in cancer incidence and mortality.
Heeding a Call to Action
Why did the American Cancer Society choose to focus on breast and cervical cancers for its two latest roundtables?
We looked at the impact of our previous roundtables, including the National Colorectal Cancer Roundtable, which set goals for screening, and we were able to see an uptick in awareness about colorectal cancer. Based on the success of that roundtable, we launched the National HPV Vaccination Roundtable, which has helped increase vaccination rates against the human papillomavirus. We still need to see improved rates of lung cancer screening to meet our goals with the National Lung Cancer Roundtable of lowering the impact of lung cancer through risk reduction, early detection, and more effective therapy.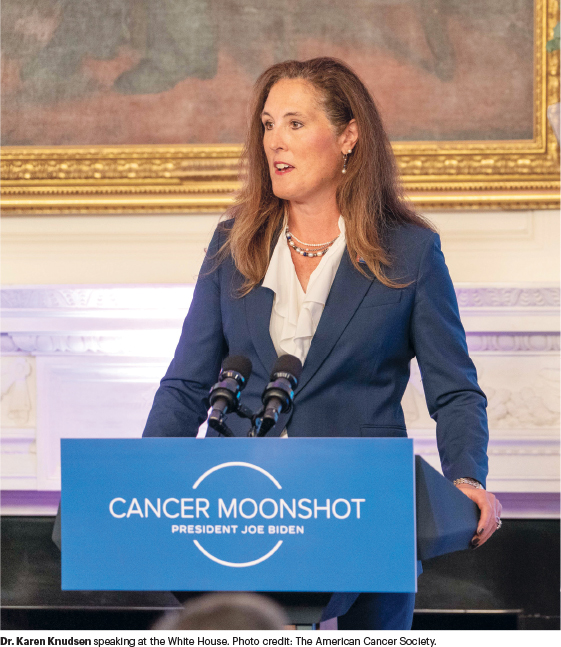 The National Navigation Roundtable is increasingly key for us, because it is dedicated to advancing navigation efforts that eliminate barriers to quality care, reduces disparities, and fosters ongoing health equity across the cancer care continuum.
When we heard President Biden's call to action this past February to "end cancer as we know it," we decided to use our roundtable model to drive progress in breast and cervical cancers. In 2022, there were approximately 290,560 new cases of breast cancer and 43,780 individuals were expected die of the disease; and an additional 14,100 new cases and 4,280 deaths were expected from cervical cancer.2 In addition to doing more to reduce incidence and mortality rates in both cancers, we need to do more to decrease health disparities.
We know from the data that Black women have a 41% higher chance of dying of breast cancer than White women, even though Black women are 4% less likely than White women to be diagnosed with breast cancer. Similarly, Black women are 18% more likely than White women to be diagnosed with cervical cancer, yet they have a 52% greater chance of dying compared with their White counterparts.2 Our two new roundtables were borne to do more to close disparities in these two cancers and to do so quickly, because we have the tools at hand. We must do more for minority women diagnosed with these cancers.
Filling in the Equity Gaps
Achieving health equity for patients with cancer is challenging. How do you plan to overcome the obstacles of systemic racism, lack of access to cancer care, and the high cost of treatment, so more patients, especially minority patients, can survive breast and cervical cancers?
We have a multipronged strategy to fill in the equity gaps in the cancer care continuum. First, we have 31 Hope Lodges across the country, which provide free housing close to cancer centers for patients undergoing treatment and their families. We also fund transportation costs in 5,000 communities nationwide, so patients can travel to and from their treatment appointments. This type of direct patient support is not the ideal solution to the problem, but at least we are helping to make it easier and less costly for patients to receive their care.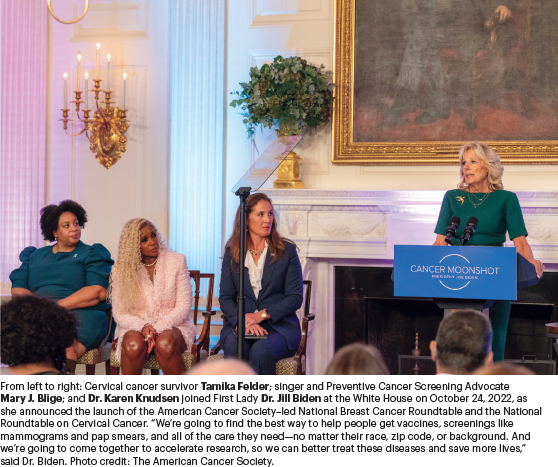 Second, we provide patient education platforms to help navigate patients to trustworthy, evidence-based information about their cancer. This is where our partnership with ASCO is so important. In February 2022, the ACS and ASCO announced our collaboration to cross-share cancer prevention, screening, and survivorship resources on our patient and consumer education websites, Cancer.Net and Cancer.org. We also provide patient support through our 24/7 call center.
However, we know we also must eliminate systemic racism in the health-care system, and we are doing that through our research programs. For example, we are funding research that allows health systems to assess their own ability to improve quality cancer care. And we are taking this a step farther. We have partnered with several organizations to determine the viability of developing a health-equity scorecard. The first iteration is being tested now in partnership with the National Comprehensive Cancer Network. The idea is to develop a framework that health systems can use to benchmark themselves against each other. A series of questions were designed to ensure that every patient has an equal opportunity to reach his or her full health potential; here are a few sample questions: "Were all patients equitably assessed to participate in cancer clinical trials? Did all patients receive the standard of care?" 
I hope this more uniform, permanent fix will reduce the gap in equitable care for patients with cancer. 
Improving Patient Outcomes
When will you have some actionable results from the breast and cervical cancers roundtables?
We have committed to having deliverables within the first year. Our first task is to assemble partnering organizations we need to make a difference in outcomes in these cancers. We currently have about 40 organizations onboard and expect there will be a total of 100 collaborators between the two roundtables.
The two roundtables will set the strategy going forward. Currently, we are committed in the first year to deliver realistic policy recommendations. For example, in the National Roundtable on Cervical Cancer, I expect the partners to take up the viability and availability of at-home HPV testing for women. 
We are looking for the short-term wins in the first year that will likely be best achieved through policy. The long-term goal of these roundtables is to equitably improve patient outcomes.
Putting in Perspective the Mixed News From the Annual Report
There was continued good news in the 2022 Annual Report to the Nation on the Status of Cancer, which showed a 2-decade-long trend in reduced mortality of 2.1% per year, with declines in death rates steepest in lung cancer and melanoma in both men and women. 
However, mortality rates increased for cancers of the pancreas, brain, bones, and joints among men, as well as cancers of the pancreas and uterus among women, especially Black women. In addition, mortality rates for uterine cancer are twice as high in Black women compared with White women, despite similar incidence rates. The report also found that Black women have worse survival across all stages and subtypes.1
Also troubling is that although the incidence and mortality rates for prostate cancer have leveled off, incidence rates for regional- and distant-stage prostate cancer have increased. Please talk about these disturbing cancer trends and the ongoing disparities in cancer care for minority patients.
We expected to see trends in declining cancer death rates. What stood out to me in the data is the increase in uterine cancer, which is a significant problem and one we are very concerned about for Black women. The other concerning trend is the jump in incidence for regional- and distant-stage prostate cancer. We are troubled that the increase may be the result of the change in screening guidelines from the U.S. Preventive Services Task Force, in 2018. It recommended that men between the ages of 55 and 69 make an individual decision about whether to be screened after a conversation with their physician and that men aged 70 and older forgo routine screening,3 and public confusion resulted. For a screenable cancer, this is a cause for alarm.
What we know for certain is there is no durable cure for metastatic prostate cancer, and prostate cancer is the second leading cause of cancer-related death in men.4 As a result of the findings in the latest Annual Report to the Nation on the Status of Cancer, the ACS is in the process of revising its screening guideline for prostate cancer screening. The screening itself has no inherent harm to the patient provided thoughtful clinical decisions are made downstream of the screening results. We now have a multitude of screening strategies for prostate cancer, including magnetic resonance imaging, to determine who should go on for biopsy. We must take action on prostate cancer, because to see the shift in diagnosis to more aggressive disease is deeply concerning.
I would also add that we are holding our breath about what the report is going to show next year. The future report will include data on the impact of the COVID-19 pandemic on cancer incidence and mortality, as a result of a reduction in cancer screenings during the pandemic.
This is a time when all of us in the cancer community should be leaning in hard to talk about the importance of regular cancer screenings and encouraging each other to get them. 
DISCLOSURE: Dr. Knudsen has served as a consultant or advisor to CellCentric, Janssen, and Genentech and has received research funding from CellCentric, Sanofi, and Novartis. She also holds shares in Pfizer.
REFERENCES
1. Cronin KA, Scott S, Firth AU, et al: Annual report to the nation on the status of cancer, part 1: National Cancer Statistics. Cancer 128:4251-4284, 2022.
2. American Cancer Society: The American Cancer Society to Launch Breast Cancer and Cervical Cancer Roundtables to Drive Greater Progress. Available at http://pressroom.cancer.org/2022-02-11-The-American-Cancer-Society-to-Launch-Breast-Cancer-and-Cervical-Cancer-Roundtables-to-Drive-Greater-Progress. Accessed December 5, 2022.
3. U.S. Preventive Services Task Force: Final Recommendation Statement: Screening for Prostate Cancer. Available at www.uspreventiveservicestaskforce.org/uspstf/announcements/final-recommendation-statement-screening-prostate-cancer. Accessed December 5, 2022.
4. American Cancer Society: Key Statistics for Prostate Cancer. Available at www.cancer.org/cancer/prostate-cancer/about/key-statistics.html. Accessed December 5, 2022.
---