Daughter of a Dance Band Leader Becomes Nationally Regarded Expert in Disparities of Cancer Care

Electra D. Paskett, PhD, was born in New York City, the daughter of a Greek immigrant who led a notable dance band. As a young child, Dr. Paskett frequented her parents' rehearsal and dance studio, which was situated above a bustling Woolworth's Five-and-Dime store. One of the studio's famous clientele, Diana Barrymore of the acting family dynasty, was fond of Dr. Paskett, but the young Electra could not pronounce Electra, so she gave Dr. Paskett the nickname "Lucky."
"My father's band actually rivaled the famous bands of Tommy and Jimmy Dorsey. A few years ago, ­[Dr.] Larry Norton [of Memorial Sloan Kettering Cancer Center], who's a friend of mine and a fine musician in his own right, gave a talk here at Ohio State. While we were chatting, my Greek heritage came up, and I told Larry that when my father emigrated to America, he changed his name to Don Avlon. ­Larry said: 'Your father was the bandleader Don Avlon! I've got to call my wife and tell her.' He then told me that his  wife's grandfather played in my father's band," said Dr. Paskett.

Electra D. Paskett, PhD
A Roundabout Childhood
Dr. Paskett's father eventually left the grinding dance band life in favor of becoming an itinerant teacher. He moved the family about the tristate area, eventually landing in California, where, during her high school years, Dr. Paskett's parents divorced.
"My mother, who was some years younger than my father, absconded in the middle of the night with me and my brother. A friend of hers drove us to Los ­Angeles, where we grabbed a redeye back to New York City. At the time, my mother was ill and couldn't work, so we moved in with my grandfather and subsisted on food stamps. When my mother was well enough to work, she took jobs as a telephone operator and a city cab driver during the Christmas season, just so she could afford gifts for us," shared Dr. Paskett.
Working Through College
Dr. Paskett attended William Cullen Bryant High School in Long Island City, Queens, New York. "I loved science and mathematics and hung around with like-minded kids, all of whom wanted to go to medical school, which kind of pulled me into that career trajectory. In my senior year, I applied to New York University [NYU] and was accepted and granted scholarships due to my high grades and low economic status," said Dr. Paskett.
Prior to entering NYU, Dr. Paskett went west to visit her father. While there, she befriended a young college student, who convinced her to relocate to the University of Utah.
"So, not knowing anyone but this young man, I transferred to the University of Utah and continued my premed studies, focusing on biology. I moved into an apartment with two other female students. It was difficult at times, because I didn't talk much, as my social confidence had been damaged by my father's abusive ridicule, leaving me with a big self-esteem issue. Given my financial circumstances, I had to work my way through college doing an assortment of odd jobs, everything from waitressing to working as a sample demo person in a grocery store. After I received my master's and PhD degrees, the only debt I had was a small amount with NYU," said Dr. Paskett.
A Chance Read Gives Birth to a Career
After receiving her undergraduate degree, Dr. Paskett worked in a laboratory at the University of Utah that was developing anticonvulsive agents. "One day, I was reading a graduate school catalog and came upon a description of the Master's in Epidemiology Program; a lightbulb went off in my head, and I decided that was the career path I wanted to pursue. So, I applied for the master's program at the University of Utah; not only was I accepted, but I was given a graduate research assistant's position, which happened to be in cancer epidemiology. For my master's thesis, I collected data on cervical cancer as a birth control method.
When I was finishing my master's, one of my review committee members told me I should lead research  and needed to get my PhD. On a suggestion by one of my professors, I went to the University of Washington (UW) to do my PhD work. I also received a research assistant position at the Fred Hutchinson Cancer Research Center, one of the nation's first cancer prevention research units led by Dr. Maureen Henderson," she explained.
Dr. Paskett continued: "So, I got my PhD in 5 years, during which time I collected original data and conducted three studies. The overall goal of my dissertation was focusing on why women with positive Pap smears do not get follow-up treatments. From that work, I developed an intervention tool, which I tested in a randomized control trial."
Getting Noticed
After attaining her PhD in epidemiology, Dr. Paskett assumed a faculty position at Wake Forest School of Medicine. "Wake Forest needed someone in cancer control to build its program. At that time, I began intense work in health disparities, which would become a central part of my career. I addressed disparities in cancer screening and conducted several studies, such as one in a very poor county in rural North Carolina, where we did mammography intervention in African American, American Indian, and White women."
"I was then recruited to The Ohio State University [OSU] and its Comprehensive Cancer Center. In 2002, I was accepted  onto the faculty, becoming the Marion N. Rowley Professor of Cancer Research. I'm also Director of the Division of Cancer Prevention and Control in the College of Medicine, Professor in the Division of Epidemiology in the College of Public Health, among other positions," said Dr. Paskett.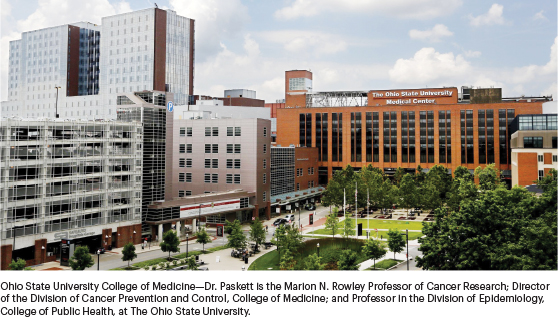 A Career Blooms at OU
Dr. Paskett explained that her research program is nationally recognized for studying cancer health disparities. Her research  has evolved to utilize a team science approach to understanding and intervening in cancer prevention (human papillomavirus vaccination); promoting the use of ­early-detection exams; improving access to diagnostic and treatment services, especially using patient navigation; and ­survivorship.
When Dr. Paskett was doing her PhD dissertation, the issue of health-care disparities in cancer was still a nascent area of research and intervention. Her passion for the field was accelerated by an  encounter with her first research participant, which she shared.
"My first interview was with a lovely Black woman with twin boys, but she did not return to get her follow-up Pap. When I asked her why, she said: "I am afraid they'd find something wrong and a surgeon would remove my womb and then I'd stop being a woman to my man." That just hit me in the gut. Her memory is still with me because it illustrates why so many underserved women do not seek proper medical care. It went beyond access issues like transportation or financial burden. But that's when I knew this was the field I would dedicate my life's work to."
Starting the Day on the Elliptical
How does a super-busy academic researcher decompress? "Well, I'm just recovering from COVID-19, which was an ordeal. I usually begin my day with an hour on the elliptical, which I find a great way to start the day. I'm also an avid reader of fictional history and mystery novels. Two years ago, I began writing children's books, which is transportive. My first book was Dr. Electra Goes to South Africa. I also do a Zoom children's reading group, which I love."
DISCLOSURE: Dr. Paskett has received grant funding from Merck Foundation and Pfizer.
---