Adamantinoma of the Mandible
New York, 1940–1942

The text and photographs here are excerpted from a four-volume series of books titled Oncology: Tumors & Treatment, A Photographic History, The Radium Era 1916–1945 by Stanley B. Burns, MD, FACS, and Elizabeth A. Burns. The photographs appear courtesy of Stanley B. Burns, MD, and The Burns Archive. To view additional photos from this series of books, visit burnsarchive.com.
The swelling seen in this first photograph would usually indicate the presence of a parotid tumor; however, this patient had a much more serious condition. This is an adamantinoma (ameloblastoma) of the mandible. Adamantinomas are locally invasive, highly destructive tumors of the jaw and commonly arise in the molar area. They are odontogenic tumors derived from tooth formation tissues.
Clinical Pictorial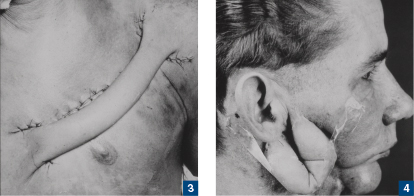 This slow-growing mass was first photographed on August 14, 1940 (Figure 1). Figure 2, taken on September 11, 1940, shows the sutured area of lymph node biopsy and the large, open wound. This wound was partially closed with sutures, as evidenced by the line starting in the chin area. Postoperatively, the patient still had a large gaping wound. Figure 3, taken on September 28, 1940, presents the result of an operation to create a tube pedicle graft from the mid-chest to the left shoulder. Almost 1 year later, on September 3, 1941, the pedicle graft was cut from the chest, swung up, and attached to the superior end of the wound.
On February 18, 1942, after removal of the sutures and verification of establishment of a good blood supply, the pedicle graft was cut from the shoulder and attached to an area below the ear but next to the original graft. It now presented as a U-shaped tube from below the ear (Figure 4). In early April 1942, after the new graft attachment healed, the U-shaped tube was cut in the middle, making two short tubes, each attached below the ear to the bottom of the wound. The wound was then covered over by the two tubes.
In July 1942, the tubes were opened, and some excess skin was resected. They were now joined together in the middle to create a more anatomic appearance, although there was still the slight bulge of two pedicles. By December 1942, the reconstruction was complete. The massive defect in the side of the face was repaired by the two grafts.
No mandibular prosthesis had been inserted, possibly because the patient had enough jaw and teeth left with which to chew. Although other oral and maxillofacial surgeons may have handled the case differently, the end result was excellent.
---