Mobile App Designed to Match Patients With Metastatic Breast Cancer With Clinical Trials

The Metastatic Breast Cancer Alliance (MBCA), the largest coalition of nonprofit breast cancer organizations, pharmaceutical/biotech companies, and patient advocates in the United States, recently announced the release of MBC Connect 2.0. MBC Connect is an interactive, Web- and mobile-friendly patient experience registry that empowers patients in the United States to collaborate with researchers to advance metastatic breast cancer research. This new release will also potentially match patients with clinical trials.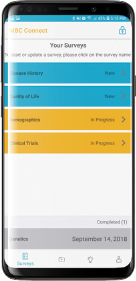 After patients enter their demographic information and disease history into the app, MBC Connect 2.0 identifies potential clinical trial matches, thus avoiding the current, complex trial search process. As a user enters additional data, all of which are kept private and encrypted, more targeted clinical trial options are provided, increasing the likelihood of finding a clinical trial that the patient qualifies for while meeting the patient's needs.
MBC Connect 2.0 simplifies the current trial search process, which often prevents many patients from discovering potentially lifesaving, available treatments. With the current search process, many physicians and their patients are often unaware of clinical trial options.

MBC Connect 2.0 also allows patients to keep a record of their own metastatic breast cancer story and easily share it with their care team and doctors, along with potential clinical trial matches. This app streamlines the review process while facilitating further communication between patients and doctors. MBC Connect 2.0 is available on Android and iOS devices as well as via a Web browser, in both English and Spanish.
Collaborative Efforts
The MBCA is partnering with BreastCancerTrials.org (BCT) and Quantum Leap Healthcare Collaborative, its parent organization, to enable clinical trial matching on MBC Connect. BCT sources its clinical trial data from ClinicalTrials.gov, the U.S. government's official registry of clinical trials. To create accurate and patient-friendly results, BCT updates its data from ClinicalTrials.gov on a daily basis, prepares trials for matching, writes patient-friendly summaries for each trial, and provides additional filters for narrowing match results. MBC Connect accesses the BCT/Quantum Leap Trial Matching Service via a secure connection.■
---