Help Patients Learn How to Manage Pain Effectively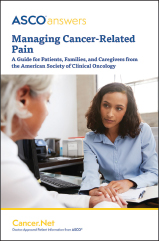 Nearly all cancer-related pain can be successfully managed. Give your patients the ASCO Answers Managing Cancer-Related Pain booklet, which explains the importance of pain relief, including its causes; how it is diagnosed; types of pain relief strategies; and a tracking sheet to help patients record how pain affects them. A convenient single-page fact sheet, ASCO Answers Managing Pain, is also available.
Find these resources and a library of other titles at cancer.net/ascoanswers or order high-quality copies for your practice at cancer.net/estore. Free domestic shipping. ASCO members save 20%. 
© 2019. American Society of Clinical Oncology. All rights reserved.
---