Illustrating Genius
These drawings by six scientists show both the simplicity and complexity of cancer immunotherapy, the inventiveness of their work, and their humanity.


Neil Canavan
FOUR AND A HALF YEARS AGO, author Neil Canavan attended a scientific conference to learn what he could about the then-emerging field of immunotherapy for cancer. After a presentation by Zelig Eshhar, PhD, principal investigator in the Department of Immunology at the Weizmann Institute of Science in Rehovot, Israel, on genetically engineered T cells (or T bodies), a prototypic chimeric receptor, to activate T cells, Mr. Canavan approached Dr. Eshhar to ask him to clarify some of the information in his presentation.
"This is not so complicated [to understand]," said Dr. Eshhar, grabbing Mr. Canavan's notebook and drawing an illustration of his research in T-cell activation to treat cancer to explain his presentation. "You should frame this."
Mr. Canavan did frame Dr. Eshhar's artwork, as well as about 50 more illustrations he collected from other scientists he has interviewed over the ensuing years. The result is A Cure Within: Scientists Unleashing the Immune System to Kill Cancer (Cold Spring Harbor Laboratory Press; October 2018), a fascinating book about the lives of 25 of the top investigators in the field of cancer immunology. The addition of illustrations showcasing the work of most of the scientists featured in the book offers a unique look into their minds and a glimpse at their artistic and humorous sides as well.
"A couple of impressions that stood out to me after spending time with the scientists I interviewed for A Cure Within are just how many of them wanted to be artists and had some sort of artistic inclination and what a close-knit family they are," said Mr. Canavan. "The circle of scientists involved in immunotherapy is still small, and they all know each other very well. The way they feel about each other is very familial and protective. It became a mission for me to show these scientists as people."
The ASCO Post has excerpted drawings and quotations of six scientists from A Cure Within, including Dr. Eshhar's as well as those by two recent co-recipients of the Nobel Prize in Physiology or Medicine: James P. Allison, PhD, Chair of Immunology and Executive Director of the Immunotherapy Platform at The University of Texas MD Anderson Cancer Center; Tasuku Honjo, MD, PhD, Professor, Department of Immunology and Genomic Medicine, Kyoto University, Japan; Elizabeth M. Jaffee, MD, FAACR, Deputy Director, Sidney Kimmel Comprehensive Cancer Center; Associate Director of the Bloomberg-Kimmel Institute for Cancer Immunotherapy, Johns Hopkins; and President, American Association of Cancer Research; Carl H. June, MD, Richard W. Vague Professor in Immunotherapy, Perelman School of Medicine, University of Pennsylvania and Director, Parker Institute for Cancer Immunotherapy, University of Pennsylvania; and Jedd D. Wolchok, MD, PhD, Chief, Melanoma and Immunotherapeutics Service and Director, Parker Institute for Cancer Immunotherapy, Memorial Sloan Kettering Cancer Center (MSK).
All of the illustrations capture the inventiveness of the work of these scientists as well as their humanity. The book excerpts appear in italics.

James P. Allison, PhD
Reprinted with permission from Neil Canavan; published by Cold Spring Harbor Laboratory Press.
Raise the Tail: James P. Allison, PhD
DR. ALLISON'S early research identified cytotoxic T-lymphocyte–associated protein 4 (CTLA-4) as an inhibitory checkpoint molecule. He then proposed that blocking CTLA-4 would enhance the activation of T-cell responses against cancer, which it did.
Mr. Canavan: "It was a provocative idea and was not well received."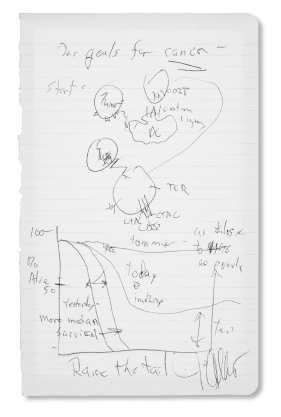 Raise the Tail: James P. Allison, PhD
Dr. Allison: "Ever since Nixon declared the 'War on Cancer' and the DNA sequencers came along everybody said, 'We're going to sequence, we're going to learn everything about cancer cells, and we're going to beat cancer by learning what causes it.' And here I was saying you don't need to characterize every cancer cell; you don't need to know what causes cancer. The immune system doesn't know if it's a kidney cancer, lung cancer, prostate cancer; the immune system doesn't know if it's caused by RAS or mutant epidermal growth factor receptor or anything. It just knows it shouldn't be there…. I proposed treating cancer by ignoring it. I said, instead, treat the immune system. That was the idea: just let the immune system rip."
In 1996, Dr. Allison published murine studies of an antibody he developed against CTLA-4, which found that 90% of the cancers in the treated mice disappeared. His discovery led to the development of ipilimumab (Yervoy), the first of the new class of drugs known as immune checkpoint inhibitors. In 2011, after a large randomized phase III trial of ipilimumab in patients with advanced melanoma showed a survival benefit, the U.S. Food and Drug Administration (FDA) approved the therapy for metastatic melanoma. Ipilimumab is now approved alone or in combination with other immunotherapies for certain types of colorectal cancer, melanoma, and renal cell carcinoma. 

Zelig Eshhar, PhD
Its development has subsequently led to the FDA approval of six other checkpoint inhibitors, which target the programmed cell death protein 1 (PD-1) receptor. On October 1, 2018, Drs. Allison and Honjo, who identified PD-1 in 1992, received the Nobel Prize in Physiology or Medicine for their research in checkpoint immunotherapy for cancer.
Still Life Mouse With T Body: Zelig Eshhar, PhD
BORN IN Rehovot, Israel, in 1941, Dr. Eshhar pioneered the first chimeric antigen receptor (CAR) T cell (T body) designs in the 1980s and early 1990s to redirect T cells to recognize and kill cancer cells.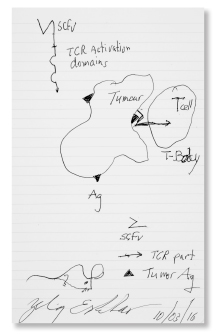 Still Life Mouse With T Body: Zelig Eshhar, PhD
Dr. Eshhar: "When I worked with T cells, I was thinking like it's a living organism that you study, and you give everything, all the parts, a name or function and then you know how the system works.
Then you test the system, you perturb it, give a little kick in some way and see if the system responds as predicted or not. That's how you learn, how you add another small part of the comprehension of the whole. You even dream on it at night; you continue to think about the system. So if you ask me how I came to this idea…I don't really know. But it came to my mind."
Mr. Canavan: "What came to Dr. Eshhar's mind was something he called a T body, an exotic new way of fighting cancer by directly bioengineering T cells." 
Two-Phased: Anti–PD-1: Tasuku Honjo, MD, PhD
IN 1992, while Dr. Allison was researching CTLA-4 in the United States, Dr. Honjo was studying PD-1, a similar immune-braking system on T cells as CTLA-4 but with a different mechanism, in Japan. More than a decade later, Dr. Honjo and others identified a ligand involved (PD-L1), which raised the possibility that some tumors may use PD-L1 to inhibit an antitumor immune response.
Dr. Honjo: "It was a fortuitous incident."

Tasuku Honjo, MD, PhD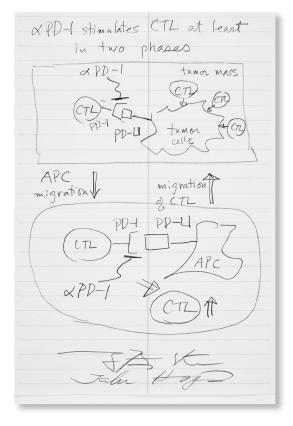 Two-Phased: Anti–PD-1: Tasuku Honjo, MD, PhD
Mr. Canavan: "Fortuitous, in that his lab was not looking for another negative regulator of the immune system, like CTLA-4, which PD-1—Dr. Honjo's discovery—turned out to be. Instead, they were looking for the molecular signal that tells T cells to drop dead, a process called thymic selection. The question was: What protein signal triggers programmed cell death in self-targeting (potentially, lethally so) T cells?
Dr. Honjo: "One of my students was very excited to work on this."
Mr. Canavan: "To facilitate the search, the student established a cDNA library: a vast collection of discrete DNA snippets that represents what proteins the cell actually makes (much of the DNA in a cell is either inactive or serves other functions beyond the manufacture of proteins). Using a method called subtractive hybridization, Dr. Honjo and his team revealed the coding DNA sequence for what is now called PD-1."
Dr. Honjo's research paved the way for the development of the first PD-1 inhibitors, nivolumab (Opdivo) and pembrolizumab (Keytruda), approved by the FDA in the treatment of several cancers, including metastatic small cell lung cancer and advanced-stage melanoma. Earlier this year, Drs. Honjo and Allison received the 2018 Nobel Prize in Physiology or Medicine. 

Elizabeth M. Jaffee, MD, FAACR
Mechanism of Action Hero: Elizabeth M. Jaffee, MD, FAACR
DR. JAFFEE'S research is focused on the development of immune-based therapies, including allogeneic cancer vaccines, in the treatment of pancreatic and breast cancers, and her work and the work of others have contributed to the development of the dendritic pancreas vaccine, GVAX, which uses a granulocyte-macrophage colony-stimulating factor to boost the immune system. As Mr. Canavan explains in A Cure Within, although "GVAX is no home run," some patients with pancreatic cancer have experienced durable remissions.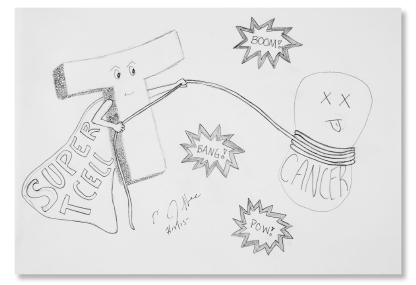 Mechanism of Action Hero: Elizabeth M. Jaffee, MD, FAACR
Mr. Canavan: "There are some patients who have participated in GVAX studies who have done extremely well. For instance, Dr. Jaffee treated one patient for her invariably terminal cancer more than 15 years ago."
Dr. Jaffee: "She comes [in] one day and says to me, 'You know, time for me to stop. I'm feeling good. But don't worry, I'll still call you guys.' So, we brought a cake to the clinic and we celebrated."
Mr. Canavan: "Another patient, a man with advanced pancreatic cancer, who received GVAX as part of a clinical trial when he was 69, just died recently at the age of 91."
Dr. Jaffee: "And his wife calls me and just thanks me. He got all those years that she never thought he'd get. I want to see more of that, and really that's what gets me out of bed every day." 

Carl H. June, MD
Smart CARs: Carl H. June, MD
Perhaps best known for his pioneering research in the development of CAR T-cell therapy for advanced acute lymphoblastic leukemia (ALL), early in Dr. June's career, he investigated CAR T-cell immunotherapy for patients with HIV. As Dr. June explained in A Cure Within, clinical trials for CAR therapy for HIV were later stopped when protease inhibitors for the disease proved effective in patients with HIV/AIDS, reducing mortality rates significantly.
Dr. June: "The first CAR trial was actually in HIV patients, not cancer. A lot of people don't know that…. The trials were stopped in 1997 when protease inhibitors for HIV came out. So, no one cares anymore. HIV was killing everyone when we started our CAR study in HIV, but after that it became kind of like treating hypertension: If you take your meds, you're pretty much fine."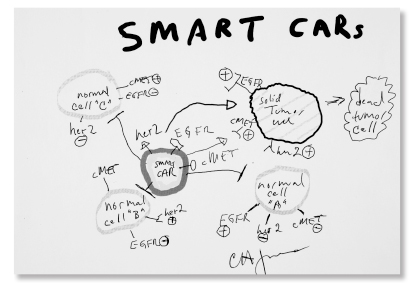 Smart CARs: Carl H. June, MD
Dr. June then turned his attention to researching the effectiveness of CAR T-cell therapy in patients with cancer. In 2011, Dr. June and his colleagues published clinical trial data showing that two of three patients with advanced chronic lymphocytic leukemia achieved complete remission after receiving CAR T cells. The following year, Dr. June enrolled 7-year-old Emily Whitehead in a clinical study of the CAR T-cell therapy CTL019 for the treatment of advanced ALL. She is currently still in remission.
The results from Dr. June's and others clinical trials led to FDA approval, in 2017, of two CAR T-cell therapies for cancer: tisagenlecleucel (CTL019; Kymriah) for the treatment of relapsed or refractory pediatric and young adult ALL and adult relapsed or refractory large B-cell lymphoma; and axicabtagene ciloleucel (Yescarta) for the treatment of several types of relapsed or refractory large B-cell non-Hodgkin lymphomas.
'Ipi': Jedd D. Wolchok, MD, PhD

Jedd D. Wolchok, MD, PhD
Along with Dr. Allison, Dr. Wolchok was instrumental in the clinical development and subsequent approval of ipilimumab for advanced melanoma. In A Cure Within, Dr. Wolchok recalled how he learned about Dr. Allison's research.
Dr. Wolchok: "There was a senior scientist working here [MSK]. A PhD scientist named Polly Gregor, who had met Jim Allison at a meeting and said, 'You know, this guy Jim, he's got an antibody to this molecule CTLA-4 [ipi] and maybe we should start studying it as a way to increase the activity of the DNA vaccines we've been working on.'" And that's how it got started."
Mr. Canavan: "Shortly thereafter, Jim Allison himself came to work at MSK and, in collaboration with Dr. Wolchok,… the first clinical trial with ipi was opened…."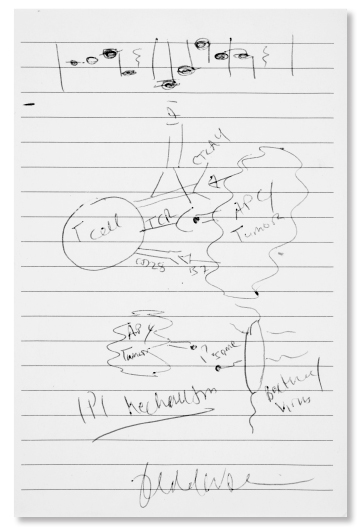 'Ipi': Jedd D. Wolchok, MD, PhD
Dr. Wolchok: "Right now it's great fun, because pretty much everyone is on board with IO [immune-oncology] (at least for checkpoint inhibitors). And the most fun part of it all is that for the first time since 2000, when I joined the faculty here, I can now have meaningful discussions with people who were just given a devastating diagnosis, not about some pipe dream that might work, but about several new things, which actually do work."
Mr. Canavan: "Regarding the musical notes on the upper portion of Dr. Wolchok's cartoon: When the burden of practicing investigational oncology gets too heavy, Dr. Wolchok sets it aside and picks up the tuba." ■
---
Related Articles
As the field of immunotherapy accelerates, so does the literature reporting on the path ahead. One of the newer books on the topic is A Cure Within: Scientists Unleashing the Immune System to Kill Cancer. It has a top-notch pedigree: the author, Neil Canavan, is a seasoned journalist with more than ...