Breakthroughs Save Lives: ASCO's Conquer Cancer Foundation Launches National Awareness Campaign

"I realized I just couldn't wait for a new treatment option," a determined Breelyn Wilky, MD, says, staring into the camera. "I had to find one."
If you missed the debut of the "Breakthroughs Save Lives" video during the 2018 ASCO Annual Meeting, look for it on television and online as part of a national awareness campaign recently launched by ASCO's Conquer Cancer Foundation.
Highlighting the importance of research funding, the video showcases the powerful story of how Dr. Wilky, a 2012 Young Investigator Award (YIA) recipient, used a YIA to launch a research career that led to a life-saving clinical trial. The first patient to enroll in the trial, Brittany Sullivan, lends a survivor's perspective to the campaign.
"I needed a treatment that didn't exist," shared Ms. Sullivan. "Conquer Cancer funded the doctor who saved my life."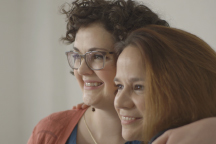 Six-time sarcoma survivor Brittany Sullivan (left) and Dr. Breelyn Wilky shoot "Breakthroughs Save Lives," which is airing on cable television channels.
When Ms. Sullivan began treatment, tumors were present in her brain, heart, liver, spine, and skeletal muscles. Initial scans 6 months into treatment revealed the tumors were shrinking. After completing the trial, Dr. Wilky reported Ms. Sullivan shows no evidence of disease.
"Brittany was really the breakthrough moment for me," shared Dr. Wilky. "That's what is so important about Conquer Cancer. They believed in me as a researcher."
To see the full story, visit CONQUER.ORG. ■
© 2018. American Society of Clinical Oncology. All rights reserved.
---