ASCO Kicks Off Strategic Planning to Support Women in Oncology

Women in oncology aren't ascending the leadership ladder at rates anywhere close to their male counterparts—and ASCO wants to fix that.
The most recent report on "The State of Women in Academic Medicine" from the Association of American Medical Colleges (AAMC) said that although women make up nearly 50% of U.S. medical school applicants, only 21% of full professors, 16% of deans, and 15% of department chairs are women.1
The trend is apparent: female representation in professional medicine narrows as the ladder ascends.
As of September 2017, ASCO had seen a similar trend within its membership. September demographic data showed women made up 37% of members, 28% of Board members, and 13% of Past Presidents. Recognizing that diverse leadership improves success in boardrooms, ASCO sees a pertinent need to increase opportunities for women in oncology—to support them, to engage them, and to help them develop professionally.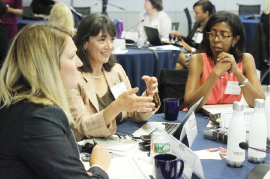 From left to right: Shelby Terstriep, MD, ASCO President-Elect Monica M. Bertagnolli, MD, FASCO, and Sara Horton, MD, participate in the Women in Oncology Strategic Planning Retreat.
With this mission in mind, stakeholders gathered at ASCO's headquarters in Alexandria, Virginia, on September 15, 2017, for a daylong Women in Oncology Strategic Planning Retreat. Through the course of the day, members of ASCO's Professional Development Committee, clinical and academic experts, and pharmaceutical industry and U.S. Food and Drug Administration representatives brainstormed and collaborated to develop a strategic plan that would increase workforce diversity and better serve women in oncology.
The retreat's co-chairs included Julia Lee Close, MD, and Sonali Smith, MD, Chair and Chair-Elect of ASCO's Professional Development Committee, respectively. Laura Castillo-Page, PhD, Senior Director for Diversity Policy and Programs with AAMC, facilitated the retreat.
"The impetus [of the retreat] was to understand where women fall off the ladder in oncology, and where there are misconceptions, stereotypes, and microaggressions [in the field], so that we can increase the number of women in oncology and oncology leadership," Dr. Smith said.
ASCO's Support to Date
ASCO had made no shortage of effort to support women in oncology prior to September's Strategic Planning Retreat. At the start of the day, Jamie H. Von Roenn, MD, FASCO, ASCO Vice President for Education, Science, and Professional Development, highlighted the successful efforts the Society has made to date, including:
The Women in Oncology Work Group, a section of ASCO's Professional Development Committee tasked with supporting opportunities specific to women in the field;
The Women's Networking Center, which provides an informal setting for women to network during the ASCO Annual Meeting—and had nearly 700 visitors in 2017;
The ASCO Connection Women in Oncology Blog, which provides a dedicated space for women to share challenges, insights, and best practices;
The Women's Mentoring Session at the American Association for Cancer Research/ASCO Methods in Clinical Cancer Research Workshop, an opportunity to network and discuss women's professional development issues;
ASCO's collection of metrics examining women's involvement and leadership roles within ASCO committees, editorial boards, meeting faculty, and the Board of Directors;
The Leadership Development Program, which ensures even gender distribution among participants, enabling many women to make strong connections through leadership positions at ASCO; and
The Women Who Conquer Cancer Mentorship Awards and Research Grants, which support the promising careers of women in the field through the Conquer Cancer Foundation's Young Investigator Awards.
Strategic Plan
The efforts already underway make up a vital framework for the strategic plan. "Many of the presented ideas can seamlessly blend into the current strategic vision ASCO has already established," Stephanie Graff, MD, wrote in a blog post for ASCO Connection reflecting on the retreat.
But to increase female representation all the way up the leadership spectrum, ASCO must have a system of measuring organization-wide progress and setbacks. Within the Society, ASCO will collect and monitor these numbers closely, and periodically report on them to the Board of Directors through a yearly dashboard. Retreat participants also recognized that for representation to improve on a broader scale, individual institutions will likewise need to collect and share data pertaining to salaries and promotions.
Dr. Close also noted a lack of data from the community practice setting regarding women's engagement and leadership roles. "These data will be necessary to better track advancement in the future," she said. In tracking discrepancies and advancements, participants agreed that data must represent all practice settings and oncology disciplines.
Other elements of the strategic plan will focus on improving access to mentorship for ASCO members, as well as creating an inventory of resources to support professional development for women in oncology. The full plan will be finalized in a paper and presented to ASCO's Board of Directors in spring 2018.
ASCO Leadership's Support
Among participants at the Women in Oncology Strategic Planning Retreat were ASCO Past Presidents Sandra M. Swain, MD, FACP, FASCO, and Julie M. Vose, MD, MBA, FASCO, as well as ASCO President-Elect Monica M. Bertagnolli, MD, FASCO. As women leaders within ASCO and their respective areas of the field, Dr. Swain, Dr. Vose, and Dr. Bertagnolli stand as role models for women in oncology.
But the leaders insist that role models exist across many career levels—which is why ASCO's initiatives should draw inspiration from women at all rungs of the leadership ladder.
"There are so many outstanding women participating in ASCO, and their influence is seen throughout the organization," Dr. -Bertagnolli said. "Because of this, we are able to bring positive energy to address the unique professional challenges women face, and to train a new generation of ASCO members and leaders."
Dr. Vose said it was this diverse spectrum of women at the retreat who brought up "discussions of opportunities to provide a supportive environment, education, and information for all women in oncology, which is vital to the future of care and research."
Next Steps
Going into the retreat with the hope of establishing top priorities for women in oncology and then developing a 3- to 5-year plan for achieving these priorities was a sizable undertaking. But Dr. Close and Dr. Smith said the day was a fantastic start. As next steps, the Women in Oncology Work Group will use the ideas and enthusiasm generated to solidify the strategic plan.
"This was the starting point for a journey," Dr. Smith said. It's a starting point that has provided the necessary infrastructure and direction to make supporting women across the entire cancer care spectrum a reality. ■
Reference
1. The State of Women in Academic Medicine. Association of American Medical Colleges. 2014. members.aamc.org/eweb/upload/The%20 State%20of%20Women%20in%20 Academic%20Medicine%202013- 2014%20FINAL.pdf. Accessed October 2017.
Reprinted and adapted with permission from the ASCO Daily News.
---