Conquer Cancer Foundation Matching Gift Challenge Offers Chance to Double Your Impact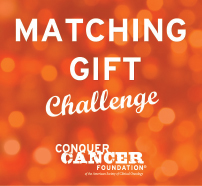 The Conquer Cancer Foundation has an incredible opportunity for you to make an amazing impact!
An anonymous donor is offering a Matching Gift Challenge, which will double the value of every gift we receive by December 31—dollar for dollar—up to $64,000! This amount is enough to fund one of our most prestigious grants, the Young Investigator Award, so the brightest minds in cancer research can continue their groundbreaking work. One day, their findings may just change the world—thanks in part to your gracious support.
Below are Young Investigator Award recipients who have made substantial discoveries within the past few years:
Sarah Tasian, MD, has been able to closely study leukemia cells in children and ultimately test new targeted therapies in the lab. The results of her work were encouraging; the new medications led to a clear reduction in leukemia cells.
Nikhil Wagle, MD, and his team explored why people with a specific type of melanoma stopped responding to drugs that initially helped treat their disease. They discovered why the resistance emerged and are now testing novel drug treatments that could lead to increased survival rates of patients.
From the rarest to the most common cancers, you can help advance the work of so many dedicating their lives to curing this disease. Double your gift today by making a donation at conquer.org/match. ■
© 2016. American Society of Clinical Oncology. All rights reserved.
---