Impressive Results With Daratumumab Plus Lenalidomide/Dexamethasone in Multiple Myeloma


Torben Plesner, MD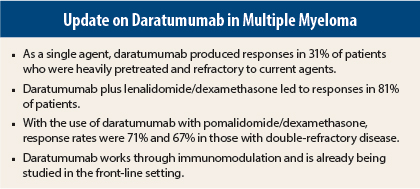 Update on Daratumumab in Multiple Myeloma
It's my personal opinion that daratumumab is the rituximab of myeloma. It is very effective when given with other core treatments, with no added toxicity.

—Torben Plesner, MD
The anti-CD38 monoclonal antibody daratumu­mab (Darzalex) took center stage among multiple myeloma studies presented at the 57th American Society of Hematology Annual Meeting and Exposition.
In relapsed/refractory patients, daratumumab plus lenalidomide (Revlimid)/dexamethasone yielded an 81% response rate, with durable remissions, in the expansion cohort of the phase I/II GEN503 trial.1 Combined with pomalidomide (Pomalyst) and dexamethasone, treatment with daratumumab led to a 71% response rate.2 And as a single agent, daratumumab elicited responses in 30% of highly refractory patients,3 investigators reported at the Meeting.
Daratumumab, a human anti-CD38 IgG1k monoclonal antibody, was granted accelerated approval for treatment of patients with multiple myeloma who have received at least three prior treatments or are refractory to both a proteasome inhibitor and an immunomodulatory drug. It is the first monoclonal antibody approved for treating multiple myeloma.
With Lenalidomide/Dexamethasone
The multinational study of daratumumab plus lenalidomide/dexamethasone1 was presented by Torben Plesner, MD, of Vejle Hospital in Denmark, who commented: "Daratumumab plus lenalidomide/dexamethasone induces rapid, deep, and durable responses," and "the drugs can be safety combined."
"It's my personal opinion that daratumumab is the rituximab of myeloma," Dr. Plesner offered at a press briefing. "It is very effective when given with other core treatments, with no added toxicity," he said, adding that future research will determine the optimal pairings with the drug.
Dr. Plesner updated the safety and efficacy data from the ongoing phase I/II GEN503 trial of daratumumab in combination with lenalidomide/dexamethasone in 32 relapsed/refractory patients in the expansion cohort, who had received a median of 2 prior lines of therapy. Median follow-up was 15.6 months.
Patients received standard dosing of lenalidomide/dexamethasone plus infusions of daratumumab at 16 mg/kg or are refractory to both a proteasome inhibitor and an IMID, followed by once-monthly infusions. Patients were treated until disease progression or intolerable toxicity.
The overall response rate was 81%, with 34% of patients achieving a complete response or better and 63% achieving at least a very good partial response; these included eight (25%) stringent complete responses, three (9%) complete responses, and nine (28%) very good partial responses.
The median time to first response was 1 month and to best response was 5.1 months. Median duration of response was not reached, and 91% were free of disease progression at 12 months. All patients had a change in paraprotein level from baseline, which exceeded a 50% reduction in all but two patients.
Median progression-free and overall survival had not been reached, but, at 18 months, overall survival was 90%, and progression-free survival was 72%.
The most common treatment-emergent adverse events were neutropenia (84%), muscle spasms (44%), cough (50%), and diarrhea (44%). Eighteen (56%) patients had infusion-related reactions, including cough, allergic rhinitis, nausea, vomiting, dyspnea, nasal congestion, and hypertension. The two (6%) grade 3 reactions were laryngeal edema and hypertension.
"Infusion-related reactions occurred usually during the first infusion only and were grade 2 or less with only two exceptions. They were easily managed with premedication or by slowing the infusion rate," Dr. Plesner said.
All patients with immune-related reactions recovered and continued to receive treatment, except for one patient with laryngeal edema, who recovered but discontinued treatment, he added.
Of 32 patients, 22 (69%) remain on treatment, at a median of 15.6 months of follow-up.
With Pomalidomide and Dexamethasone
Investigators reported data from the phase 1b MMY1001 trial of daratumumab (16 mg/kg) in combination with pomalidomide (4 mg/kg) and dexamethasone (40 mg) in 98 relapsed/refractory patients with at least 2 prior lines of treatment.2 Ajai Chari, MD, of Icahn  School of Medicine at Mount Sinai, New York, presented these findings.
The rationale for the combination, he said, is the finding that pomalidomide increases CD38 expression in myeloma cells in a time- and dose-dependent fashion. In this cohort, 100% of patients had prior exposure to a proteasome inhibitor and immunomodulating drug, and the majority of patients had double-refractory ­disease.
The response rate was 71% overall and 67% in those with double-refractory disease; 43% achieved at least a very good partial response, and 73% had a clinical benefit.
"The vast majority of patients had at least a 50% drop in M protein," Dr. Chari added. "At a median follow-up of 4.2 months, 47 of 53 (89%) responders had not progressed."
Serious adverse events occurred in 42% of patients. Rates of grade ≥ 3 adverse events were similar to those observed with pomalidomide/dexamethasone alone. Almost half the patients required growth factors, and one-quarter required blood transfusions during treatment. Infusion-related reactions were predominantly mild.
"Daratumumab can be safety combined with pomalidomide/dexamethasone," stated Dr. Chari. "We observed no new safety signals."
As a Single Agent
Saad Z. Usmani, MD, of Levine Cancer Institute/Carolinas HealthCare System in Charlotte, North Carolina, reported robust single-agent activity for daratumumab, based on an analysis of the combined dataset of 148 patients receiving 16 mg/kg of daratumumab in the GEN501 and SIRIUS trials.3
"Daratumumab induced rapid, deep, and durable responses in a heavily pretreated/highly refractory population," Dr. Usmani said. "Remarkable depth of response was observed in patients who were refractory to newer agents, including pomalidomide and carfilzomib [Kyprolis]."
The overall response rate was 31%, with 13% of patients achieving at least a very good partial response and 3% achieving a complete response or better. "In many patients, responses deepened with continued daratumumab treatment. At a median follow-up of 14.8 months, 50% of responders were progression-free. Of 46 responders, 40 are still alive," noted Dr. Usmani.
Median overall survival was 19.9 months, and 1-year survival was 69%. For responders, median overall survival has not been reached. For patients with minimal response or stable disease, median survival was 17.5 months, compared with 3.7 months for disease progressors.
"Daratumumab conferred an overall survival benefit, even in patients who achieved stable disease or minimal response," he emphasized.
Two phase III trials are underway of daratumumab plus lenalidomide/dexamethasone: one in relapsed/refractory patients (Pollux) and the other in newly diagnosed patients (Maia).
Immune Modulation With Combined Treatment
Each of the investigators emphasized that daratumumab is a new form of immunotherapy, one that is complementary to the current immunomodulatory drugs—lenalidomide, pomalidomide, and thalidomide (Thalomid). Daratumumab binds to CD38, which is highly and ubiquitously expressed on myeloma cells. This binding induces tumor cell death through direct and indirect mechanisms.
"It has recently also been shown that daratumumab has an important immunomodulatory function," Dr. Plesner said. "It is able to eliminate regulatory T cell, B cells, and macrophages that inhibit T-cell cytotoxic response against myeloma cells." ■
Disclosure: Dr. Plesner has received research funding or served as an advisor for Roche, Novartis, Janssen, Celgene, and Genmab. Dr. Chari has consulted for Celgene, Millennium/Takeda, Array BioPharma, Novartis, and Onyx. Dr. Usmani has consulted and received honoraria from Celgene and Onyx.
References
1. Plesner T, Arkenau H-T, Gimsing P, et al: Daratumumab in combination with lenalidomide and dexamethasone in patients with relapsed or relapsed and refractory multiple myeloma: Updated results of a phase 1/2 study (GEN503). 2015 ASH Annual Meeting and Exposition. Abstract 507. Presented December 7, 2015.
2. Chari A, Lonial S, Suvannasankha A, et al: Open-label multicenter phase 1b study of daratumumab in combination with pomalidomide and dexamethasone in patients with at least 2 lines of prior therapy and relapsed or relapsed and refractory multiple myeloma. 2015 ASH Annual Meeting and Exposition. Abstract 508. Presented December 7, 2015.
3. Usmani S, Weiss B, Bahlis NJ, et al: Clinical efficacy of daratumumab monotherapy in patients with heavily pretreated relapsed or refractory multiple myeloma. 2015 ASH Annual Meeting and Exposition. Abstract 29. Presented December 5, 2015.
---
Related Articles
At an educational session at the 2015 American Society of Hematology Annual Meeting and Exposition, Sagar Lonial, MD, of Emory University, Atlanta, elaborated upon this topic. The pooled analysis of daratumumab (Darzalex) monotherapy, he said, "demonstrated significant activity and, not only this,...