Ibrutinib Bests Standard of Care for Elderly Patients With CLL


Alessandra Tedeschi, MD

Jan A. Burger, MD, PhD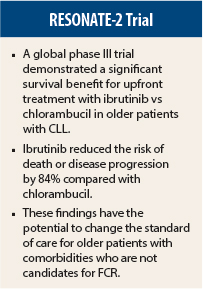 RESONATE-2 Trial
This phase III trial in treatment-naive chronic lymphocytic leukemia confirmed the benefit of ibrutinib in this older population with frequent comorbidities.

—Alessandra Tedeschi, MD
These powerful clinical results show superiority over a traditional standard-of-care chemotherapy and have the potential to alter how we treat patients.

—Jan A. Burger, MD, PhD
First-line treatment with the Bruton's tyrosine kinase inhibitor ibrutinib (Imbruvica) significantly reduced the risk of dying or disease progression compared with chlorambucil (Leukeran) in older treatment-naive patients with chronic lymphocytic leukemia (CLL) in the RESONATE-2 trial. At the time the study was designed, chlorambucil was standard of care for the elderly CLL population. RESONATE-2 is the first phase III direct comparison of ibrutinib vs chemotherapy in this older population (aged 65 years or older).
Paradigm Shift?
"This phase III trial in treatment-naive CLL confirmed the benefit of ibrutinib in this older population with frequent comorbidities. Once-daily ibrutinib was administered, and 87% of patients are continuing on this drug with a median of 1.5 years of follow-up," said lead author Alessandra Tedeschi, MD, Azienda Ospedaliera Niguarda Cà Granda, Milan, Italy.
"This population is frequently frail and undertreated.… Chlorambucil has been the standard of care. No other regimen has improved survival in the elderly," she added.
"The data may signal a paradigm shift and demonstrate the value of ibrutinib in the treatment-naive setting. These powerful clinical results show superiority over a traditional standard-of-care chemotherapy and have the potential to alter how we treat patients," said senior investigator Jan A. Burger, MD, PhD, The University of Texas MD Anderson Cancer Center, Houston, according to a news release from AbbVie, the study sponsor.
Dr. Tedeschi presented these results at the 57th American Society of Hematology (ASH) Annual Meeting and Exposition,1 and results were published online in The New England Journal of Medicine to coincide with her presentation.2
Ibrutinib is currently approved by the U.S. Food and Drug Administration (FDA) for patients treated with more than one prior therapy and those who have deletions in 17p. These results may broaden the indications for FDA approval to include upfront treatment of elderly patients.
Study Details
The study enrolled 269 patients aged 65 years and older with CLL. These patients had comorbidities that would preclude FCR (fludarabine, cyclophosphamide, and rituximab [Rituxan]) chemotherapy. Exclusion criteria included del(17p) and warfarin. Median age was 73 years; 70% of patients were over age 70. Forty-three patients crossed over to ibrutinib during the course of the trial.
Ibrutinib significantly prolonged progression-free survival, as determined by an independent review committee, reducing the risk of death or disease progression by 84% vs chlorambucil. Median progression-free survival was not reached in the ibrutinib group vs 18.9 months in the chlorambucil group (P < .001) at a median of 18.4 months of follow-up. Ibrutinib significantly prolonged overall survival, with an estimated overall survival of 98% at 24 months vs 85% with chlorambucil (P = .001).
In addition, ibrutinib significantly improved the overall response rate compared with chlorambucil—86% vs 35%, respectively (P < .001). Ibrutinib also significantly improved hemoglobin and platelets compared with chlorambucil.
Safety Profile
The most common adverse events associated with ibrutinib were diarrhea (42%), fatigue (30%), cough (22%), and nausea (22%). The most common adverse events associated with ­chlorambucil included nausea (39%), fatigue (38%), neutropenia (23%), and vomiting (20%). Toxicities were mostly grade 1, noted Dr. Tedeschi.
Grade 3 hypertension was reported in 14% of patients on ibrutinib, and this was managed by hypertensive medications with no dose reduction or treatment discontinuation. Atrial fibrillation was reported in 6% of the ibrutinib arm (grade 2 in 6 patients, grade 3 in 2 patients). Two patients discontinued treatment due to atrial fibrillation, and the other patients did not require dose modification.
Adverse events leading to treatment discontinuation were 9% in the ibrutinib arm vs 23% for chlorambucil. Three deaths were reported in the ibrutinib arm and 17 deaths were reported in the chlorambucil arm over the follow-up period of 18.4 months. None of the patients who had disease progression on ibrutinib died during the follow-up period. ■
Disclosure: The study was funded by Pharmacyclics, an AbbVie company. Dr. Tedeschi reported no potential conflicts of interest. Dr. Burger has received research funding from Pharmacyclics. For full disclosures of other study authors, see the abstract at www.hematology.org/Annual-Meeting.
References
1. Tedeschi A, Barr PM, Robak T, et al: Results from the international, randomized phase 3 study of ibrutinib versus chlorambucil in patients 65 years and older with treatment-naive CLL/SLL (RESONATE-2). 2015 ASH Annual Meeting. Abstract 495. Presented December 7, 2015. 
2. Burger JA, Tedeschi A, Barr PM, et al: Ibrutinib as initial therapy for patients with chronic lymphocytic leukemia. N Engl J Med. December 6, 2015 (early release online).
---
Related Articles
Until recently, chlorambucil (Leukeran) was the standard of care for older patients with chronic lymphocytic leukemia (CLL) in Europe. In several studies, chlorambucil combined with newer drugs—for example, anti-CD20 antibodies, obinutuzumab (Gazyva), or ofatumumab (Arzerra)—improved survival,...