Adjuvant Denosumab Improves Disease-Free Survival in Estrogen Receptor–Positive Postmenopausal Breast Cancer


Michael Gnant, MD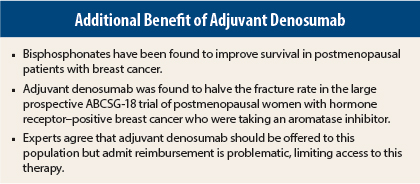 Additional Benefit of Adjuvant Denosumab
It comes down to how would you treat your mother. I believe we should offer this to all postmenopausal women on an aromatase inhibitor. If I see a new patient, I would start her on denosumab.

—Michael Gnant, MD
There is good news about denosumab (Prolia). The primary analysis of the ABCSG-18 trial showed that adjuvant denosumab (given at low doses) reduces the risk of clinical fracture by 50% in postmenopausal women with early breast cancer who are taking an aromatase inhibitor.1 More good news is that the latest analysis of that study found that adjuvant denosumab improves disease-free survival in these women, and it is a safe treatment.2
The not-so-good news is that denosumab is an expensive drug that is not typically prescribed for patients with breast cancer, unless the patient has osteopenia or osteoporosis.
"This time-driven disease-free survival analysis of ABCSG-18 indicates that adjuvant denosumab reduces the risk of disease recurrence or death in postmenopausal patients with breast cancer who are taking an aromatase inhibitor. It comes down to how would you treat your mother. I believe we should offer this to all postmenopausal women on an aromatase inhibitor. If I see a new patient, I would start her on denosumab," said lead author Michael Gnant, MD, Professor of Surgery, Medical University of Vienna. "This benefit  [of denosumab] is as least as great as with other therapies."
"Denosumab is given subcutaneously twice a year and can be administered by any doctor, not just an oncologist," he told listeners at a press conference during the 2015 San Antonio Breast Cancer Symposium.
Study Details
The prospective, randomized, double-blind, placebo-controlled multicenter ABCSG-18 trial enrolled 3,425 postmenopausal women from Austria and Sweden with estrogen receptor–positive and/or progesterone receptor–positive breast cancer who were taking an aromatase inhibitor, which is associated with bone loss due to estrogen deficiency.
Denosumab is a monoclonal antibody that binds to RANK ligand and is approved by the U.S. Food and Drug Administration for the treatment of women with breast cancer taking an aromatase inhibitor at risk for fracture.
Patients were randomized 1:1 to receive denosumab at 60 mg given subcutaneously every 6 months or placebo. For the primary analysis, denosumab reduced the rate of clinical fracture by 50% compared with placebo (P < .0001).
In view of the dramatic differences in the primary endpoint of fracture rate, the independent data monitoring committee recommended that the study be unblinded, and patients in the placebo group should be offered 3 years of denosumab treatment.
Disease-free survival was a secondary endpoint of the trial. Prior to unblinding the trial, a time-driven analysis of disease-free survival was performed (time to any event of local or distant metastasis).
Median age of patients was 64 years; 72% had tumors smaller than 2 cm; 19% were grade 3; 83% were both estrogen receptor–positive and progesterone receptor–positive; 25% had adjuvant chemotherapy; 71% had node-negative disease; 74% had ductal invasive histology, and 6% overexpressed HER2.
Study Results
There were 203 events in the placebo arm and 167 events in the denosumab arm. An intent-to-treat analysis of disease-free survival showed an absolute benefit of 1.2% favoring denosumab at 3 years, a 2.1% benefit at 5 years, and a 3.1% benefit at 7 years. The differences between the two arms were of borderline significance, Dr. Gnant reported.
An exploratory subgroup analysis suggested that early initiation of denosumab, large tumors, and cancers with high luminality could identify patients likely to have greater benefit from ­denosumab.
Among 900 patients with larger tumors, the disease-free survival difference between the two arms was 4% at 2 years, 7% at 5 years, and 10% at 7 years (P = .0163).
Although this was not a head-to-head study to compare denosumab vs bisphosphonates, "it is fair to say adjuvant denosumab has at least as much benefit in the adjuvant setting as bisphosphonates," Dr. Gnant added.
Osteonecrosis of the jaw is a concern with high-dose denosumab (approved doses for osteopenia/osteoporosis). "With low-dose denosumab given twice a year, osteonecrosis of the jaw is extremely rare," stated Dr. Gnant. "In ABCSG-18, we monitored patients teeth and jaws, and of 31 cases of suspected osteonecrosis of the jaw, we did not identify a single case."
Effect on Cancer Cells
During the discussion following his presentation, Dr. Gnant speculated about the mechanism of denosumab's effect on cancer cells. "We think it has to do with an effect on the microenvironment, reducing osteoclastic activity and silencing the microenvironment, so it becomes more difficult for micrometastasis to develop and to awaken dormant microscopic disease." ■
Disclosure: Dr. Gnant reported no potential conflicts of interest.
References
1. Gnant M, Pfeiler G, Dubsky PC, et al: Adjuvant denosumab in breast cancer (ABCSG-18): A multicentre, randomised, double-blind, placebo-controlled trial. Lancet 386:433-443, 2015.
2. Gnant M, Pfeiler G, Dubsky PC, et al: The impact of adjuvant denosumab on disease-free survival: Results from 3,425 postmenopausal patients of the ABCSG-18 trial. 2015 San Antonio Breast Cancer Symposium. Abstract S2-02. Presented December 9, 2015.
---
Related Articles
Press conference moderator Virginia Kaklamani, MD, commented on these results from the ABCSG-18 trial: "It's pretty clear that 3 years of adjuvant denosumab not only reduced fracture risk but improved disease-free survival. It's also pretty clear that adjuvant bisphosphonates improve disease-free...