Study Reveals Gaps in Symptom Management


Tenbroeck Smith, MA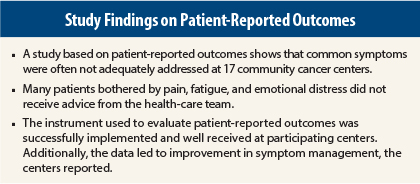 Study Findings on Patient-Reported Outcomes
Symptoms are an important aspect of patient-centered care. Symptoms act as a conduit between cancer treatment and quality of life.

—Tenbroeck Smith, MA
The Patient-Reported Outcomes Symptoms and Side-Effects Study demonstrated that many cancer patients treated in community cancer centers are not discussing their common symptoms like pain, fatigue, and emotional distress with their oncologists/health-care team or receiving advice about how to manage them. These patient-reported outcomes data were used to create customized symptom management quality improvement reports for participating cancer centers who used them to improve symptom care.1
"Symptoms are an important aspect of patient-centered care. Symptoms act as a conduit between cancer treatment and quality of life. We found that 20% to 45% of patients did not recall getting advice or adequate help for their symptom management from the health-care team. Our findings provide the patient's perspective, which is very important and not found in medical records. This study reveals a clear need for discussions and advice about symptom management," stated lead author Tenbroeck Smith, MA, Director of Patient-Reported Outcomes Research at the American Cancer Society, Atlanta.
Patient Perspective
At the 2014 ASCO Quality Care Symposium, Mr. Smith described the first patient-reported outcomes study to use the Commission on Cancer's Rapid Quality Reporting System to identify patients and manage study data flow. The Rapid Quality Reporting System provides a method for sampling cancer patients during treatment that is consistent across centers and replicable over time while placing minimum burden on cancer center staff. This unique combination of characteristics makes The Rapid Quality Reporting System an excellent platform for conducting patient-reported outcomes-based quality improvement studies on a larger, potentially national, scale. Patient-reported outcomes are an excellent way to gather information on symptom burden and patients' perceptions/experiences of care, which can inform the delivery of high-quality, patient-centered care.
The Patient-Reported Outcomes Symptoms and Side-Effects Study provided each institution with actionable quality data on symptom management to improve patient care, he noted.
This study included patients with locoregional breast and colon cancers 4 to 12 months out from diagnosis from 17 community cancer centers. A total of 2,487 patients completed the questionnaires (a response rate of 61%).
A total of 77% of patients (range at all cancer centers, 63%–89%) said they discussed pain with their clinicians over the past 6 months, and 70% said they received advice on pain management (range, 62%–89%). For fatigue, 78% said they talked about it with a clinician over the past 6 months (range, 60%–94%), but only 61% received advice on managing it. Rates of discussion and advice were lowest for emotional distress; 59% reported discussing it within the past 6 months (range, 50%–87%), and 55% said they were given professional advice about it (45%–77%).
The analysis looked at the percentage of patients bothered by these symptoms over the past 6 months: 61% for pain, 74% for fatigue, and 46% for emotional distress. When patients who were bothered by these symptoms were asked whether they were definitely getting help, positive responses were as follows: pain, 58%; fatigue, 40%; emotional distress, 46%.
"Our results suggest there is lots of room for improvement," Mr. Smith noted. ■
Disclosure: Dr. Smith reported no potential conflicts of interest.
Reference
1. Smith T, Castro K, Troeschel A, et al: Developing symptom management quality improvement reports with data from a registry-based patient-reported outcomes collection method. 2014 ASCO Quality Care Symposium. Abstract 180. Presented October 17, 2014.
---
Related Articles
Formal discussant of the patient-reported outcomes study by Smith et al presented at the Quality Care Symposium in Boston, Ethan Basch, MD, Director of the Cancer Outcomes Research Program at the University of North Carolina School of Medicine in Chapel Hill, praised the research for its important...