Lung Cancer: Next Frontier for Immunotherapy

Chandra P. Belani, MD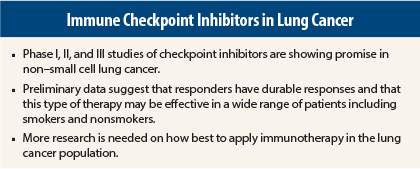 Immune Checkpoint Inhibitors in Lung Cancer
The application of immunotherapy to NSCLC is being brought back in a big way, and emerging data demonstrate promising outcomes in lung cancer.

—Chandra P. Belani, MD
Immune checkpoint inhibitors, particularly PD-1 (programmed cell death-1) and PD-L1 (programmed death-ligand 1) inhibitors, are being studied extensively in lung cancer. These agents, alone and in combination, appear to have the potential to change the management of non–small cell lung cancer (NSCLC).
"The application of immunotherapy to NSCLC is being brought back in a big way, and emerging data demonstrate promising outcomes in lung cancer. The need for such therapies in NSCLC, where systemic cytotoxic chemotherapy still remains the backbone of management, is felt more than ever before," stated ­Chandra P. Belani, MD, Penn State Hershey Cancer Institute, Hershey, Pennsylvania. Dr. Belani updated listeners on immunotherapy studies at the 2014 Chemotherapy Foundation Symposium.1
PD-1 and PD-L1 are proteins that are immune checkpoint inhibitors, and immunotherapies directed to these targets release the "brakes" on the immune system, allowing it to attack tumor cells. Anti-PD-1 and anti–PD-L1 agents show benefits in multiple tumor types, including lung cancer.
PD-1 Inhibitors
Nivolumab, a PD-1 inhibitor, demonstrated an overall response rate of 17% in heavily pretreated NSCLC patients, with at least an 18-month duration of response.2 The median overall survival for all three dosages studied was 9.2 months for squamous histology and 10.1 months for nonsquamous histology. The dose of 3 mg/kg achieved a median overall survival of 18.2 months in nonsquamous NSCLC, and this dose is being carried forward in phase III trials.
Pembrolizumab (Keytruda) also demonstrated activity in highly pretreated NSCLC patients, with an overall response rate of 21%. The overall response rate was 19% to 23% in PD-L1–positive NSCLC and 9% to 13% in PD-L1–negative NSCLC.3 The median duration of response had not yet been reached at the time of this analysis.
Both nivolumab and pembrolizumab have shown activity in early studies of NSCLC in previously treated patients and all comers. There is some evidence that tumors that express PD-L1 are more responsive to these agents, but responses have also been seen in PD-L1–negative patients, Dr. Belani explained. However, pembrolizumab is being developed for PD-L1–positive patients, he said.
The U.S. Food and Drug Administration (FDA) recently granted breakthrough status to pembrolizumab for patients who are EGFR-negative and ALK-negative and have disease progression on or following platinum-based therapy.
"Pembrolizumab is the first out of the block in NSCLC," Dr. Belani noted.
PD-L1 Inhibitors
The lead anti–PD-L1 antibody under study is MPDL3280A, which is being developed for PD-L1–positive disease, he continued. This agent achieved a 23% overall response rate among all comers with NSCLC, according to a presentation at the 2013 World Conference on Lung Cancer.4 Higher response rates were seen in current and former smokers, "but don't tell your patients to smoke," he said.
A phase I study of the PD-L1 inhibitor MEDI4736 showed responses in PD-L1–positive and PD-L1–negative patients (39% vs 5%, respectively).
"It is an evolving issue, whether these immunotherapies are effective only for PD-L1–positive NSCLC or for PD-L1–negative disease as well," he noted. "In all studies, of the two anti–PD-L1 agents, response rates are higher in positive patients."
"On the other hand, with nivolumab, there is a lack of correlation between PD-L1 expression and response and survival," he noted.
This issue is complicated by the fact that there are competing methods of testing for PD-L1, and PD-L1 expression is not currently an established biomarker.
A number of studies are currently ongoing in NSCLC with PD-1 or PD-L1 inhibitors in salvage therapy (three studies), third-line therapy and beyond (nivolumab in squamous cell NSCLC), and first-line therapy (two studies).
MEDI4736 has been incorporated into the large Lung-MAP biomarker-driven study in advanced squamous cell carcinoma. This agent will be compared with docetaxel chemotherapy as one of the five treatment arms being investigated. Patients enrolled in this trial have no known EGFR or ALK mutations.
Moving forward, key issues to be addressed regarding immunotherapy are:
PD-1 vs PD-L1—which target?
What is the ideal schedule duration of therapy—1 years, 2 years, or until disease progression?
Should PD-L1 status guide therapy? Different assays not standardized, responses seen in PD-L1–negative NSCLC.
Combination therapy—dose, safety, sequencing, and maintenance
Additional biomarkers—tumor-infiltrating lymphocytes, immune gene signature, T-cell exhaustion
What are the mechanisms of resistance? ■
Disclosure: Dr. Belani reported no potential conflicts of interest.
References
1. Belani C: Targeting PD-1 and PD-L1 in NSCLC. 2014 Chemotherapy Foundation Symposium. Presented November 7, 2014.
2. Brahmer JR, Tykodi SS, Chow LQ, et al: Safety and activity of anti-PD-L1 antibody in patients with advanced cancer. N Engl J Med 366:2455-2465, 2012.
3. Garon EB, Gandhi L, Rizvi N, et al: Antitumor activity of pembrolizumab (Pembro; MK-3475) and correlation with programmed death ligand 1 (PD-L1) expression in a pooled analysis of patients with advanced non-small cell lung cancer. 2014 ESMO Congress. Abstract LBA43. Presented September 28, 2014.
4. Horn L, Herbst RS, Spigel D, et al:  An analysis of the relationship of clinical activity to baseline EGFR status, PD-L1 expression, and prior treatment history in patients with non-small cell lung cancer following PD-L1 blockade with MPDL3289A (anti-PD-L1). 2013 World Conference on Lung Cancer. Abstract MO 18.01. Presented October 29, 2013.
---
Related Articles
This is a very exciting time in lung cancer. Immunotherapy is extremely promising," stated Justin Gainor, MD, a thoracic oncologist at Massachusetts General Hospital in Boston.
The promise of immunotherapy extends to a broad patient population. Targeted treatments have transformed the lives of...