How to Measure the Impact of Dermatologic and Mucosal Adverse Events on Symptom Burden and Quality of Life


Christine B. Boers-Doets, RN, MSc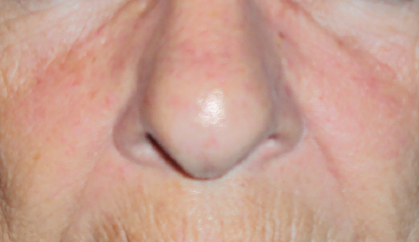 Fig. 1: Patient developed a grade 1 lapatinib-associated acneiform rash. He reported a very low quality of life and requested discontinuation of the therapy because of this rash.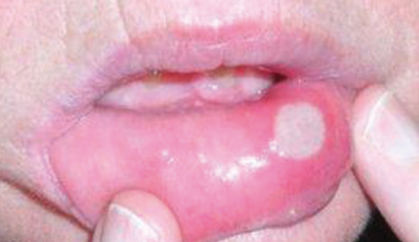 Fig. 2: Patient developed a grade 2 everolimus-associated stomatitis (according to the National Cancer Institute's Common Terminology Criteria for Adverse Events, version 4.0) and experienced a low quality of life.
Targeted anticancer therapies like epidermal growth factor receptor (EGFR) inhibitors, multitargeted tyrosine kinase inhibitors (mTKIs), and mammalian target of rapamycin (mTOR) inhibitors frequently result in dermatologic adverse events and mucosal adverse events, or, taken together, mucocutaneous adverse events.
Mucocutaneous adverse events, including acneiform rash, xerosis, pruritus, paronychia, hand-foot skin reaction, stomatitis, and hair changes, occur in the majority of patients. Distinct mucocutaneous adverse events can be present with a variable symptom burden and affect patients' quality of life, leading to undesirable dose modifications (Figs. 1 and 2).
Accurate Assessment
An accurate assessment of the morbidity of the toxicity may allow for informed decisions on dose modifications and discontinuation, which may affect clinical outcome. Currently, decisions about dose modifications due to dermatologic adverse events are based on clinician assessment utilizing the National Cancer Institute's Common Terminology Criteria for Adverse Events (CTCAE) grading system.
Despite its widespread use and its utility, the CTCAE has not been validated. Existing evidence suggests that clinicians and patients may differ in their assessments of the severity of toxicities. Ideally, a grading system that captures both patient and clinician assessments would be more appropriate.
Various dermatologic adverse event–specific assessment tools are currently under development. At present, several questionnaires are available for use in the cancer population, including instruments for evaluating symptom burden, quality of life, general skin and hair diseases, hand-foot skin reaction, and stomatitis. Notably, the Patient-Reported Outcomes version of the CTCAE (PRO-CTCAE) system provides a Web-based platform to collect patient reports of symptoms they are experiencing while undergoing treatment, for the purpose of enhancing adverse event reporting.1
DERETT
Mucocutaneous adverse events can be assessed using the patient-completed mucocutaneous adverse events–specific symptom experience diary for targeted therapies (DERETT, for DErmatologic REaction Targeted Therapy–Patient Symptom Experience Diary).
DERETT was created to effectively assess dermatologic adverse events and effectiveness of supportive care interventions. This tool gathers information such as area involved, severity and duration of symptoms, products used to address symptoms, effectiveness of medical interventions, treatment adherence, and symptom-related distress. DERETT provides more relevant and precise information on the patient's experience than would be provided by CTCAE grading alone.2
FACT-EGFRI-18
The impact of EGFR inhibitor–associated mucocutaneous adverse events on quality of life can be evaluated with the Functional Assessment of Cancer Therapy Epidermal Growth Factor Receptor Inhibitor 18 (FACT-EGFRI-18) scale.3
The FACT-EGFRI-18 is a dermatology-specific patient-reported outcomes questionnaire, consisting of 18 items encompassing well-being in three quality-of-life domains: symptoms, functioning, and emotions. The questionnaire is based on items from dermatologic quality-of-life instruments such as the Skindex (see below).4
Skindex-16 and Hair Specific Skindex-29
Skindex-16 is a validated patient-completed disease-specific outcome measure with a 0-to-6 numerical analog scale. The measure is reliable and valid for general skin diseases. It assesses how bothered patients were by skin problems (eg, itching, burning, hurting) in the previous week. It consists of 16 items encompassing well-being in three quality-of-life domains: symptoms, functioning, and emotions.
The Hair Specific Skindex-29 scale is used to assess the quality of life of patients with androgenetic alopecia. This questionnaire consists of three scale domains: symptoms, functioning, and emotions on a 0-to-5 numerical analog scale.5
HFS-14
The Hand-Foot Syndrome 14 (HFS-14) is a quality-of-life scale for patients experiencing chemotherapy-associated hand-foot syndrome and targeted therapy–associated hand-foot skin reaction. This instrument measures its severity and its impact on patients. It addresses the body parts affected (hand, foot, or both), symptoms, and social impact.
The 14 items on the questionnaire are organized into two modules, differentiated by the involvement of foot-specific or hand-specific events. Validation of the HFS-14 confirmed its internal consistency and very high reproducibility.6
mIAS Scale
mTOR inhibitor–associated stomatitis (mIAS) is a dose-limiting toxicity of mTOR inhibitors. The mIAS scale has a subjective component measuring pain and an objective component measuring duration of lesions. The subjective grading criteria can be assessed on a 0-to-3 numerical analog scale. The objective grading criteria range from 0 for no visible lesion to 3 for lesion(s) persisting for more than 7 days. It is suggested that dose-modification be considered only when both subjective and objective scales are assessed as grade 3, representing persistent lesions with significant pain, despite antitoxicity interventions.2
Conclusion
In summary, patient-reported tools to measure the impact of dermatologic and mucosal adverse events on quality of life, along with clinician grading, can provide optimal assessments in order to ensure appropriate antitoxicity interventions, consistent dosing of antineoplastic therapy, and maintenance of quality of life. To view each of the tools discussed in this report, visit http://bit.ly/1eWEvHk or see the URLs provided with each reference. ■
Ms. Boers-Doets is a researcher and a PhD candidate in the Department of Clinical Oncology at Leiden University Medical Center, Leiden, The Netherlands. She is a registered nurse and Master of Science in Nursing with a special interest in mucocutaneous conditions that result from targeted anticancer treatments. She is a member of the Board of Directors of the International Society of Oral Oncology. 
Disclosure: Ms. Boers-Doets is a consultant for Amgen, AstraZeneca, Bayer, Boehringer Ingelheim, GlaxoSmithKline, Merck Serono, Merck Sharp & Dohme, Novartis, Pfizer, and Roche.
References
1. National Cancer Institute: Patient-Reported Outcomes version of the CTCAE. NCI Wiki. Available at https://wiki.nci.nih.gov/pages/viewpage.action?pageId=10857328. Accessed October 23, 2013.
2. Foundation TARGET-RCI: Research. Available at www.targetrci.com/research. Accessed October 24, 2013.
3. Boers-Doets CB, Gelderblom H, Lacouture ME, et al: Experiences with the FACT-EGFRI-18 instrument in EGFRI-associated mucocutaneous adverse events. Support Care Cancer 21:1919-1926, 2013.
4. MAPI Research Trust: SKINDEX questionnaire: 16- and 29-item versions. Available at http://www.mapi-trust.org/services/questionnairelicensing/catalog-questionnaires/299-skindex. Accessed October 23, 2013.
5. Han S-H, Byun J-W, Lee W-S, et al: Quality of life assessment in male patients with androgenetic alopecia: Result of a prospective, multicenter study. Ann Dermatol 24:311-318, 2012.
6. Sibaud V, Dalenc F, Chevreau C, et al: HFS-14, a specific quality of life scale developed for patients suffering from hand–foot syndrome. Oncologist 16:1469-1478, 2011.
GUEST EDITOR 
Dermatologic Events in Oncology is guest edited by Mario E. Lacouture, MD, an Associate Member in the Division of Dermatology, Department of Medicine, at Memorial Sloan-Kettering Cancer Center, New York. He is a board-certified dermatologist with a special interest in dermatologic conditions that result from cancer treatments.
---
Related Articles
aEditor's Note: References to these tools are provided for educational purposes only. Terms of use for these tools may vary and some may be subject to copyright restrictions.
Patient-Reported Outcomes version of the CTCAE (PRO-CTCAE)