Prevention and Treatment of Multikinase Inhibitor–induced Hand-Foot Syndrome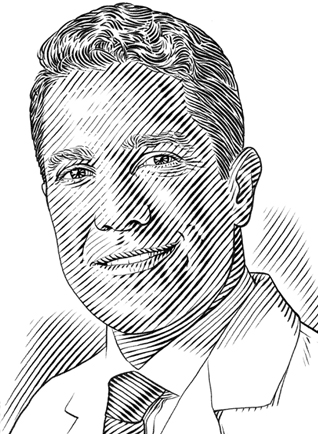 Mario E. Lacouture, MD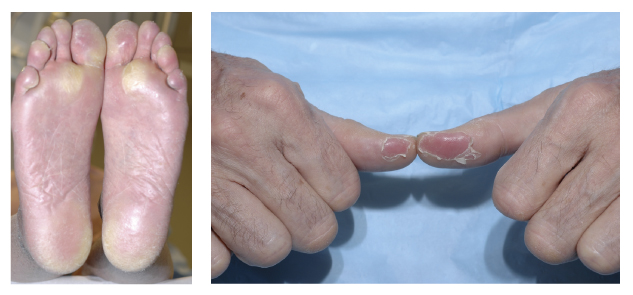 Fig 1: Typical skin toxicity seen with hand-foot syndrome related to multikinase inhibitor therapy. Courtesy of Mario E. Lacouture, MD.
Multikinase inhibitors (sorafenib [Nexavar], sunitinib [Sutent], pazopanib [Votrient], axitinib [Inlyta], regorafenib [Stivarga]) block various proteins including vascular endothelial growth factor receptor (VEGFR) and platelet-derived growth factor receptor (PDGFR). They have been approved by regulatory agencies for the treatment of advanced renal cell cancers and colorectal carcinomas, in addition to gastrointestinal stromal and pancreatic neuroendocrine tumors. In addition to hypertension and diarrhea, skin toxicity is common with these agents (see Fig. 1).
A maculopapular rash occurs more frequently with sorafenib (40%), yet the most clinically significant dermatologic adverse event is hand-foot syndrome, with associated all-grade incidences of 60% (sorafenib), 30% (sunitinib), 5% (pazopanib), 29% (axitinib), and 46% (regorafenib). Hand-foot syndrome induced by multikinase inhibitors may affect the palms, soles, and any other areas exposed to friction or trauma (eg, elbows, knees).
The reaction appears within the first 6 weeks in most patients, initially with painful blisters, followed after several weeks to months by thick, hyperkeratotic areas resembling calluses. Extremely painful lesions on the palms and soles usually occur in the fingertips, over the interphalangeal joints, and on the heels and forefeet. Skin biopsies demonstrate a band-like area of necrosis with an underlying inflammatory infiltrate.
Patients at higher risk for developing hand-foot syndrome include women, those with at least two metastases, and those with a white blood cell count > 5,500/mm3.
Treatment Recommendations
Treatment for multikinase inhibitor–induced hand-foot syndrome includes topical agents (for grades 1/2) or a combination of topical and oral agents (for grade 3) to address the most important symptom—pain. Prior to beginning therapy, key measures include removal of any calluses and minimization of any foot malalignment with the help of a podiatrist or orthotist, as well as the use of thick socks, gloves, and soft slippers or shoes.
Many over-the-counter products are available in the foot care section of most pharmacies. The prophylactic use of daily moisturizers containing urea 10% three times a day has been shown to prevent all-grade hand-foot syndrome resulting from sorafenib therapy by approximately 15%. I advise patients to start the application of a keratolytic moisturizer (salicylic acid 6%, urea 40%, ammonium lactate 12%) at least twice daily, starting the same day they begin their cancer treatment.
For painful blisters, patients should use high-potency topical corticosteroids (clobetasol, betamethasone) and topical anesthetics (lidocaine, prilocaine/lidocaine, lidocaine patches) several times a day. For hyperkeratotic (callused) areas, keratolyitic moisturizers are helpful in softening and thinning these lesions when used several times a day. Since pain is the most important symptom, oral analgesics (opioids, nonsteroidal anti-inflammatory drugs) should also be considered.
Kinase inhibitor dose interruptions or decreases are necessary in patients with grade 3 or intolerable grade 2 hand-foot syndrome, and this is usually helpful in maintaining patients on therapy, as long as treatment of dermatologic symptoms continues during rechallenge.
Since hand-foot syndrome almost always occurs during the first 5 weeks of kinase inhibitor therapy, I advise patients to avoid strenuous physical activity during the first 6 weeks, after which exercise must be done with caution in order to prevent an exacerbation of hand-foot syndrome. ■
Disclosure: Dr. Lacouture is a consultant for AstraZeneca, Bayer/Onyx, Pfizer, and GlaxoSmithKline.
---